From a young age, Yung Baby Tate had star ⭐ quality. It was no doubt in her mind that one day the world would witness her artistic expression. From creative artistic visuals to versatility in style, Tate isn't here to blend in with the girls. Throughout the years, Tate has dedicated her time to singing, acting, and exploring her creative expressions. For Yung Baby Tate, being artistic was a way of life.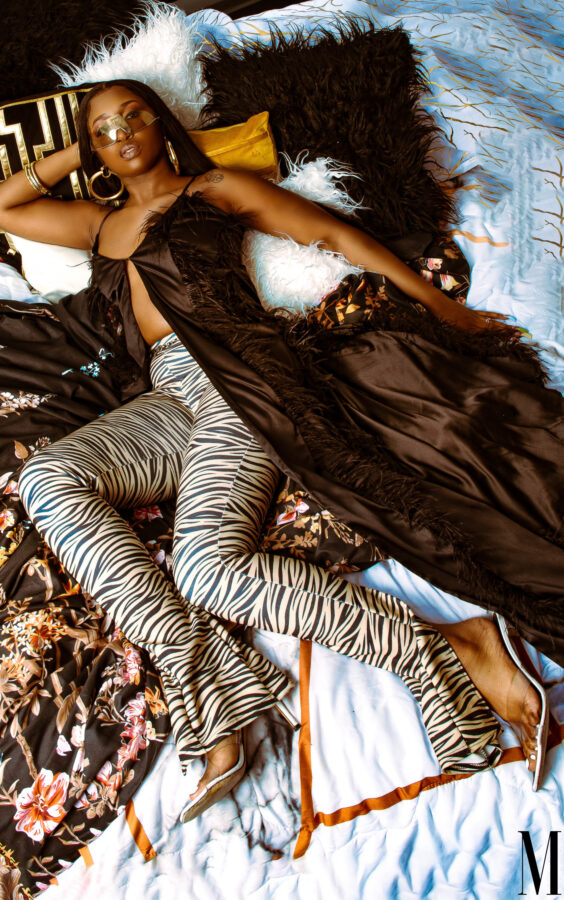 Today, Yung Baby Tate has given the entire world a confidence boost with her song "I Am" featuring Flo Milli. This encouraging bop has been an anthem for Women's History Month. Undoubtedly, the song has encouraged women to always be confident and optimistic. Her latest release, After The Rain, includes her hit song "I Am" and one feature from 6lack. Tate was not afraid to showcase her ability to switch from upbeat bars to smooth R&B vocals. The Atlanta native has something to say, and we should all listen. ?️
How would you define confidence?
YBT: Confidence is understanding who you are and not allowing anybody else to change that. For me, confidence might not be like, "Oh, I think I'm the most beautiful person in the world." But you know what you are, and nobody can tell you that you're not. It looks different on everyone.
What is something you learned about yourself in the past year?
YBT: I think within the past year, I learned that I'm worth more than I thought. I think that I'll continue to learn that as I continue to grow, understand myself, and have different experiences. I think that's the beauty of aging. We just learn so much more about ourselves, and I think as a young girl, I always knew that I'm that b*tch and I'm that girl. Last year my worth was kind of revealed to me, and I opened my eyes and realized that I am a gem?.
What is the best piece of advice you have received far?
YBT: One of the best pieces of advice I received was from Mary J. Blige. She told me to "Know Yourself" because it's so easy, especially as an artist navigating life through this digital age, to get confused about yourself. To know yourself is so important so that when things are thrown your way, you still come out as yourself.
Was there an 'aha' moment that made you realize your worth?
YBT: Definitely! I was in a relationship for a lot of the pandemic. Being quarantined with your significant other puts a magnifying glass ? on everything. I had become so comfortable with being comfortable and okay with complacency. It was based on my association with that person and their willingness to just be whatever. I think from that I learned like "Wait a minute! I'm not even supposed to be here. I am not supposed to be around these people". Once I figured that out and made that conscious decision to go elsewhere with my life, a lot of things turned around. Sometimes you have to go through the lows to realize just how high the highs are.
Every human has its breaking point, and Yung Baby Tate allowed her experience to propel her to the next level. "I Am" is a wonderful end result of her self-realization process. Flo Milli's feature ushers in an environment of fellowship in the music industry for women. This song affirms her existence, and now other women are following her lead. The music video oozed confidence and manifested a lavish life. ??
What was your writing process like for "I Am"?
YBT: It depends on if I'm writing alone or with a group. For "I Am," I wrote the chorus alone at home without even hearing the beat yet. We ended up coming in the studio, and I was like, 'Yo, I got this chorus. I really think it would sound dope.' We ended up finding the right beat for it, and then I flushed out the verses. If I'm at home, I would need to hear the beat, keep it playing, and freestyle to it. If I'm in the studio, sometimes I just have the beat on and let my verse play and write it on my phone. Or if I'm in a writing session, I'll go in, put down a melody, and then we will write to it. I don't have a specific process.
How was it working with Flo Milli?
YBT: It was cool. We didn't work together too closely because of the pandemic. I reached out to her when we first made the song, and I just knew that she would snap on it. She would be able to bring the same type of confidence I have. I think that's something we have in common, which is why our fans overlap. A lot of our fans say, 'Oh my gosh! Yall need to collab!'. For this song, I knew it would be perfect.
You are also a producer. How was it transitioning to a producer if you had to? How long have you been producing?
YBT: I started producing when I was thirteen. When I first started making music, I was producing. When I started to make songs, it was on beats that I produced. So I never had that transition. I actually had more of a transition the other way. With this last project, this is the first time that I didn't produce everything a hundred percent myself, which was a bit odd for me, but it's nice to try different things.
Who did you study and listen to when it comes to producing?
YBT: I don't think there were many women I was watching that were producing growing up. I didn't really get into Missy Elliot until I got a bit older. But, honestly, when I first started making beats, Mike WiLL Made-It was my favorite producer. Being from Atlanta, his beats were hard. I had to make beats like him.
As a female artist, what would you like to see change in the music industry? Or what do you plan to change as an artist?
YBT: As a female artist, I really want to see more of us [female artists] everywhere. I want to see more skin tones, more ages, more body shapes represented and change the idea that women in the music industry can only look or be certain. So, I plan to continue to be myself a hundred percent and stay true to myself to inspire other women to do the same and to inspire the industry to accept all of us.
What artist have influenced your sound?
YBT: I got a lot of influence from Nicki Minaj and Brandy when it comes to my singing. Aaliyah, Missy and Outkast, a lot of 90s artists, really inspire me. Also, Gwen Stefani and Fergie. There are sooo many people. It's a very long list of people that inspire me.
How important is it for female rappers to collaborate with each other? Also, are there any other female rappers or singers you would like to work with within the near future?
YBT: I love collaborating with other women because it changes people's mindsets. Not just fans but artists as well. You get to let everyone know we can work together and it doesn't have to be a competition. I can be dope. You can be dope. We can be even doper on a song together. I think when you bring those energies together or at least for me it's not about competition. It's about making a great song that people will love. I always want to work with women. Most of my features have been with women. I would love to work with Doja Cat. I would really love to work with Rihanna. There are so many female artists that I would love to work with. I'm always open to working with anybody.
Who/what are your fashion inspirations? Do you have any?
YBT: I wouldn't say I have a specific style or inspiration. A lot of my music videos are styled by a stylist that I have been working with for about two years now. Her name is Abs, and she's really dope. She gets me as a person. It's very easy for me to let her know, This is what I want to look like, and then we make something really creative and dope out of that. But when it comes to myself, things that I wear on my own, I like to be colorful, cute, and cozy. I don't necessarily have one person. However, If I were to pick, it would probably be Rihanna. Rihanna is not one thing fashion-wise. You don't have one outfit when thinking of Rihanna. It's like she can be wearing some baggy jeans, a sweatshirt, and some heels and still be fly. That's why I love Rihanna.
What can we expect in the near future? If you can speak on those things.
YBT: In the near future, I'm about to drop the deluxe edition of After The Rain probably next month. There are some really dope songs on there. There will be some tv things you will see me on. Also, I will be getting out into the world more and do virtual performances.
You have been a performer for quite some time now. What do you want your fans to see and know about you now?
YBT: I am growing and evolving. So I'm still the same me but a stronger, better version. I want to inspire other people to realize that you can grow and evolve as well and stay true to yourself. I know one thing, I will be doing more singing and exploring every one of my talents way more. I think I kind of abandoned a lot of the things that mean so much to me. I am going to be bringing those things back in and embrace all parts of me.
What other genres would you like to explore this year?
YBT: Definitely a lot more R&B in the future. Not traditional though, I don't like to do anything regular or normal. Even as I'm working on future projects, I'm like, 'Don't send me any regular-ass R&B beats.' Because I still like to rap, and I want to blend trap and r&b. I still love to do pop as well. I want to do everything, every genre, hell, even country.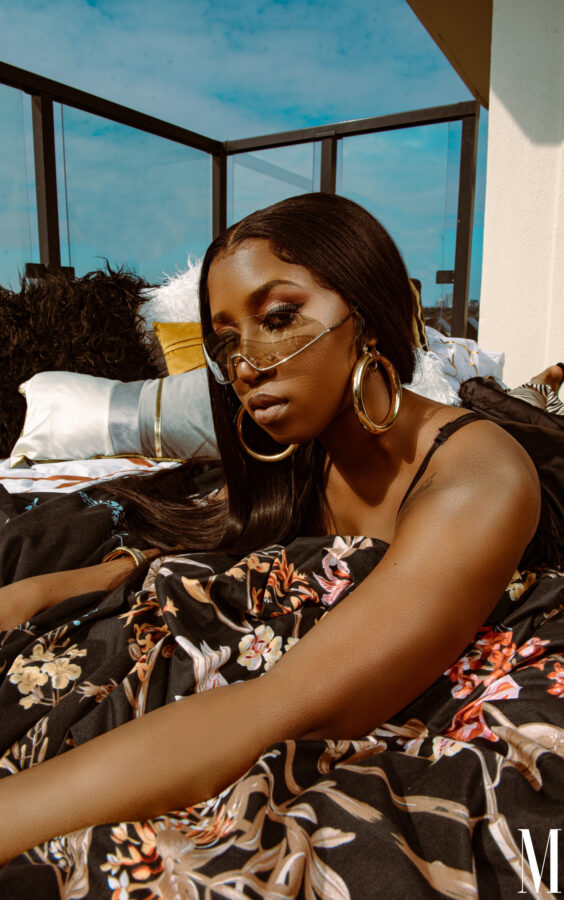 Yung Baby Tate is an artist that is open to endless possibilities when it comes to her art. She will never grow stagnant because she is always evolving and open to growth. Be sure to get Yung Baby Tate in the 10th spot for XXL's Freshman Class!
This Women's Month has been a time to see women truly express themselves with no fear of judgment. It is refreshing to see Yung Baby Tate use her art to inspire and uplift women around the world. We can't wait to see what Yung Baby Tate has in store for us this year!
Follow MEFeater on Twitter, Instagram, Facebook, and Pinterest for more updates.