Tyre Nichols, a 29-year-old Black man, died days after he was fatally beaten by officers during a traffic stop on January 7th. Since then, five former Memphis Police Department officers have been charged with second-degree murder and other crimes over his death. On January 30th, the department said it had let go of seven officers from duty who were involved in the traffic stop as part of its ongoing investigation into Nichols' death. Nichols's death has caused major outrage across the U.S. Here is what we know about Tyre Nichols, his death, and the aftermath.
About Tyre Nichols
Tyre Nichols was a 29-year-old Black father to a four-year-old boy. He lived in California before moving to Memphis, Tennessee, during the COVID-19 pandemic. At the time of his death, Nichols was a FedEx employee who was passionate about photography as well as skateboarding. His extended community of Memphis-area skateboarders and activists recently gathered to mourn his loss.
The Back Story of Tyre Nichols's Death
Nichols was brutally beaten by five Black Memphis police officers on January 7, 2023. They had pulled him over for alleged reckless driving. The police said in an initial statement that a "confrontation" occurred as the officers approached the vehicle and Nichols "ran away." The police claimed that there was "another confrontation" as officers arrested him and that an ambulance was called after he complained of shortness of breath. Nichols died three days later, with an independent autopsy finding that he "suffered extensive bleeding caused by a severe beating." On Friday, body cam footage of the beating, which lasted for about three minutes, was released.
The Officers & Charges Against Them
Although a total of seven officers were relieved, the department has named only six, referring to the seventh officer only as the "other officer." Five of the seven are Black Memphis police officers who were fired. Their names are Tadarrius Bean, Demetrius Haley, Emmitt Martin III, Desmond Mills, Jr., and Justin Smith. These five were charged on Jan. 26th with aggravated assault, aggravated kidnapping, official misconduct, and official oppression. Preston Hemphill, a white police officer, was among those fired because of his involvement during the initial traffic stop, during which he fired a taser gun. Hemphill was suspended on Monday, the 30th of Jan. His involvements and actions are still under investigation, though no charges have been filed against him.
What The Family & The Public Is Saying
The police beating of Nichols prompted shock, sadness, and outrage from the public. State and national elected officials and community members have also expressed their views. President Biden called it "yet another painful reminder of the profound fear and trauma," describing it as "the pain and the exhaustion that Black and Brown Americans experience every single day." Nichols' family and the Memphis NAACP have also called on state lawmakers and Gov. Bill Lee (R) to pass a "Tyre Law" in Tennessee, which in part would require police to intervene in active crimes, even when they are being committed by another officer.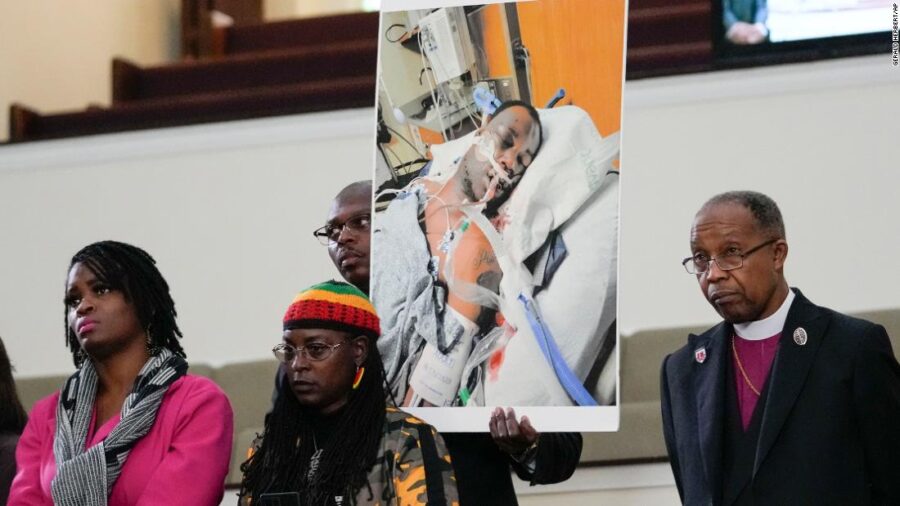 US President Joe Biden said he was "outraged and deeply pained" to see the horrific video of Tyre Nichols' death. "It is yet another painful reminder of the profound fear and trauma, the pain, and the exhaustion that black and brown Americans experience every single day," he added. "I join Tyre's family in calling for peaceful protest," President Joe Biden said last Thursday.
Protests
An official cause of death for Nichols has not been issued by the Shelby County medical examiner's office. However, an independent autopsy performed by a forensic pathologist hired by his family found that "Tyre suffered extensive bleeding caused by a severe beating," according to the family's attorneys.
Protests are taking place in at least nine cities across the US, including Memphis, after the bodycam footage was released. Mr. Nichols' mother, RowVaughn Wells, warned supporters of the "horrific" nature of the video. However, she pleaded for peace, saying "tearing up the streets" is "not what my son stood for."
The case of Tyre Nichols moves us to ask important questions about police culture in the United States. You ask yourself how they felt at the sense of helplessness aggravated by the desperate cry of a grown man to his mother.
Follow MEFeater on Twitter, Instagram, Facebook, and Pinterest for more updates.