A 7.8 magnitude earthquake struck southeastern Turkey and northwestern Syria early Monday morning local time. Its tremor could be felt as far afield as Lebanon, Cyprus, Greece, Israel, and the Palestinian territories. A second quake, which recorded a magnitude of 7.5, struck just 9 hours later. The death toll from the devastating earthquake rose as rescuers faced shortages of trucks, fuel, and time. So far, 11,700 people have been killed as a result of the quakes, and tens of thousands more have been injured. The toll is likely to mount as rescue efforts intensify and more information becomes available. Buildings have also been reduced to rubble. Both countries at the center are still reeling from the devastating aftermath as rescue efforts continue in freezing temperatures.
The Current Scale Of The Damage
The death toll has been staggering and has surpassed 11,700 people as of Wednesday—a figure that is almost certain to continue to rise amid search and rescue efforts. More than 9,000 deaths have been reported in Turkey and 2,662 in Syria. The World Health Organization has warned that the combined count could reach 20,000 and that 23 million people could be affected by the disaster. In addition, according to Syrian state media, nearly 300,000 people have been displaced in Syria as a result of the quakes.
While the full scale of the infrastructure damage in both Syria and Turkey is yet to be fully known, Orhan Tatar, general director of Turkey's Disaster and Emergency Management Agency (AFAD), said Tuesday that it has received 11,342 reports of collapsed buildings, of which 5,775 have been confirmed. More than 44,000 people have also been reported injured so far, according to data from Turkey's government, Syrian state media, and the humanitarian organization White Helmets.
Though earthquakes are not uncommon in this part of the world, this week's are believed to be the largest and deadliest to hit Turkey in decades. This time around, more than 300 aftershocks rumbled after the initial quakes, according to Turkey's Vice President Fuat Oktay.
AID & Systems In Place To Assist Survivors
WHO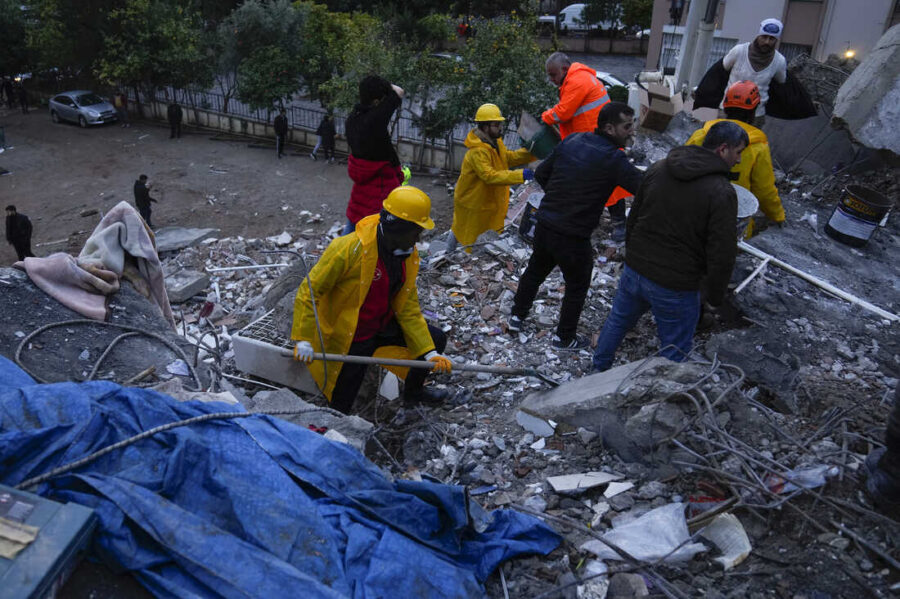 The epicenter of the initial earthquake was close to the Turkish city of Gaziantep, where WHO has a field office primarily supporting its humanitarian operations in northwestern Syria. The field office is now operating as WHO's response hub for this crisis as well. The WHO Regional Office for the Eastern Mediterranean (WHO/EMRO) is offering its support to parts of northern and northwestern Syria that have also been heavily affected by the natural disaster. Both WHO/Europe and WHO/EMRO are working together with WHO headquarters to address critical health needs stemming from the crisis.  

WHO's Emergency Medical Teams initiative has been activated to provide essential health care for the injured and most vulnerable affected by the disaster in response to a request for international assistance. National authorities are focusing on search and rescue in the immediate aftermath of the earthquakes. They're also anticipating an increased need for trauma care to treat the injured. The wider health system will also need to be supported in affected areas. These include places where health facilities may have been damaged.  
The World
Governments around the world, including Australia, have deployed emergency aid teams and medical squads to the affected areas. Australia has pledged $10 million in aid. The $7 million is to support the evacuation of injured survivors and to provide food, tents, and blankets. The remaining $3 million will be given to Syria to help cover the costs of shelter, clean water, and sanitation. New Zealand has pledged $1.5 million worth of aid for the two countries. The $1 million is to be spent in Turkey and $500,000 in Syria.
How You Can Assist
In Australia, community groups and aid organizations are running local collections to send assistance to the disaster zone. Melbourne's Turkish community is coming together to help those affected in their homeland. If you don't have access to a local collection, there are also many national and international groups organizing assistance.
If you don't have access to a local collection, there are also many national and international groups organizing assistance.
Emergency Action Alliance, an alliance of 15 leading Australian charities, is collecting donations that will directly fund its members on the ground in Turkey and Syria.
Save the Children is accepting donations to its emergency fund, which helps provide children and families with essentials to survive.
CARE is helping provide emergency aid, including food, shelter, water, and other lifesaving supplies, to those affected by the earthquakes.
UNICEF teams are on the ground and accepting donations to help provide urgent assistance to children and families.
Union of Medical Care and Relief Organizations donations go towards providing medical aid and humanitarian relief.
World Vision is helping people get access to temporary shelters, heaters, clean water, and critically needed healthcare.
Before you donate money or goods, it's important to check whether the operation is reputable. In Australia, the official charity register can be used to check if a charity is registered and to find details about its efforts.
Follow MEFeater on Twitter, Instagram, Facebook, and Pinterest for more updates.