The 71st Miss Universe competition and final pageant event consisted of 84 women contestants from various nations who competed for the title. And it was held in New Orleans, Louisiana, on Saturday, January 14th, 2023. Harnaaz Sandhu won the previous title of Miss Universe 2022 and brought the title back to India for the first time in 21 years. This year she crowned America's beauty queen, R'Bonney Gabriel, the new Miss Universe 2023.
The Selection Process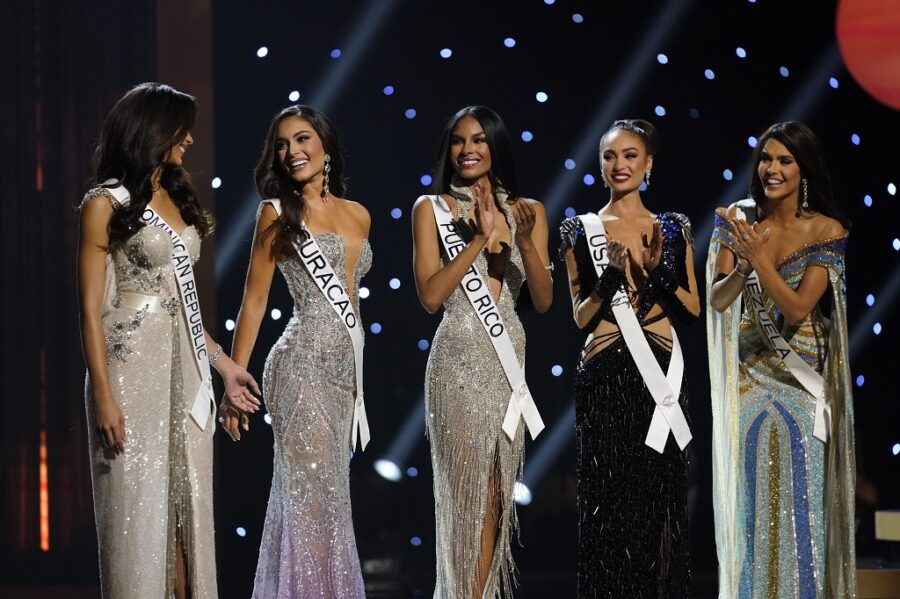 Sixteen candidates from the pool are announced at the start of the final pageant. This includes the winner of the online votes. Judging for the Top 16 is based on closed-door interviews and preliminary competition. The top 16 then parades in swimsuit and evening gown competitions, and right after that, the top 5 are announced. These five women go head-to-head in the preliminary question and answer portion before narrowing it down again to the Top 3. The final word portion takes place, and thereafter, Miss Universe and her two runners-up are announced.
The Winner
R'Bonney Gabriele is an American beauty pageant titleholder who became the ninth entrant from the United States to win the title. She is a 28-year-old American beauty from Houston, Texas, and the oldest to be crowned for the Miss Universe title. Gabriele works as a fashion designer who creates eco-friendly clothing. R'Bonney graduated from the University of Northern Texas, and after college, she moved to NYC. She has worked for renowned fashion designer Nicole Miller.
Biography
R'Bonney's bio states that she is an "eco-friendly fashion designer." She's also a sewing instructor for domestic violence survivors and an advocate for sustainability in the fashion industry. Her Miss Texas USA gown was made out of a coat that she found at a thrift store that she turned into a dress.
R'Bonney was the first Filipina-American to win Miss Texas USA. "I'm getting messages on Instagram and just social media of Filipina girls and women telling me they're so excited, they're so happy." She stated this in a 2021 interview. "I'm paving the way for them to just go after whatever they want, no matter what it is. So it's an honor," expressed Gabriel.
According to her biography, when Gabrielle is not making eco-friendly clothing, she enjoys backpacking and hula hooping. Hopefully, this will be a beautiful reign for Miss Universe, and she will fulfill all her worthy causes.
Rigging Allegations
Miss Universe R'Bonney Gabriel crowned Miss North Carolina, Morgan Romano, the new Miss USA after Gabriel faced rigging allegations at the stateside competition. According to Pageant Circle, the ceremony took place at Auburn University during the preliminary competition of Miss Alabama Teen USA and Miss Alabama USA 2023. Because Gabriel was crowned Miss Universe, first runner-up Romano (a chemical engineer and graduate of the University of South Carolina took her place as Miss USA.
R'Bonney Gabriel, the first Filipino American to win Miss USA, was crowned Miss Universe 2022 – but not everyone celebrated her big achievement. The Insider previously reported that after Gabriel won Miss USA in October 2022, many contestants walked off the stage instead of rushing to congratulate her. Some then claimed the Miss USA organization had either rigged the competition or heavily favored the winner from Texas, pointing to conflicts of interest between Gabriel and Miss USA sponsors. "A lot of the girls felt like it was the organization's plan from the beginning for R'Bonney to win, no matter who else was competing," Miss Missouri, Mikala McGhee, told Insider.
While the show was airing from New Orleans, several critics on Twitter alleged the pageant was rigged, pointing out that JKN Global Group, which owns Miss Universe, also owned Miss USA. Some also claimed that the pageant was manipulated to favor the American contestant because it was held in the United States.
Following the competition on Jan. 14, the organization dismissed claims made by social media users that its new owner fixed the competition to crown the Houston native. "Saturday's competition was the first time a trans woman addressed fans as the owner of Miss Universe, "It was also the first time a Filipina American took the crown," the statement continued. "The false rigging allegations are absurd and distract from the incredible milestones our organization and the delegates experienced this weekend. "Instead of focusing on unfounded statements, we will continue to shine a light on global women's empowerment, inclusiveness, diversity, and transformational leadership," the organization concluded. This was written in a statement obtained by Fox News Digital about transgender Thai businesswoman and JKN Global Group CEO Anne Jakrajutatip.
Did You Know?
After being owned by men for its entire 71 years (most notably Donald Trump), the new Miss Universe organization is 100% female-owned and operated. For the first time, all women between the ages of 18-28 are now allowed to compete. This includes those who have previously been excluded: women, pregnant women, married people, and divorced people.
"We need to emrace our differences, and now I have a platform to help raise the voices of all women around the world".

– Anne Jakapong Jakrajutatip (Miss Universe Owner)
Follow MEFeater on Twitter, Instagram, Facebook, and Pinterest for more updates.