According to a CNN review of property records, police statements, and detention records, a white man in his 80s reportedly shot and critically wounded a teenage boy on April 13 in Kansas City, Missouri. The Black boy was identified as Ralph Yarl (16). The teen was reportedly sent by his parents to pick up his 11-year-old twin brothers when he rang the wrong doorbell, mistaking the residence for one a block over. He mistakenly went to a home in the 1100 block of Northeast 115th Street instead of Northeast 115th Terrace in Kansas City, Missouri, police said. 
Shooting Details
Just before the shooting Thursday night, Ralph rang the doorbell of the home and waited for a response. When the door opened, he was confronted by a man who said, "Don't come back around here," and opened fire, shooting him in the head, said attorney Lee Merritt, citing Ralph's account to police. Ralph fell to the ground, and the homeowner fired a second time, hitting him in the arm, Merritt said. Ralph mustered the strength to run, stopping at three different homes for help. At the third house, a person inside gave him instructions to raise his arms and lay on the ground. Ralph lost consciousness, and the police were called.
According to NBC, police said Ralph was taken to a hospital in stable condition with life-threatening injuries. He was released from the hospital on Saturday and is recovering at home. Attorney Lee Merritt, who has been retained by the family, told NBC News. April 18 reports state that the first bullet hit Ralf's forehead on the side of his face, close to the hairline, and the second hit his right arm.
The Perpetrator
According to CNN, two representatives at the Kansas City Police Department's detention unit confirmed the man who was booked on an investigation hold was a White man in his 80s. The homeowner who shot Ralf has now been identified as Andrew D. Lester, 84. His home address matches the address where the shooting took place. The prosecutor, Zachary Thompson, publicly identified Mr. Lester a few hours later and announced that he had been charged, saying what many already believed: "There was a racial component to the case." The representatives also noted he was taken into custody on April 13 just before midnight and released less than two hours later, at 1:24 a.m. on April 14.
The Police
Police Chief Stacey Graves said in a news conference Sunday that the shooter inside the residence was held for 24 hours. The maximum amount of time a felony suspect can be held is until charges are filed. A firearm was also taken as evidence. Graves said the vast majority of felony suspects are released after 24 hours. They are re-arrested later when enough evidence has been gathered for charges. Graves said detectives are working "expeditiously" on the case. Results will be sent to the Clay County prosecutor as soon as the investigation is completed. The Clay County prosecuting attorney's office said a referral had not been received as of Monday. 
"After consulting with the Clay County prosecutor's office, the homeowner was released pending further investigation due to the need to obtain a formal statement from the victim and compile additional information for a case file to be presented," the chief said.
Justice For Ralph Yarl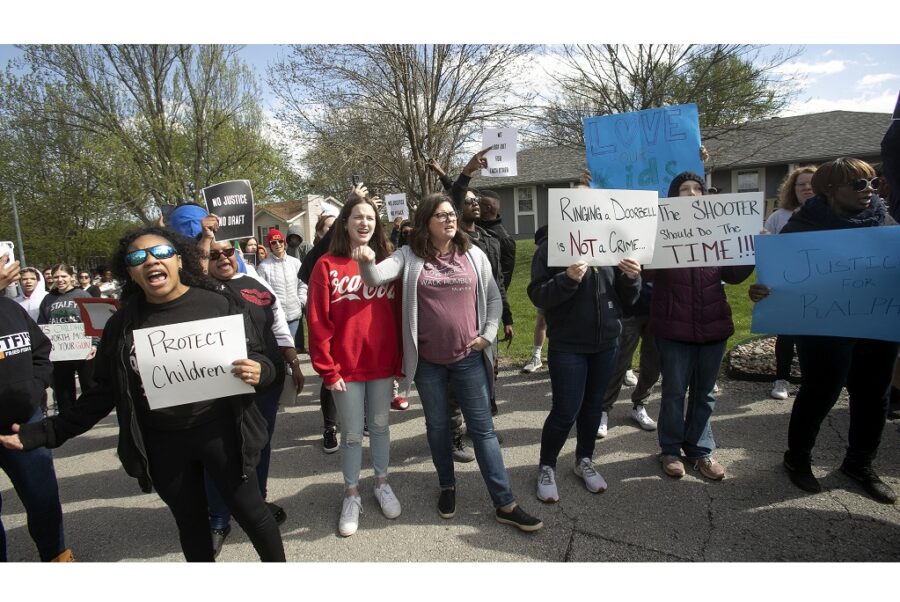 Nationally prominent civil rights attorneys Lee Merritt and Ben Crump announced Sunday that they were taking the case and promptly criticized authorities in Kansas City, Missouri, for releasing the man who opened fire, who they said was a white man. Demonstrators targeted the location Sunday as word of the shooting started to reach a national audience through social media. Protesters marched toward the residence where the shooting took place, chanting, "What do we want? Justice! When do we want it? Now!"
Andrew D. Lester Finally Charged
Mr. Thompson said Mr. Lester had been charged with assault in the first degree, a class-A felony, and could face life in prison if convicted. He also was charged with armed criminal action, which carries a maximum penalty of 15 years in prison, Mr. Thompson said. Mr. Lester was not in custody when the charges were announced. Mr. Thompson said at the news conference that a warrant had been issued for his arrest and that his bail had been set at $200,000.
It was not clear if the teenager had knocked on Mr. Lester's door or if he rang the doorbell, but he did not "cross the threshold" into the man's home, Mr. Thompson said. The shots from a 32-caliber handgun were fired through a glass door, the prosecutor said, adding that there was no indication that "any words were exchanged."
The Family
The teenager's father, Paul Yarl, said in a phone interview on Monday evening that his son underwent surgery over the weekend to remove the bullets. He was able to walk out of the hospital on Sunday evening and was expected to make a full recovery, his father said. Mr. Yarl said that he was relieved when the charges were finally announced. He said that he was confused that Mr. Lester had been "allowed to go home and sleep," but that his main concern was for other Black children. "He could have repeated it with the next kid that looked like Ralph," he said.
Mr. Yarl said he learned that his son had been shot in a call from the boy's mother on Friday morning and drove from his home in Indianapolis to Kansas City, where he visited his son and also joined the protest over the weekend. The parents, who are Liberian immigrants, have been divorced since 2017.
Investigators will consider whether the suspect was protected by Missouri's "Stand Your Ground" law, Graves said. The law says a would-be shooter defending life or property does not have to retreat before taking violent action. Graves also said she has been in touch with the teen's family and is listening to the concerns of the Black community.
In a statement released on Monday, the North Kansas City Schools' superintendent said Ralph, a junior at Staley High School in Kansas City, is an excellent student and a talented musician. Ralph is also a clarinetist who recently earned Missouri All-State Band recognition with an honorable mention. His teacher also said his goal is to study chemical engineering in college.
What are your thoughts on this issue? Follow MEFeater on Twitter, Instagram, Facebook, and Pinterest for more updates.