There are multiple ways you can show your father just how much you appreciate him. You could buy him some of his favorite cologne, or tickets for a special game he'd like to see live. However, one of the most simple ways you can show your dad how much you appreciate him is by taking him to the movies. Although we have been dealing with the pandemic, many movie-lovers have turned to streaming services to satisfy their needs. Here are 5 movies to watch with your dad at home this Father's Day.
Daddy's Little Girls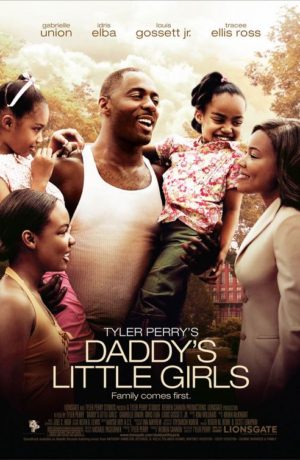 Other than having a stellar cast, this movie has an even better meaning. The main character Monty, played by Idris Elba, is having a hard time trying to raise his daughters. His ex-wife took full custody of them and she's currently dating a drug dealer and selling drugs as well. His ex-wife and her boyfriend abuse their daughters and Monty has had enough. He decides that he want to take his ex-wife to court to have full custody of them and that's where he meets Julia, played by Gabrielle Union. Other than Julia helping him get his daughters back, the two of them start falling for each other. This is a classic movie of a father willing to do anything and everything for the sake of his family. Daddy's Little Girls is available on Youtube and Amazon Prime for $3.99.
The Pursuit of Happyness
The Pursuit of Happyness stars Will Smith and his son Jaden Smith. The two go on a journey where they face many trials and tribulations. In the movie Chris (Will Smith), struggles to keep his apartment with his son. The two of them get evicted and have to find different places to stay as he purses his career. Although Chris doesn't have any money, he still is doing his best to make things better for him and his son. The Pursuit of Happyness is the prime example of when things get tough, don't give up, and Chris did just that. You can watch The Pursuit of Happyness for free on Tubi.
Imagine That
The movie Imagine That is another story of a father not giving their child enough attention because he loves his job way too much. Starring Eddie Murphy and Yara Shahidi, this story is all about reclaiming your inner child and using your imagination. However, things start to go awry for Evan (Eddie Murphy)and his career so his daughter Olivia (Yara Shahidi) shows him her imaginary world. He lets his inner child come to light and learns how he can resolve all of his issues. A few of the best things a child can do is show you what it's like to be a kid again and how to have fun. Imagine That is available on Tubi for free.
Johnson Family Vacation
Johnson Family Vacation is a film that truly embodies the true meaning of family. In this film, the Johnson family deals with separation while trying to spend more time with each other. Nate, played by Cedric the Entertainer, family's is having their annual family reunion and he brings his wife and kids along to bond more with his children and get back to a better place with his wife. As they all embark on the journey down south, they deal with hilarious trials and even scary ones. Johnson Family Vacation is an amazing Black film and it's available on Youtube and Amazon Prime for $3.99.
Daddy Day Care
Charlie (Eddie Murphy) is a stay-at-home dad while his wife, (Regina King) is out making the coins. While he stays at home with his son, his two best friends come over and bring their children too. The three of them come up with the idea to start a daycare center. The trio receives a lot of children at their daycare center but, another local daycare center starts to feel intimidated and tries to prevent parents from taking their children to Charlie's daycare. Daddy Day Care is a fun-loving family movie to watch with dad. Daddy Day Care is available on Amazon Prime and HBO Max.
For more, follow us on Instagram, Facebook, Twitter & Pinterest!