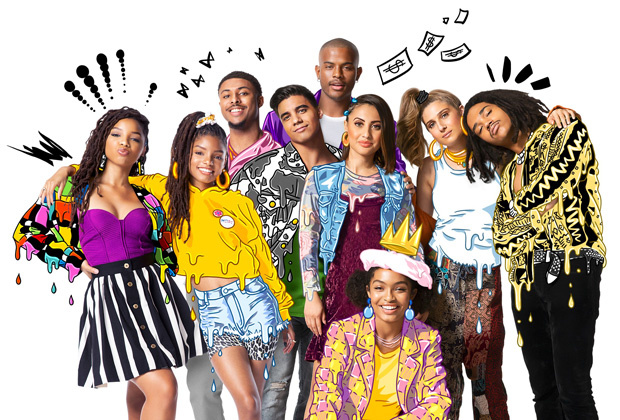 Kenya Barris' Grown-ish may not be as forward as he thinks.
On a regular day at California University, a brown-skinned man stood hesitantly in front of the college administration office. His outfit of the day consists of an orange jumpsuit, bullhorn, and a face of worry. The student doesn't let this phase him though, he releases a heavy sigh of preparation before pressing the bullhorn onto his lips. The man announced a powerful message to the university's board of trustees. He demanded the students of CalU have a say in the university's decision to fund private prisons.
If you haven't been keeping up with Kenya Barris' sitcom Grown-ish, then this article just spoiled one of the latest episodes, "Alright". Now for a first-time viewer, this scene may convince them that Grownish is a culturally forward show. However, for the past three seasons, long-time fans have begged Barris on bended knees for a substantial moment like this.
Season One's promo video sparked the interest of younger people through its "Breakfast Club" theme. Gen Z fans of the prequel Black-ish felt they finally had a show for their demographic. To their dismay, the Freeform series only revealed three years' worth of a lack of diversity, diluted topics, and HBCU appropriation. Kenya Barris fails to truly portray the authentic lives of Black students, through lackluster "aha" moments and superficial characters.
Undoubtedly, the show does address many pressing topics like consent and Black mental health. But Grown-ish doesn't accurately address the hot-takes that are currently pressing the Black community.
In the Season One Episode "It's Hard out Here for a Pimp", the Grown-ish gang discusses the topic of dating while Black. While discussing this controversy, Aaron emphasizes his love for Black women. Luca immediately accuses Aaron of having a colorism issue. Testifying that Aaron only dates light-skinned, 3 type-haired black women at college.
The show's writers deserve applause for addressing an issue prevalent
in

the Black community.

However, the creators always fail in executing these conversations. Throughout the latter half of the episode, Aaron scouts the college for a darker-skinned woman. He eventually settles on the most afro-centric lady he could find. Her name was Shakura. Shakura was a darker Cameroonian with 4c type hair. Aaron flaunted Shakura to the gang by bragging that she's from Africa. He suggested his friends take a picture of the two, post it and tag Luca with the hashtag "motherland". Viewers never see Shakura again after this degradation. Barris's exploitation of dark-skinned women to further prove that color preferences exist is exasperating. Dark-skinned women are not ploys for a producer's satisfaction.

Furthermore, the episode ended on a sour note. Towards the end, Aaron confesses his color-struck syndrome to Vivek while scrolling through pictures of old girlfriends. Vivek noticed a picture of Aaron's fairer skin mother. He then assumed that Aaron doesn't fetishize over light women, rather his mother. This scene countered the entire message of this episode by justifying Aaron's colorism.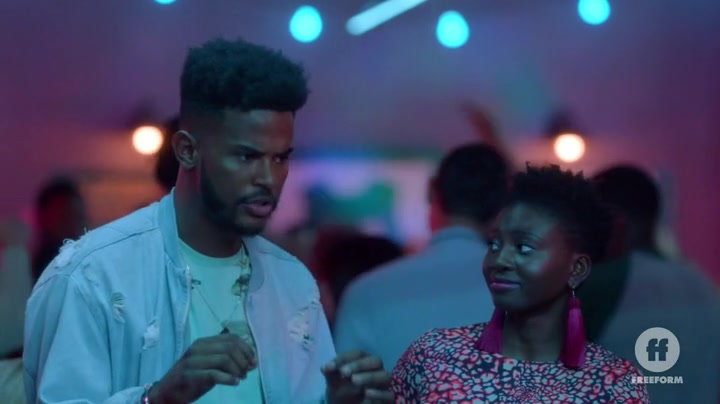 The writers of Grown-ish believe they're breaking the glass with surface-level topics, instead, they've managed to further add to the Black community's issues.
"We're not monolithic as Black culture. It's important to see every version."

Kenya Barris said
Kenya Barris talks a good game,
but

in Grown-ish he doesn't depict variances of Black scholars very well.

Up until this season, the show's main cast consisted of fair to brown-skinned actors. For most of the series, there were no representations of LGBTQIA, dark, or plus-sized Black characters. In Grown-ish the image of Black students is typical of those we've already seen in past films. There are the jocks, fashioners, and revolutionaries. Meanwhile, the remainder characters are a blend of a Jewish lesbian, Latinx conservative, and a South Asian drug-dealer. So, while the executive producer stressed the importance of portraying distinct Black people, his show reflects a completely different take.

Barris has more recently decided to include darker characters in shows though. Jillian, played by Ryan Destiny, was introduced to viewers in Season Three. It's nearly 11 episodes into the season and the only information made known about her is that she's Luca's new girlfriend, a transfer from Spelman College, and interested in film. Whether it's chilling at Luca's loft or filming a documentary for Jaz and Sky, Jillian only possesses a storyline if it's linked to another person. The other darker-skinned character is Rochelle, who's coincidentally the girlfriend of former colorist Aaron. The random placement of deeper-toned women feels disrespectful to those with darker complexions. These miscellaneous characters are just accessory elements to a not-so-forward show.

One would believe Barris' Clark Atlanta University's alumni status gifted him the opportunity to witness a plethora of Black people. CAU is a Historically Black College. So, when it comes to Grown-ish, it's hard to accept he doesn't understand the Black collegiate experience especially since he's lived it.
Black PWI students don't get dibs on HBCU culture
Although CalU is set at a Predominantly White Institution, Barris feebly tries to incorporate HBCU culture into Grown-ish. The show has referenced exclusive HBCU culture including "wave checks", swag surfing, and even an HBCU themed party. Although the creator is aware of the exclusivity of this culture, there's a thin line between appreciation and appropriation. In the Season Three premiere, the gang throws Zoe, the main character, a house party. The crew partied HBCU style to celebrate her homecoming. Prancing majorettes, stepping Fraternities, and a marching band engaged in festivities mimicking the Black college experience. The problem is, HBCU culture is only dedicated to Black people at those selective institutions. Yes, Black PWI students are still Black, but they shouldn't adopt HBCU culture to feel better about attending a white university. The CalU students chose their institution so they must express themselves in alternative ways without disrespecting HBCUs.
Overall, Grown-ish's tone-deaf approach to Black issues and culture is far too baffling to ignore. Black Gen-Z scholars deserve a coming-of-age story that's inclusive. Moving forward, the producers of Grown-ish must fill the holes that make their show unbearable. Moreover, after the recent social justice episodes, it is safe to say that the show seems like it is in the works to progress. Hopefully, the rest of this season will give fans what they've been waiting on. If not, it may be time for Barris to hang it up.
If you want to read more, follow us on Instagram, Facebook, Twitter & Pinterest!