It has not been easy grabbing a seat at the table in Hollywood.
For the past 92 years, only one black woman has won an Academy Award (Oscar) for Best Actress – Halle Berry for her role in Monster Ball. A total of eight black women have won an Academy Award for Best Supporting Actress – Hattie McDaniel, Whoopi Goldberg, Jennifer Hudson, Monique, Octavia Spencer, Lupita Nyong'o, Viola Davis, and Regina King. Some may argue that we shouldn't look for acceptance in awards ceremonies and that very well can be true. Here at MEFeater we believe in giving black actresses their flowers. For the little girls who think they are not worth it, and for the black women who think they are not pretty enough to be on film – it is important to see "us". Let's raise a glass as we highlight black women who've created their own table in Hollywood.
Regina King
The evolution of films starring Regina King is like no other. From starting off with small roles in Boys In the Hood and Friday to now capturing our hearts in film/tv series – Regina King is one of a kind! King is one of the few actresses who've won an Oscar, Primetime Emmy, and Golden Globe Award. King has starred in some of the most gut-wrenching TV Series like Netflix's Seven Seconds, The Watchmen (HBO), and American Crime. Her list of credentials is endless. King approaches each role as her own and reels the audience in with each line. She is the epitome of an actress.
Regina King continues to break barriers in Hollywood as she is now the first Black woman to be nominated for a Golden Globe Award as Best Director (Amazon's One Night in Miami). We are proud to see the success of the true King of Drama!
Issa Rae
As black women, we can be awkward, funny, intelligent, or just overall multidimensional AF. Issa Rae would definitely say the same. From a web series Awkward Black Girl to HBO's Emmy Nominated show Insecure, the come-up is inspiring. We have connected with Issa Rae on a personal level thanks to her storytelling and innovation within Hollywood. Watching Insecure was like seeing ourselves for the first time. It's funny, real, and a lesson for all. Now an Emmy Nominated Actress, Rae is providing many opportunities for black creators with her Issa Rae Presents platform. The actress also produced other comedies like HBO's A Black Lady Sketch Show and starred alongside Marsai Martin in Little. We loved her amazing black love film The Photograph with Lakeith Stanfield.
In 2020, Issa Rae hosted Saturday Night Live, she's now the second Black Actress to ever host. The late and great Cicely Tyson hosted the show in 1979. Issa Rae's grind does not stop there! She recently revealed her new show, Rap S***, is in the works. The show executive producers include rap duo, City Girls. We are rooting for everything Issa!
Viola Davis
From the time she utters her first line, you are going to believe it! Viola Davis is Primetime TV's favorite and a legend on film. The Oscar Award Winner can do it all. We were left speechless in her most recent Netflix film Ma Rainey's Black Bottom. Davis has starred in some of the most critically acclaimed films including Widows, Fences, and Doubt. The actress also won an Emmy for her groundbreaking role as Annalise Keating in How to Get Away with Murder. She is astounding on and off-screen. Viola Davis will continue to break barriers in Hollywood.
Lupita Nyong'o
Her presence is captivating. Lupita Nyong'o is the epitome of range. From Star Wars to Jordan Peele's US, Nyong'o is a natural-born movie star. Her rise to movie stardom began with her role in 12 Years of Slave. This landed her an Oscar win for Best Supporting Actress. In 2014, People Magazine named her the Most Beautiful Person. For years we have seen Lupita being featured on numerous magazine covers and runways. We fell in love with Nyong'o for her role as Nakia in Black Panther. She was able to showcase resilience as a female warrior fighting for humanity. This sent a great message to many young black girls. The movie star now has her own children's book titled Sulwa – written in Kenya's national language. Lupita Nyong'o is a hero in her own right.
Teyonah Parris
She stood strong in Spike Lee's Chi-Raq. She was bad and boujiee in the film Dear White People. It was sisterly love in If Beale Street Could Talk. And now she holds the power in Disney's Wanda Vision. Look at the filmography! Teyonah Parris is claiming her roles in Hollywood and we can not get enough. The Survivor Remorse actress brings power to every character. She is a natural on-screen and always levels up in every project. We can expect to see more of Parris in the thriller Candyman, set to release this year. The actress is currently filming a movie with Jamie Foxx and John Boyega titled, They Cloned Tyrone. Teyonah Parris is in a league of her own.
Letitia Wright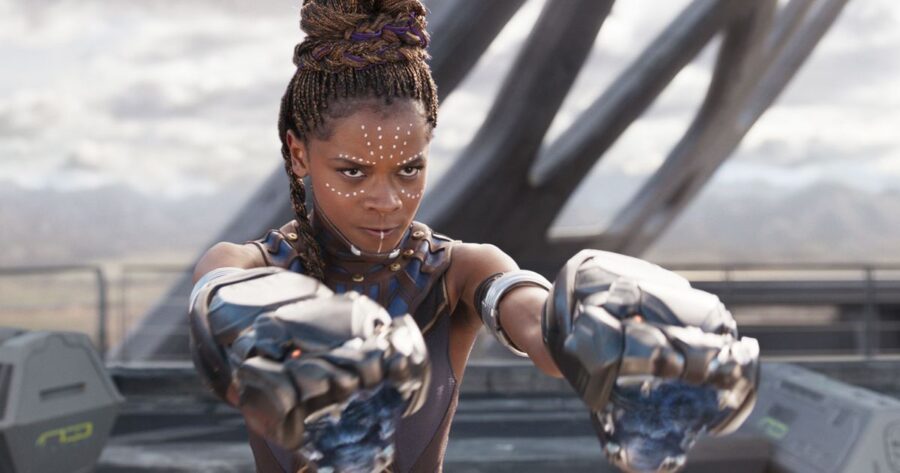 Our favorite little sister and scientist! Letitia Wright is unpredictable on-screen as she steals the scene in every project. We were first drawn to Wright when she starred in one of the most talked-about Black Mirror episodes, "Black Museum" (Netflix). The role landed Wright a Primetime Emmy nomination. We can catch Wright in one of her most critical roles yet on Amazon PrimeTV's Small Axe. Her stardom does not stop there. Many roles have been chasing Wright. She is set to star in Death on the Nile, Sing 2, and possibly take over the throne in Black Panther II. If there's anyone meant for the throne, this young queen is the one.
Nicole Beharie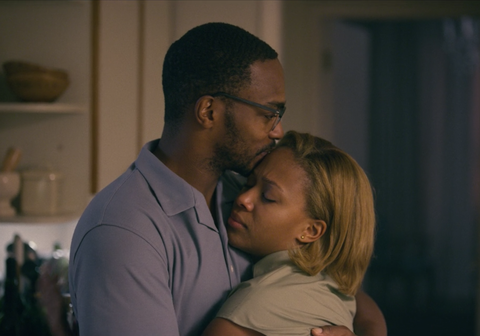 If we want to study the craft of acting – Nicole Beharie is the subject. The Julliard Graduate has starred in some of the most critically acclaimed projects. You can catch Beharie in Juneteenth (Amazon PrimeTV), American Violet, and My Last Day Without You. She also starred in 42 alongside the late great Chadwick Boseman. Nicole Beharie brings the perfect amount of intensity in each role. She recently starred in Hulu's Monsterland's 'New Orleans, LA" (Episode 4). We were blown away by the dark role Beharie captured. Most people are still recovering from her role as Theo in the Black Mirror episode, "Striking Vipors" (Netflix). Nicole Beharie is a divine actress and deserves all of her flowers.
Dominique Fishback
If "off to a great start" was a person, it would be Dominique Fishback! The Brooklyn-raised actress who starred in Jay Z's Smile video has caused a lot of buzz in Hollywood with her electric energy and star power! She stole the show in Judas and the Black Messiah as Deborah Johnson. As a writer, she was able to capture our hearts in the film with her original poem. Fishback brought realness and raw emotions. We smiled with her and cried with her. Last summer, Fishback starred alongside Jamie Foxx in Netflix's Project Power earning her an Image Award nomination (2021). Her critical role in Night Comes On earned her her first award in 2018. She is now nominated for the 2021 WAFCA Award for Best Supporting Actress in Judas and the Black Messiah. Dominique Fishback is a star and we can count on seeing more from her.
Zendaya
Wow! What can we say? Zendaya Coleman went from a Disney Star to an Emmy award-winning actress. With her recent role in Netflix's Malcolm & Marie, the star could be heading to the Academy Awards real soon. At 24 years old, she became the youngest person to win an Emmy. Her role in HBO's Euphoria shocked the world as she portrayed a teenage drug addict. Zendaya claimed this role and was able to capture every emotion. As a person of color, Zendaya voices the importance of portraying roles that are very significant to her as a woman. The star has been featured in films like The Greatest Showman and Spider-Man. The Netflix film is surprisingly her first role as a leading lady. She has set the tone as one of Hollywood's promising actresses. Zendaya is currently filming Spider-Man 3 so we can expect to see more from her soon. Additionally, Zendaya is set to appear in Warner Brothers' science fiction film, Dune, later on this year.
Marsai Martin
To the little black girls across the world, you can shine just like Marsai Martin. The 16-year-old made history after becoming the youngest Executive Producer in Hollywood for her motion picture Little. We fell in love with Martin on ABC's hit show Black-ish. Her character, Diane, is a sassy but loving little sister and daughter. The role landed her nine NAACP Image awards and many other accolades. Martin is a leader in her generation and a fearless act to follow. With plans of producing more films, Martin is setting the tone for young black creators. Expect to see more from her as she is set to star in the new Paw Patrol film this year. Be sure to catch her on new episodes of Black-ish streaming now on Hulu.