Noah Centineo and Lana Condor have finished playing their roles in the To All The Boys I loved Before franchise. It is unfortunate the franchise is ending, but we're not here to talk about the previous films. We're here to talk about To All The Boys I Loved Before: Always and Forever. Lara Jean (Lana Condor) wrote love letters to all the boys she loved throughout the years and then placed them in a special box, never sending them. Little did she know, her younger sister, Kitty (Anna Cathcart), would mail all of Lara's letters.
At the beginning of this trilogy, we saw Lara Jean facing some of the guys that received a letter. A total of five letters were mailed out. One for Peter, one for her close friend, and one for her sister's boyfriend, Josh. Lara Jean didn't want to ruin her friendship with Josh and her relationship with her sister. Therefore, she told Peter all about the letters and what happened. After that, Peter proposed an idea to LJ. The two of them would pretend to date. Peter wanted to make his ex-girlfriend, Gen (Emilija Barancac), jealous and Lara Jean needed to cover her tracks. The fake dating eventually turned to real feelings.
LJ and Peter made a comeback with To All The Boys I Loved Before: P.S. I Still Love You. The two of them were official and riding for each other. The fairytale only lasted for a moment though because John Ambrose, (Jordan Fisher), who also received a letter, came back to town. John Ambrose wanted LJ to know the feelings she had for him were mutual. LJ and Peter went through a lot of hardships and even temporarily broke up. After all the drama, LJ had a hard time picking who she wanted but, she listened to her heart and chose Peter.
To finish up this love story, Always and Forever, dropped on Netflix on February 12th. The movie takes place with the gang finishing up their senior year. They're all going through the trials of college apps, prom, and graduation. Peter and LJ plan on going to Stanford together but things get tricky when Peter gets in and LJ doesn't.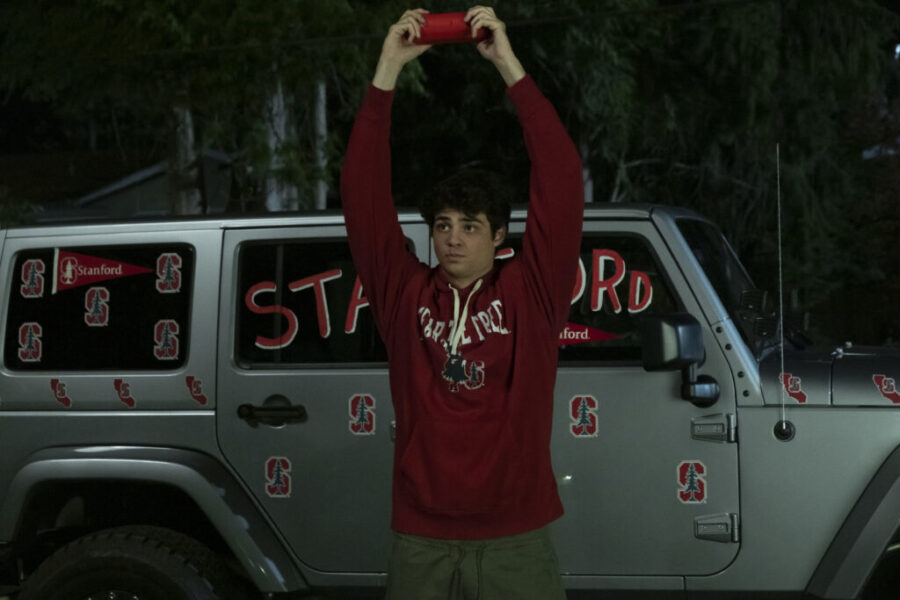 LJ gets into Berkley and waits to tell Peter about the rejection letter until their senior trip to NYC. The gang makes it to the Big Apple and LJ lays it all on the table. Peter says she can transfer after her first year at Berkley and LJ agrees. Everything's great for this couple until LJ goes on an unexpected journey at NYU. Alongside her is her best friend Chris and Gen. LJ sent in an application to NYU because her older sister thought it would've been a great idea. She truly didn't have any expectations of going, but, the city surprised her. There she realized NYU is where she wanted to be.
LJ told Peter she was going to NYU and plans on staying there for four years. He didn't receive it well at all. Prom night rolls around and the two have a fantastic time however LJ doesn't feel close to Peter. Later that night, Peter drops LJ off at home and she gives him something to remember her by. Peter took this as the two of them saying goodbye and he couldn't handle it. The two of them got into a heated argument and Peter decided to break up with LJ.
Peter wasn't ready for the change that was going to come with LJ no longer being by his side. LJ thought that them being away from each other would work, but Peter didn't think it would at all. We think the two of them being away from each other would 100% benefit them as individuals. I believe that it would benefit them as a couple as well. Growing as individuals then coming back and growing as a unit is a wonderful thing. Of course, I don't believe that Peter should've broken up with LJ, especially with his delivery. The situation could've been handled differently. However, throughout the movie the two of them realized how much they actually need and love each other.
After time apart, the pair found their way back to each other and rekindled their romance. Peter wrote LJ a heartfelt letter letting her know that he will always love her and be by her side.
Long-distance is a hard thing but it could work if you and your significant other care enough to make it work. One of the big reasons we believe the two of them found their way back to each other is because their relationship had more than love. We believe that love is one of the many things that keep couples, families, and friends together but, it takes more than that.
If this franchise continues by turning into a series, (and they should), we believe the couple should stay together. People always think that once you and your significant other aren't going to the same school, the relationship is doomed.
It was refreshing to see this couple we admire go through a challenge and bounce back. It allows viewers to not always have ill feelings towards long-distance relationships. Peter's a jock and LJ is her own person. You guys know the stereotype where the jock dates the cheerleader or the popular girl. Well, it was pleasing to see this stereotype not being used because it's not always realistic.
In the future, it would be great to see LJ go through her college experiences at NYU in a series. If that doesn't happen, we would still be satisfied with Always and Forever.
Watch To All The Boys I Loved Before: Always and Forever on Netflix and tell us your thoughts in the comments!