NYC knows just how to do cold weather! Spiked hot cocoa, fluttering fluffy snow, and of course, fashion that is warm, comfy, and chic in the best way! Winter fashion is simply the best because of the endless color palettes, layering opportunities, and needless to say boots! Stay ready so you don't have to get ready for those wonderful winter outings to the ski slopes or a bonfire. Here are just a few fabulous Winter Fashion outfit formulas that you can recreate with items that you already have in your closet.
Jumpsuits and Boots
Jumpsuits are excellent because they keep you totally covered and warm. Pair with a pair of boots for added height (so your pants legs don't get dirty) and added style. This outfit formula applies to straight leg jumpsuits (which can be tucked into boots) and wide-leg jumpsuits with billowing pants legs that just graze the toe of your boot allowing for a tiny pop of color.
Snakeskin is The New Black
Snakeskin has been trending for several seasons now. We've seen snakeskin shoes, bags, and even two-piece sets. The best way to wear snakeskin in the Winter is to pair it with a coordinating nude or neutral color.
Boots + Frilly Skirts
NYC girls are excellent at mixing the punk rock look of lug sole boots with the feminine look of frilly skirts. Switch out your flats or heels for a chunky boot when you're in the mood to change it up. Bonus: The boots keep your feet nice and warm.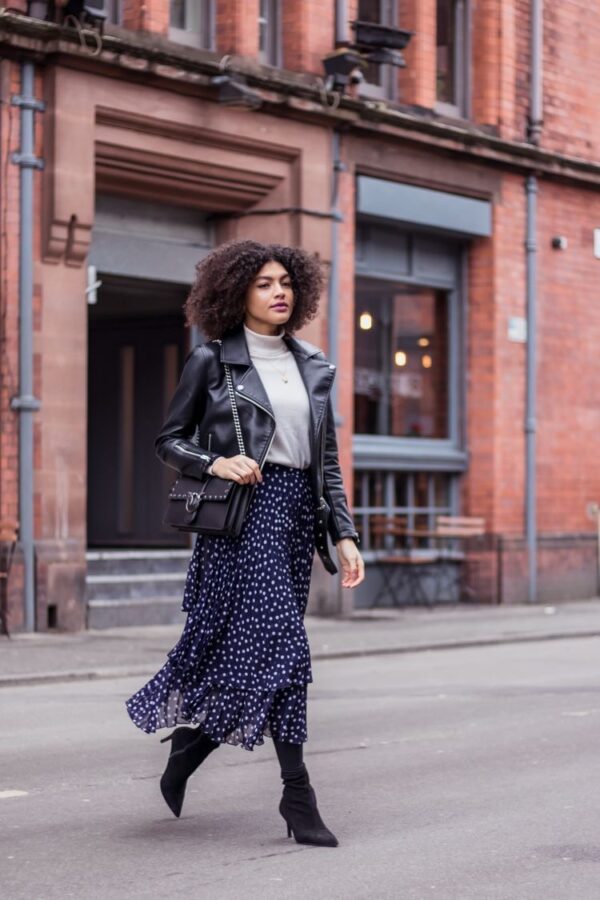 Tracksuits, Tracksuits Everywhere
A tracksuit (vintage or brand new) is a wardrobe staple – just ask Beyoncé. Usually paired with sneakers, NYC girls have taken them to a more glamorous level by pairing them with fabulous heels or flamboyant bubble coats. Try your hand at one.
XL Sweaters
Tossing on an XL sweater is nearly second nature for NYC fashionistas. It's simple, yet chic (plus you can steal some hoodies from your boo's closet). But as the weather continues to cool down, be sure to don another layer with a long coat.
What's your go-to Winter outfit formula? How do you balance style and warmth during these colder months?
If you want to read more, follow MEFeater on Twitter, Instagram, Facebook, and Pinterest!