The women behind your favorite brands, businesses, and FAVS
Who are the ladies who put together the branding decks, budgets, agencies, platforms, and celebrities you follow and swear by? Who are the ladies you indirectly know because you take part in their vision and hard work unknowingly? From determined entrepreneurs, ambitious CEOs, to inspiring creative directors, and fashionable wardrobe stylists. Here are MEFeater Magazine's 30 powerful women to watch, who are killing the Music, Entertainment, Fashion, and Tech industries!
1. Ebonie Ward
From Flo Milli to Future and Gunna, Ebonie Ward has been the manager for some of society's favorite hip-hop artists. She is a partner at Emagen Entertainment Group and has been instrumental in many of her artist's album creations and rollouts. In an interview with Forbes Magazine, Ward stated that Gunna's 'Drip or Drown 2' album has been one of her favorite projects to work on.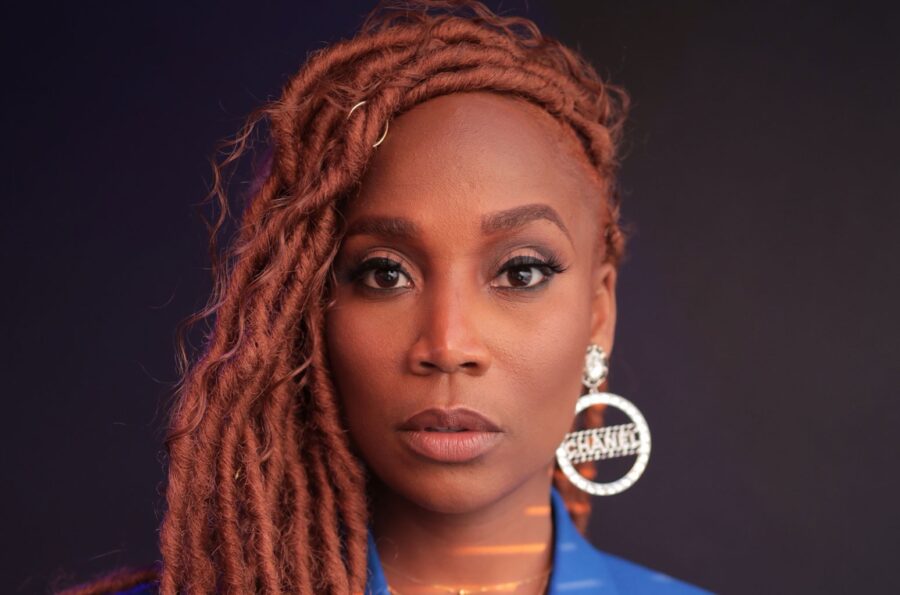 2. Imani Simmons
Imani Simmons is the CEO of Simmons Unlimited, an Event Production and Consulting Agency whose purpose is to design and deliver seamless and dynamic event experiences. Simmons Unlimited has worked with incredibly well-recognized brands such as Puma, Avion, SXSW, Empire, Jagermeister, and many more, delivering solutions from concept to breakdown for their problem areas.
3. Linh Nguyen
Linh Nguyen is currently with Fairfax Studios as the Chief Impact Officer. She spent 12 years working for political candidates, campaigns, advocacy, and the Democratic Party, developing different strategies on how to build civic engagement in vulnerable communities before moving into the creative industry with Fairfax.
4. Vera Moore
Vera Moore is a Los Angeles based fashion designer, the face of the all-inclusive lingerie brand Love, Vera. The brand was founded in 2018 by Moore and her partner Nate Johnson. They had a mission in mind: to be the embodiment of body positivity and size inclusivity. Building a brand that is inclusive of all shapes, shades, and sizes has led Love, Vera to garnering the attention of Beyoncé, Keri Hilson, and Wale. As a result, Love, Vera was featured on Beyonce's very own website, BEYONCE.COM.
5. Lydia Asrat
Lydia Asrat has been managing Doja Cat since 2017 while tour managing and writing some of your favorite hits simultaneously. Asrat is a co-founder of 10Q Management where Doja and 10 other signees call home. She has also been working hard as A&R on both Hot Pink and Planet Her while working on some of your other favorite artists' projects that are coming out soon. Partnering with Warner Chapel, Asrat has started a joint venture, Lost + Found, a publishing company with partners Josh Kaplan and Gordan Dillard (co-managers to Doja in addition to Sal from Sal & Co).
6. Nandi Howard
Nandi Howard is Houstonia Magazine's First Black EIC and youngest landing this position at 25-years-old. This highlights a stride in creatives relocating back home or to the South after the pandemic. The editor plans to advocate for creatives in the South, intertwining her New York City style of editorial into the southern region.
7. Khala Whitney
Howard graduate and Delta Sigma Theta Inc. member Khala Whitney is the creator of Grayscale, a trendy clothing brand that launched in 2016. Whitney's pieces have been worn by Ariana Grande, Summer Walker, Keke Palmer, and Cardi B. She also has collaborated with Matte Brand on a biker-inspired collection.
8. Siobhan Bell
If DJing for Megan Thee Stallion on tour isn't a qualifier for being a powerful woman to watch, then we don't know what is! East London DJ and producer Siobhan Bell have done this and more, teaching herself how to DJ by watching tutorial videos on YouTube and perfecting her craft. Bell is currently crossing over into the fashion world and striving to break barriers in a multitude of industries.
9. Maya Allen
Maya Allen is the current Beauty Director of InStyle Magazine. In the past, she has been the Beauty Editor at Marie Claire, Assistant Beauty Director at Byrdie, and Fashion & Beauty Editorial Assistant at Cosmopolitan.
10. Alicia Gooding
Alicia Gooding is a trailblazing music executive who founded C.O.D.E., a management, marketing, and publicity firm in New York City. She has represented Talent such as Amber Rose, A Boogie Wit Da Hoodie and Fatboy and label artists on Alamo Records and RocNation. Alicia also made her tv debut as the star of BET's 2019 hit show Hustle in Brooklyn. Today, Alicia is the Director of Artist & Influencer Programming for Breakr, an app where artists break music and influencers get paid!
11. Elisa Johnson
Elisa Johnson, daughter of NBA legendary Magic Johnson, has launched her own trendy eyewear collection named Elisa Johnson Eyewear. This is a collection of timeless and one-of-a-kind eyewear designed by the brand's namesake. The collection is inspired by Elisa's personal point of view, as a born and bred LA Girl turned NYC Fashion Woman. Each design reflects Elisa's style, a juxtaposition of classic and current, luxury and street. Her designs break the rules, push boundaries, and elevate the look of anyone who dons them.
12. Bea Dixon
Bea Dixon is the founder and CEO of The Honey Pot, plant-derived feminine care and female hygiene products. "The whole reason I started The Honey Pot Co was because I was suffering from bacterial vaginosis for months and couldn't get relief. One night, an ancestor visited me in a dream and gifted me with a vision to heal myself. With her help, I created the Honey Pot Co to solve for what other brands wouldn't, using the power of herbs," says Dixon on her website.
13. Khleo Armstrong
Khleo Armstrong is an Atlanta-based Art Director and currently has her own fashion brand Hey Friday. She has styled artists such as Erykah Badu and Lizzo. She has also had the opportunity to work on the Migos Scotty to Hotty music video set. Armstrong draws her inspiration from people like June Ambrose, Teyana Taylor, Aureta, Solange, Nadia Lee, Tracie Ellis Ross, Pharell, and Travis Scott.
14. Paige Shari
Paige Shari is an East Atlanta native who is currently a Celebrity Host at REVOLT MEDIA & TV. She has created her own company called PSA MGMT & Consulting, which specializes in brand management and public relations.
15. Skylar Marshai
This Atlanta native is a creative strategist, storyteller, and content creator. Her former work experience includes being a Social Strategist for BuzzFeed, producing some of their most meaningful content. She is currently a Digital Social Manager for The CCNYC, a community & creative agency immersed in the culture, dedicated to facilitating brave spaces for multicultural creatives.
16. Olamide Olowe
This Generation Z woman founded her own skincare brand with her friend, and it sold out within days! They launched Topicals out of pure faith and determination, "which offers science-backed and clinically tested products for the one in four Americans who experience chronic skin conditions, such as eczema and hyperpigmentation" (https://www.cnbc.com). Their investors included Netflix, CMO Bozoma Saint John, and 'Insecure' stars Issa Rae and Yvonne Orji.
17. Jozzy
Ever wondered who we have to thank for Lil Nas X's country/hip-hop music breakthrough? Well, let us introduce you to Jozzy, the queer co-writer responsible for creating the worldwide phenomenon that is "Old Town Road." Her foundation came from writing for Timbaland, Missy Elliot, and Lil Wayne.
18. Aisha "Pinky" Cole
Aisha Cole is the owner of Slutty Vegan, a plant-based burger chain in Atlanta, Georgia. Cole graduated from Clark Atlanta University and has been making strides in her career ever since. This Jamaican-American restaurant owner became a millionaire in less than six months.
19. Scottie Beam
Scottie Beam is an American media personality and model. She was a former producer at Hot 97 for ten years but now co-hosts her own podcasts called Black Girl Podcast and Okay, Now Listen. The podcast is described as "two Black women discuss[ing] what they're dealing with at any given moment — from belting out gospel to speaking candidly about sex — with a firmly Black cultural frame of reference" (Complex Magazine).
20. Nandy Mason
Nandy Mason is a vet in the entertainment industry. This boss wears so many hats, from entertainment exec to talent booker. Nandy is also a chief operating officer and co-founder of Culture Shock Studios- a global content-production company. Her expertise makes her adept at liaising with the world's most influential musicians, actors, athletes, and influencers. She's worked with the world's most influential musicians, actors, athletes, and influencers. She's also worked with companies such as BET, Spotify, and Revolt Media. She is the definition of a go-getter.
21. Jewel Burks Solomon
Jewel Solomon is the current Head of Google for Startups in the U.S. She is also a Managing Partner at Collab Capital, an investment fund she created to help Black entrepreneurs start up their businesses. In 2016, Solomon was named one of the Forbes 30 Under 30.
22. Njilan "NJ" Ndure
NJ Ndure is a Relationship Manager for Nike's North America Catalyst Brand Management, making waves in the entertainment industry. Via her LinkedIn Profile, her role in this job is to "garner and nurture organic relationships with a variety of top tier influencers, creators, community leaders, change makers and entertainment contacts with national and global relevance."
23. Fadia Kader
Fadia Kader has been a mastermind behind the scenes for social media application Instagram, driving strategic partnerships and collaborations to the forefront of the app's success. Kader now works for Clubhouse as the Head of Media Partnerships.
24. Phylicia Fant
Phylicia Fant is a Spelman College graduate who has made her mark as a music executive. Fant is the Co-Head Of Urban At Columbia Records, pitching and executing creative campaigns for some of the most well-known artists in the game. Some of these individuals in the industry include: Drake's OVO Sound, Prince, Andra Day, Amy Winehouse, Raphael Saadiq, Kid Cudi, and Lil Nas X.
25. Elle Houston
Elle Houston is an Event and Brand Activation Producer from Los Angeles. She is the founder of The Elle Empire, an event planning business that strives to create dope events for cool brands and cooler people. Houston has previously worked for ESPN, Beats by Dr. Dre, and Revolt Media and TV.
26. Alaysia Sierra
Alaysia Sierra holds the job title of Head of R&B and Programming at Apple. She has curated multiple playlists on Apple Music. "As the Head of R&B at Apple Music, I'm all in on pushing R&B to the forefront. It's not only my job to see that R&B continues to grow and we spotlight what R&B has given us, but also to be a resource for artists who've been a part of or will be a part of the continued evolution of R&B," Sierra says in an interview on hitsdailydouble.com.
27. Ah-Niyah Gold
Ah-Niyah Gold is a Los Angeles based Influencer and VIP Relations at ITB Worldwide. She is currently working on various public relations and marketing projects and has accumulated a massive following on Twitter. Gold has started her own consulting company called "A Gold Consulting," establishing herself and her brand in the industry. She also works for Black Fashion Fair as well in the communications department.
28. Asia Irving
She is not to be addressed as merely "Kyrie Irving's sister," her name and accomplishments deserve to be recognized! Asia Irving, founder and creative director for Aseye Studio, a knitwear and outerwear brand founded in 2021. Irving is also a men's wardrobe stylist and fashion designer and has been featured in publications such as Vogue, Cosmopolitan, Harper's Bazaar, L'Official, InSyle, and Sports Illustrated.
29. Francoise Blanchette
Francoise Blanchette is a longtime Lifestyle + Culture specialist. When it comes to crossing the T's and dotting the I's on endorsement deals for some of music brightest stars, Franciose Blanchette not only has them allocated, they've been signed, sealed and delivered. Francoise is now the Principal at MCM-PR where she specializes in Branding, Integrated Campaigns, and Media Relations. She has also created brand partnerships with brands including American Express Black Card, NetJets private jets, and Essie nail polish. She has created events for brands Hennessy, Remy Martin, DKNY, Colgate, Seagrams Gin and Spike Lee. Her clients have been featured in CNN, New York Times, Forbes, COjmples, Essence, Billboard, Vibe and People Magazine.
30. Lindsay Peoples
This Wisconsin native definitely has a track record to be proud of when it comes to her career success. Lindsay Peoples was the youngest editor-in-chief at Condé Nast, working her way up to executive status in the communications field. She was previously also the the editor-in-chief of Teen Vogue. Peoples was recently named editor-in-chief of New York's magazine The Cut.
If you want to read more, follow us on Instagram, Facebook, Twitter & Pinterest!
Powered by Ahead. Download the Ahead Money app. Build better money habits with Ahead! Open the link from your mobile device to download the app.