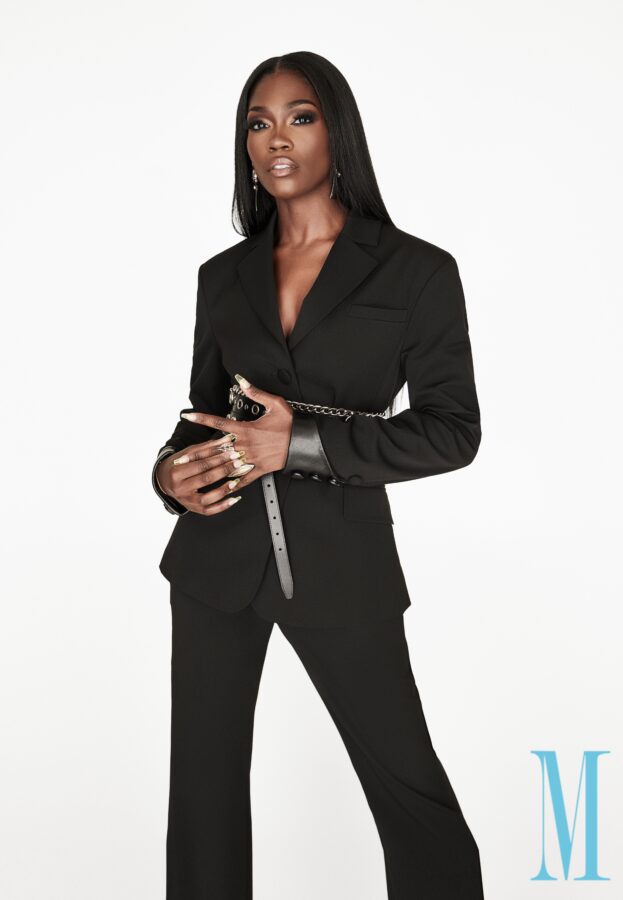 About the SVP
In honor of our collaboration with Ahead Money, a digital banking and financial health platform led by women, we sat down with Amber Grimes. When we first met the talented Amber Grimes, she was the executive assistant to Nick Cannon and starring on Oxygen's hit show, Like a Boss. In just four short years, Amber Grimes went from assistant to the president. Meet Amber Grimes, Senior Vice President of Global Creative at Capitol Music Group. This ambitious Atlanta native has had previous roles at Def Jam Records and Spotify. In addition, Grimes started her own full-service marketing company, The Cardi Brand Agency.
"I've spent the last decade in the music industry trying new things, staying current on technology, ahead of new trends and soaking up knowledge whenever I was blessed to be in a room or at a table," explains Grimes. "From production, to artist relations, to creative marketing, my current role requires me to use every bit of experience from every opportunity I've had over the last 10 years. I got where I am today by never putting myself in a box or allowing people to shame me for being a 'Jack of all trades.' All of my "trades" made me the most experienced, agile, and prepared leader in my field."
Grimes got her start in her career by hosting parties in Atlanta as a way to get her name out there. However, her first official job in the entertainment industry was working at Def Jam as Bu Thiam's executive assistant at the age of 20. According to Grimes, she received this opportunity from managing artists and producers in Atlanta and networking with the right people. "I'm really excited for Nija's (Nija Charles) debut project as an artist. She's a talented songwriter, but an even bigger artist; a superstar and I'm so honored to get to help her show the world who she really is," Grimes says about her upcoming projects.
Being a Black Woman in the Entertainment Industry
As a Black woman in a space dominated by white men, Grimes recognizes the day-to-day challenges that she has to face in her industry. She has experienced the internal and external battles of being perceived as the "angry black woman" and has chosen to move forward from those stereotypes and continue to be her most authentic self. "I don't care about that anymore though. Now my day-to-day challenge is giving myself permission, every day, to express myself anyway I choose, and if someone feels a way about it that's their problem, not mine," said Grimes.
"My perspective is valuable, I'm meant to be in any room I'm in and I'm doing everyone a disservice when I don't bring my full self to that room. I overcome this challenge every day."
With the success that Grimes has had in the music and entertainment industry, her career advice is extremely valuable. A motto that she lives by is,
"If you can't tell me how you did it, you don't know how to do it, which means you can't do it again."
"I believe there's a formula and a process that can be developed for just about everything," says Grimes. "I pride myself on honing my craft, learning from mistakes and showing my work. Accidental success is cool, but if I put lightning in a bottle once, I'm going to spend the rest of the week dissecting how I did it. So I can do it anytime I want, and so I can teach other people."
Leaving a Legacy
"I want young Black women to know they can have it ALL. You can have the career, love, happiness etc… everything you want, you don't have to choose. So I'm not sacrificing anything that's important to me for another thing, I've called it all into my life by simply believing I can have it and doing the work," says Grimes.
Starting a business can be extremely scary. Dealing with the fear of failure can prevent potential businesswomen from starting their brand and fulfilling their dream. "Just start," Grimes states bluntly. "Don't waste any time thinking about everything you've been told is against you, just deal with it when you get there. The majority of the time people are projecting their own insecurities and failures on you, a lot of these myths about being a woman in business are dated, and so many people have walked so you could run so take off! You actually experience what you fear…so fear nothing, and crashing through "glass ceilings" will feel like tripping over a rock."
According to Grimes, the challenges will always be there, but you should never let that keep you from excelling your way to the top.
"The obstacles exist, but they won't stop the show unless you let them."
Credits:
Creative Directed by: Gabrielle Amani @gabrielleamani
Photographed by: Yaw Aseiedu @yawasiedu_ 
Styled by: Sequine Lee @sequine 
Hair by: Joilisa B. @_joilisab 
Makeup by: Tim Clark @tlcdivo
Production assistants: Tionna Barnes @tionna.b and Taylor Amari @taylor.amarii 
Style Assistants: Jozzi Rainey @styledbyjozzi, Ola Wadely @atribecalledola__ , and Tyra Mae @zenspice__
The see more about Amber, watch our video interview here.
If you want to learn more about Amber, follow us on Instagram, Facebook, Twitter & Pinterest!
Powered by Ahead. Download the Ahead Money app. Build better money habits with Ahead! Open the link from your mobile device to download the app.