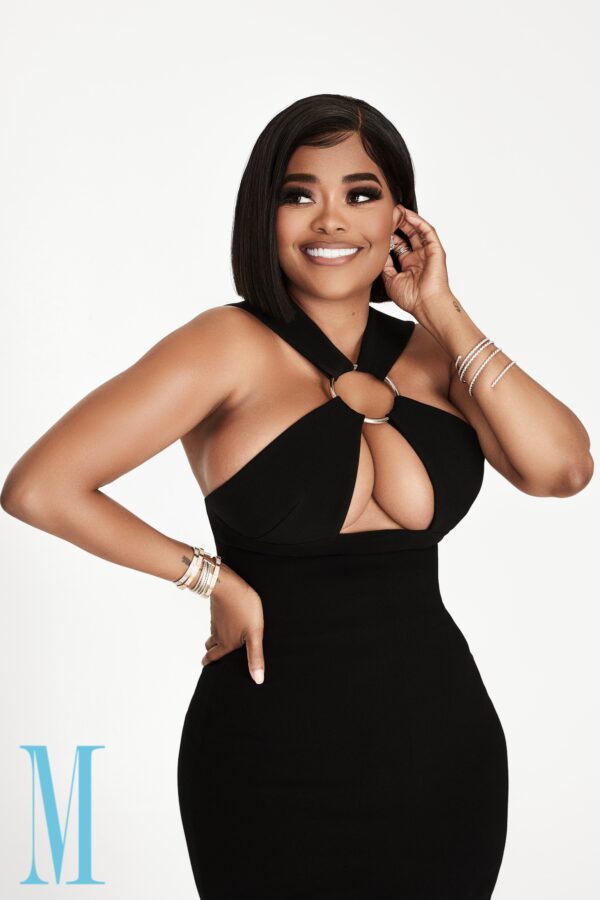 Meeting the Mogul
In honor of our collaboration with Ahead Money, a digital banking and financial health platform led by women, we sat down with Karen Civil. It's not often you get to interview a mogul such as Karen Civil. So when asked to interview her, I immediately knew that I had to bring my A GAME. Karen Civil, a Social Media Mogul, Digital Marketing Strategist, and Founder and CEO of KarenCivil.com, is known for her eye for excellence and amazing work ethic. It's this eye and work ethic that allows Civil to make waves in the entertainment industry. The Haitian-American entrepreneur has solidified herself as one of the most prominent digital marketing strategists in the game. She has worked with Hilary Clinton on reviving her campaign and even met with Michelle Obama at the White House. However, Civil's journey began as a young intern to American disc jockey, rapper, record producer, and host Funkmaster Flex. This opened the door for even more incredible opportunities.
"Being able to just be around Funkmaster Flex, Mr. C, Angie Martinez, DJ Envy, Big Dennis, there were so many incredible people whom I got to learn from, grow from, and just be around," explains Civil. "It wasn't just the basics, I got to learn so many other things and be hands-on, so that was very instrumental in my growth."
Civil's previous work experience includes working for Diplomat Records in the A&R Administration sector and being a Music and Entertainment Manager for Beats by Dr. Dre.
Playing by her Own Rules
Furthermore, Karen Civil has established herself in a plethora of ways, from starting her own full-service branding and marketing firm, Always Civil Enterprise, to featuring hip-hop artists Drake, Nicki Minaj, and J. Cole on KarenCivil.com. She has been recognized and awarded by Essence Magazine, BET, and Black Enterprise Magazine.
"I always wanted to be an entrepreneur. Having a 9-5 didn't work for me because I didn't follow the rules. I pretty much was kind of doing my own thing at any company that I worked at."
A motto that Civil swears by is:
"In a world that wants you to be anything but yourself, continue to be you."
She recognizes that everything is very fast-paced in this society, and it can cause many businesswomen to get caught up in idolizing and critiquing others rather than investing in themselves.
"People are looking to their left, to their right, and behind them instead of focusing on what's in front of them," says Civil. "Don't let the connotations of society, people around you, and social media perceptions 'make you feel like you are lacking or behind."
Working With the Best
In addition to all the strides Civil has made in her career, she has learned from and worked with some of the most legendary celebrities. In 2019, she collaborated with Nipsey Hussle on the "Marathon Clothing" Smartstore and also helped plan the memorial service after his passing.
"For me, it was about being able to work with incredible people like Nipsey, Lil Wayne, and Pusha T. These are three people who I absolutely love and feel like were extremely instrumental to my growth," said Civil.
"Iron sharpens iron. Someone like Pusha, who keeps his word and teaches you the importance of that. Someone like Nispey teaches you to continuously grow, educate yourself, and never stop learning. Someone like Wayne teaches you about growth, not being afraid of expansion, and not being afraid of your peers growing bigger and better than you."
A Moment of Truth
11 years ago, Karen Civil took a leap of faith and moved to LA to fulfill her dreams. Civil revealed that this was one of the most impactful moves in her career. "I took a chance on myself and I wanted to see new horizons. I wanted to get past the glass ceiling."
Civil is currently working on a podcast with Ming Lee titled "Girl, I Guess Podcast," reshaping her Lip Civil platform and writing her first book, which will be released in either November or the beginning of 2022.
"It makes me really excited to push that energy and time back into other people and see other entrepreneurs grow," says Civil. "Challenging yourself is like going to the gym. When it gets to those points when there's pain or something is bothering me, that's just weakness leaving my body. I continue to move forward and continue to have that discipline and work ethic and make sure I find time for myself and have balance. I'm not waiting for the rest of the world to give me my applause or love me. I'm making sure that I love myself first."
"Your mistakes do not identify who you are, your mistakes are a lesson."
I asked Karen Civil, "If you could go back and give your younger self advice, what would you say?" Her answer was the mindset that businesswomen all over the world should have.
"You're still that bitch, you're going to continue to be that bitch. Your mistakes do not identify who you are, your mistakes are a lesson. You're that bitch now, and you'll be that bitch later." Civil continues to pour into herself and states that she wouldn't change anything because it has made her the person she is today.
"The advice I would give Black women trying to work their way up in this industry is, take your time. Breathe. Don't wear a watch if you're always going to look at the time. Stop aging yourself out and rushing the process. Take your time to figure out life and do not let your experience on life be rushed. Just enjoy it."
Credits:
Creative Directed by: Gabrielle Amani @gabrielleamani
Photographed by: Yaw Asiedu @yawasiedu_ 
Styled by: Manny Jay @mannyjaystyles (Karen)
Hair by: Joilisa B. @_joilisab 
Makeup by: Olivia Song @oliviasong 
Production assistants: Tionna Barnes @tionna.b and Taylor Amari @taylor.amarii 
Style Assistants: Jozzi Rainey @styledbyjozzi, Ola Wadely @atribecalledola__ , and Tyra Mae @zenspice__
Watch our video interview to learn more about Karen, here.
If you want to learn more about Karen, follow her on Instagram, Facebook, Twitter & Pinterest!
Powered by Ahead. Download the Ahead Money app. Build better money habits with Ahead! Open the link from your mobile device to download the app.