It's the summer of 2005 and the Florida weather is blazing as per usual. The neighborhood kids grab a frozen cup from the "candy lady" and head back to their sidewalks to play. Almost instantly a car zooms by blasting a nasal melody through its speakers. The tune's hums of "doo-doo-doo-doo" captivate the children and halt their chatter. This, like many other Floridians, was my first time hearing singer and songwriter T-Pain's breakout song "I'm Sprung".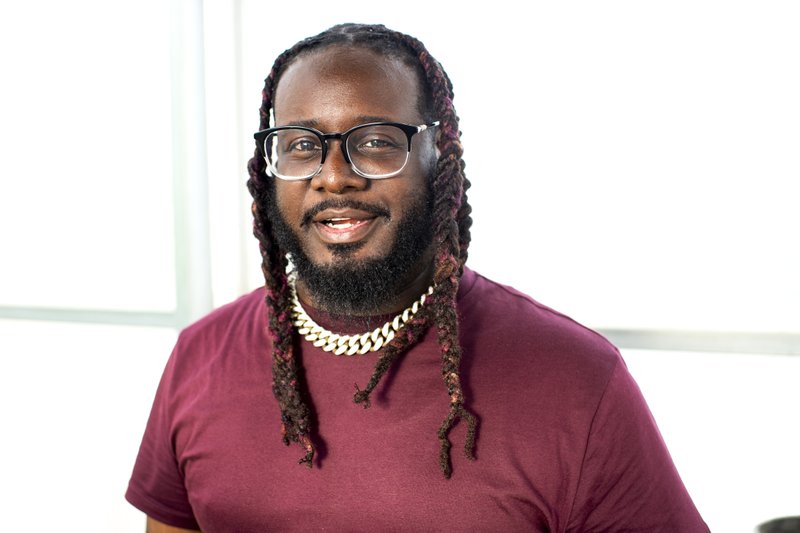 The South Tallahassee native put Florida on the map through his unique R&B style. After remixing singer Akon's "Locked Up", T-Pain found himself being discovered and signed to the artist's Konvict Muzik label in 2005. With the breakthrough single "I'm Sprung", T-Pain paved the way for auto-tune to become a major part of Hip Hop and R&B music for years to come. The singer's success led him to multiple charting hits, books, and Grammys. Through songs like "Buy U a Drank (Shawty Snappin')" and "Bartender", T-pain's hypnotic sound is an influence on artists like Rod Wave, Roddy Ricch, and Young Thug.
A lot has changed since 2005, especially social media. Last month, T-Pain posted a Tik Tok video of him sorting through hundreds of requested Instagram DM's. Celebrities like Fergie and Viola Davis are just a few of an endless list of users that have tried to contact the artist throughout the years.
Since then, he's reconnected with Jamie Foxx, Zedd, and even Mark Zuckerberg, the owner of Instagram. Not only is the singer re-connecting, but he's also releasing. A couple of weeks ago, T-pain dropped his new song "I Like Dat" with singer Kehlani. It's safe to say that the "Nappy Boy" artist is back and better. It's been a minute since we've heard some heat from T-pain, so here are five songs that will remind you of his legendary status.
1. Buy U a Drank (Shawty Snappin')(feat. Yung Joc)
If you're rhythmically challenged, that's okay because this banger only requires two movements. Just snap ya fingers and two-step, you can do it all by yourself. T-pain dropped "Buy U a Drank (Shawty Snappin') in 2007. The song was featured on his second studio album Epiphany. It swiftly peaked at No.1 in May 2007.
The perfectly placed ad-libs and harmonies made this song all that it is hyped to be. The tune was also for the ladies. Who doesn't love a free drink from a cute guy at the club? "Buy a U a Drank" was even a Southern link-up. Atlanta rapper Yung-Joc added a cool verse that brought the mellow hit a flare of Atlanta sound.
This banger became T-pain's first No.1 song. Recently, T-pain sampled his hit song into "I Like Dat" with Kehlani. The new jam is a summer bop with that nostalgic feel. Kehlani pinned her excitement in a tweet saying, "…I really have a song wit[h] T Pain!!!!… what is my life!!!!"
Trust us Kehlani, the excitement is mutual!
Kiss, Kiss – Chris Brown
The 2000s were a time for many things. Low-rise jeans, iPod Nanos, and snapbacks. The "Nappy Boy" x 'Pretty Boy" collaboration "Kiss Kiss" by Chris Brown featuring T-Pain was a bop. Chris was already established, having hits like "Yo(Excuse Me Miss)", but featuring T-Pain on a hit solidified his coming-of-age work. The song was placed at No.1 in November 2007.
T-Pain's tempo in the song was nothing less than perfect. He entertained viewers through his famous ad-libs and even switched up his flow for an upbeat tune. The two artists' perfect mix of hot and cold sounds left viewers waiting for another TP and CB duo. Every girl was calling 850-321-8692 to talk to T-pain and Chris Brown after this song.
Blame It – Jamie Foxx
After a night of steamy clubbing and questionable decisions, just remember to blame it all on the alcohol. Jamie Foxx and T-Pain teamed up in 2009 to create the Grammy Award-winning anthem "Blame It". The two both held their own with the auto-tune and vocals. Resulting in the song charting its way to No.2 in May 2009.
Now the song was one thing, but the visuals were a beast. The video is a total club scene with women, dancing, and flashing lights. The music video was directed by Hype Williams with special appearances by Jake Gyllenhaal, Forest Whitaker, Ron Howard, and Samuel L. Jackson.
T-pain is legendary for club anthems but with the video and Jamie Foxx combined, "Blame It" won a Grammy in 2010 for Best R&B Performance by a Duo/ group with vocals.
5 O'Clock (feat, Lily Allen & Wiz Khalifa)
Versatility is a suit that kept T-Pain relevant for more than 15 years. With pop artists like Lady Gaga, Katy Perry, and Bruno Mars stepping on the scene, 2011 was a perfect time to cross over to another genre of music.
"5'O'Clock"'s cool tone landed its way to 20 weeks on the Billboard charts. The song is from his Revolver album which peaked at No.10 on Billboard back in December 24, 2011. It featured "Smile" artist Lily Allen and "Black and Yellow" rapper Wiz Khalifa. The melody showcased T-Pain's vocals and showed fans a different range of work from their favorite club bopper.
The song gives a dreamy feel and the music video is even more ethereal. We see our favorite clubber's intimate side. Through lonely strolls in the city and a love story, T-Pain illustrates his sensitive side. "5 O'Clock" dumps every listener into a rabbit hole of feelings and nostalgia.
Best Love Song (feat. Chris Brown)
It's a TP and CB love song, need I say more?
All in all, T-Pain's contribution to the music industry will never go unnoticed. He is unarguably one of the best R&B artists to ever do it. With his smooth vocals and creative sound, T-Pain will always have a place in R&B history. Enjoy your flowers, T-Pain.
For more, follow us on Instagram, Facebook, Twitter & Pinterest!