As streetwear becomes increasingly popular in fashion circles, the line between streetwear and luxury is ever-skewed as Gisele Bündchen covers Vogue Japan in a supreme box logo tee.
Supreme's first intro to the luxury world was its . This collaboration didn't only help supreme become even more admirable, it increased Louis Vuitton's 2017 profits and made the brand cooler in the eyes of millennials. Celebrities also cosigned the collab making both brands even more desirable.  Many argue that Supreme helped  Louis Vuitton more than Louis Vuitton helped Supreme. This statement alone is the reason why MEFeater takes a look at the relationship between the two worlds.
How is streetwear evolving and what does this mean for fashion?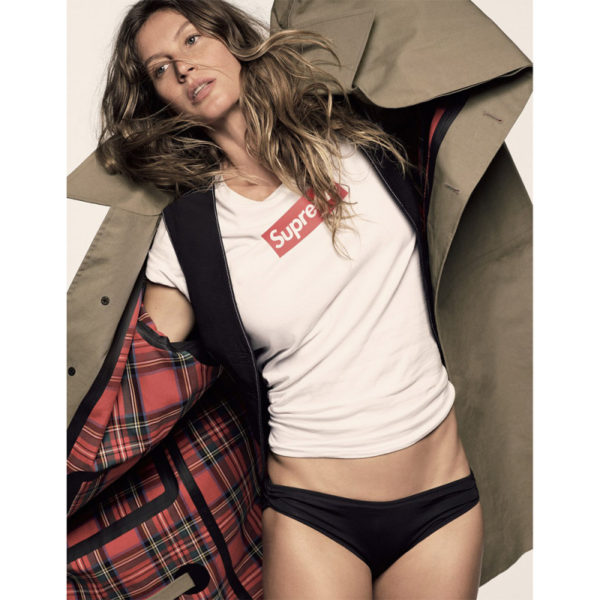 When we look at the recent shift in editorials, we ask ourselves: where does morphing streetwear influences with a typically couture-led shoot leave the state of fashion? Is it leading back to a time when 'luxury' was simply for the higher class in society? Or is it just simply that brands like Supreme are, for whatever reason, more palatable? One could point their finger at what modern media would call the 'millennial effect.'
This slideshow requires JavaScript.

The State of Fashion – Vogue Japan & Supreme
Magazine photoshoots were fiercely exclusive in the past. The best of wealthy designer brands were pulled and the hierarchy behind them had a loyal relationship.
Furthermore, this is why Gisele's photoshoot for Vogue Japan is interesting. Her latest model appearance was an appearance in luxury brand, Versace's ad campaign. She shared the campaign with other legendary models such as Naomi Campbell.
Versace is (or was!) a far cry from Supreme in terms of luxury perception. It's unlikely to see a magazine have a full page spread of Vetements anytime soon, but you will see how the above/below is going to adopt a new trend-setting influence. I took to Instagram Stories during the week to see what people thought about magazine shoots and the infiltration of streetwear into fashion (as we know it.) What people had to say was quite interesting.
In addition, many people who did enter the conversation remarked how much has changed. Influencers, bloggers and the millennial effect have changed the landscape. Because streetstyle is an obvious part of [the influencer's] work routine, people felt that luxury brands had to essentially, come down a peg or two. And it's probably true. Luxury brands have started to market themselves towards a younger generation. This is evident by the likes of Gucci's 'meme campaign.' Online shopping is another big market but luxury brands (Chanel etc.) are a bit more hesitant, even still, to get onboard. With generation Y being a large chunk of the customer base, it's no surprise it's a contributing factor to how magazines compile their pages. This, in turn, shapes the industry for me and you.
As for streetwear brands, the only way is up. ??
---
What are your thoughts on modern day fashion? Do you love when designer brands are showed off with streetwear? The team would love to know our readers' thoughts.