Erykah Badu, Brandy, and Prince are just some of the innovators in soul music we still honor today. But those legends feel distant now, even with their amazing vocals. Luckily enough, the modern-day scene has brought us Quiñ, the emerging artist bringing a whole new meaning to the term "mood music." In fact, she defines her sound on her own terms — "fantasy soul."
"I really needed soul music with fantasy involved. My imagination runs all day, so I needed a genre of unlimitedness. No box to worry about." she told us. The artist honed her talent early on, in choir practice. However, young Quiñ had no idea she would work in the industry in the future. "I never thought I would be singing forever. But when I moved back to LA, the right situations lead me there," she said. Her jazz and R&B inspired style is like an electric daydream. Yet, when it comes to the greats, Quiñ is influenced beyond the soul stars of the past. "I have no specific inspirations. I just enjoy listening to good music. Brandy, Badu, and Prince are all some of my favorites. But I'm mostly inspired by my own feelings." she said.
Quiñ is finding herself and her emotions on the path to stardom, and in good company, too. She's already worked with Syd, 6LACK, and even G-Eazy. On her début album Galactica, the two collaborated for the song "Over Again." She and G-Eazy are close friends. "He's a really sweet, cool person. It was a no-brainer, and I didn't think twice about including him. The beat sounds like what he looks like to me." she told us. Working with her friend paid off. The track is simple, sultry, and infused with Quiñ's signature croon. Coupled with G-Eazy's smooth bars, it is a clear winner.
The singer-songwriter has a very introspective way of writing the lyrics for her music. "I'm a really emotional person. I'm always checking in with myself — actually feeling all my feelings. I need to dissect which are mine, and let my emotions guide me." she explained. Her approach may sound simple, but going with the flow is much more difficult than it seems. "I look for the honest ones I can put into words. That's the challenge. I never go to write lyrics. But I write all my feelings down. I freestyle melodies, and see what comes up close to my soul." she said. How many of us could make coherent sense of our free flowing emotions? Her ability to turn that into clean cut art is skillful.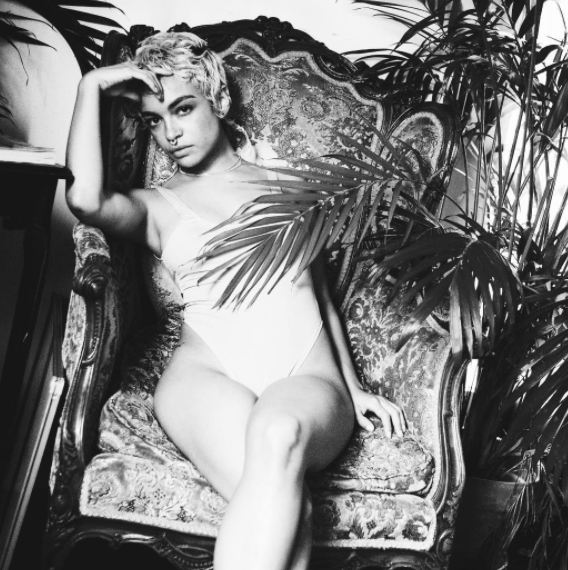 Furthermore, Quiñ's fashion is very reflective too. Quiñ's platinum pixie cut will be the first thing to get your attention. The artist has pulled off braids, curls, bangs, and more. In addition, her wardrobe includes lots of faux furs, glitter, cheetah print, stylish sunnies, and many a crop top. From streetwear to onstage, you can count on her to rock a show stopping look. "The way I dress has everything to do with how I feel on the inside," she told us. Also, she remarked that her mother's style was cool growing up, but her main source of inspiration is still dominated by her inner self. "Everything is a mood. My songs and my clothes. No boxes, so I can feel how I want and express what I need." she said.
Her latest single "i'M GOOD" was released in anticipation of Dreamgirl, her upcoming EP. "There's no release date yet. It's just the next chapter of this. We're zooming into Galactica." she said excitedly. "Seeing who she is and how she got there. Dreamgirl falls in love. It's a whole love story. Galactica was about loving myself. Dreamgirl is a love story." Every romantic should keep an eye out for the upcoming album.What should listeners expect? Most of all, hope and confidence. "I want everyone to get to know their dream self. Being on earth, we naturally drift away from that. We all have feelings. And we all have a little person inside of us who wants us to win. It's going through your own journey, and getting to know yourself."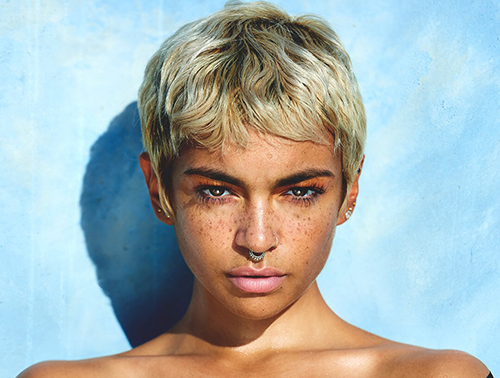 Quiñ keeps her life and style beautifully real. The fluidity of her emotions and her art is fascinating. She is definitely worth a listen. We all have an inner voice to get in tune with. The artist speaks to that, in the way she knows best. "My 'dreamgirl' is who I am right now, and who I'm becoming," she said. "It's choosing to have no regrets. I'm proud of myself. Because I'm doing what I said I would do. And we're all allowed to be proud of ourselves."
You can follow Quiñ on:
Instagram – @thequincat
Soundcloud – /thequincat
Twitter – @THEQUINCAT
Youtube – Quiñ
——————————————————
Interview by:  Melinda Fakuade
Twitter – @melindafakuade