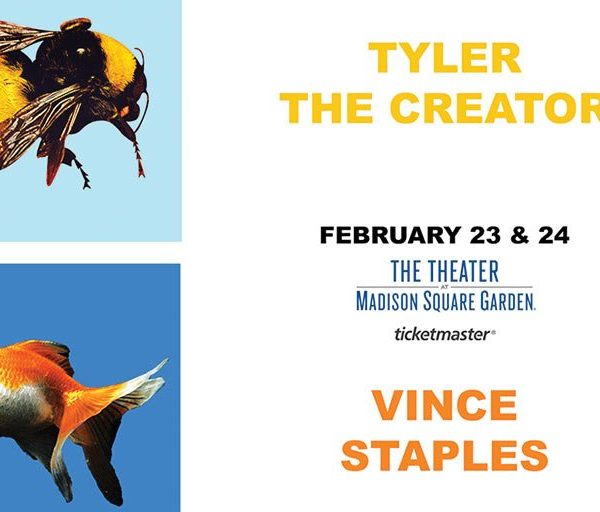 Friday night, (February 23rd) Tyler, the Creator took on the Madison Square Garden theater. Along with him was fellow Odd Future member, Taco and rising star, Vince Staples. What comes as an amazing trio and trip, ended to leave many of the audience members with questions.
The night began under clouds of haze and the distinct smell of what it means to let loose (weed). The environment is infused with youth and their will to be kind to one another. Due to a wide range of diversity, you'd expect for the feel to be more or less awkward. Nonetheless, the vibe of New York was present. Consequently, they were open to bonding with people they've never met. That aura remained present as they patiently waited for their favorite artist(s) to take the stage.
You could sense the nerves, but you could sense that these folks were ready to let it all go.
As soon as Taco stepped on stage, all sections were on their feet celebrating what was just the beginning of a joyride.
Most impressively, Vince Staples showed up and out. An obscure countdown appeared on the screen with a looped track that sounded to have come straight from a horror film. Yet, the theme remained cohesive throughout his set. The North Long Beach native was very energetic without many props to back him. With an intricate use of lighting and setlist that made him very memorable, he came and did what he had to do on the Flower Boy Tour. If you were in that theater and didn't know him before, you definitely know him now.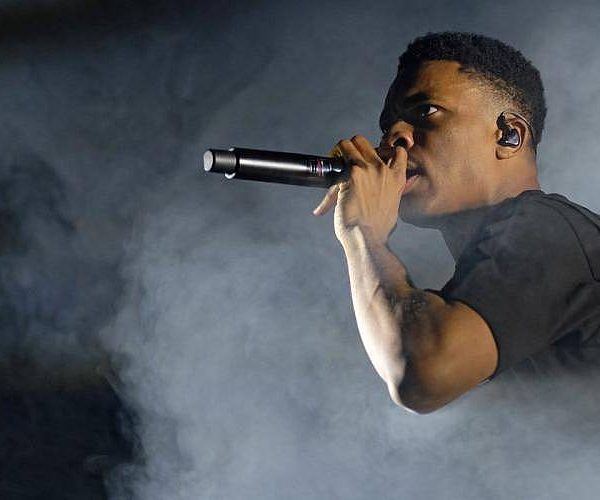 About 20 minutes later, the Flower Boy himself showed up on the scene.
With a much-anticipated entrance, the crowd went bizarre with reason. He begins with a focus on the strings section of "Where This Flower Blooms," one of the most well-known songs on Flower Boy. It was interesting to hear these strings play longer renditions then known on the album. The song expresses what it is to grow from what he himself and his fan base hold close to their heart. Notably so, Frank Ocean features as well, someone who has featured on many of his tracks. The live version of this track also features a more compressed version of Ocean's vocals which was an honor to hear.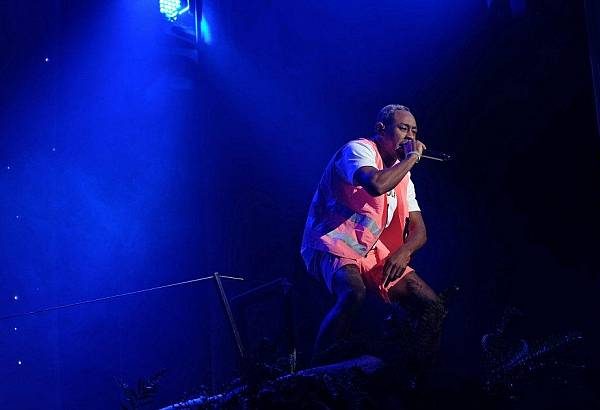 As he wallows into the night, Tyler does a great job at making you feel good for being there. His set is based on the concept of what seems to be a garden. As he falls into each song, the lighting changes to represent the change of seasons and transitions from day to night. He makes remarks on how inclusive he wants this to be after his entrance of medley the first mentioned, and "911/Mr. Lonely." He continues on to say that, "you aren't cooler than anyone for being a day one fan."
https://www.instagram.com/p/BfkZAv5AL06/?taken-by=sarahs.m
Nonetheless, he goes on to do an energetic medley of what are his "day one" songs. A very hype medley of "48", "Tamale", "IFHY", "Fucking Young", and the infamous, "She" and "Yonkers."
This brings the crowd in unison. With ranges of many voices, it comes off as both something to laugh at and smile at.
Many of the attendees express aloud how this album makes them feel just for how they scream out the lyrics. Some with their chest and others with their eyes shut tight. The environment is now more relaxed. For more reasons than just the music, but that somehow remains unanswered as to why.
The crowd is back up on their toes when we were surprised with an appearance made by ASAP Rocky for a performance of "Who Dat Boy." Which obligated them to feel like it was only right to also perform "Telephone Calls" right after. Tyler cracks some jokes about their feuds of the pass, which concludes their collaboration on stage.
If you're wondering if there was absolutely anything wrong with this concert, there almost wasn't.
It served everything it had to. Visuals, cohesive concepts, beautiful renditions of these songs that will age beautifully. But the only thing that left everyone in question afterward was the ending. It was metaphorically a great choice to end the show with "See You Again." The concept remains true to the audience and Tyler himself. So because of this, you would expect the ending of the concert to be just a little cleaner.
But instead, everything was quite abrupt. You craved to see everything again the second he got off stage. The feeling of the ending should resonate with you for long enough for you to be satisfied until the next time.
Nonetheless, it was memorable. Not everything has to be stellar and cookie-cut. If anyone understands that, it's Tyler, The Creator.
So does MEF recommend this show? If you're looking to feel free and feel things you haven't felt before, or won't allow yourself to feel, to say the least then you absolutely should. Check out if Tyler is coming to a city near you anytime soon.
Photos by Thomas Levinson