Spring is in full haul! The trees are (almost) budding, college students had fun on spring break, daylight savings has come so the days are longer – life overall is getting better. With a new season comes new fashion. Recently, a spring favorite has been the famous girlfriend jeans.
What's So Great About Them?
Unlike regular skinny jeans, girlfriend jeans allow room for mobility and breathability. A personal favorite has been the Black Daisy Ripped Applique Relaxed Girlfriend Jeans from Macy's.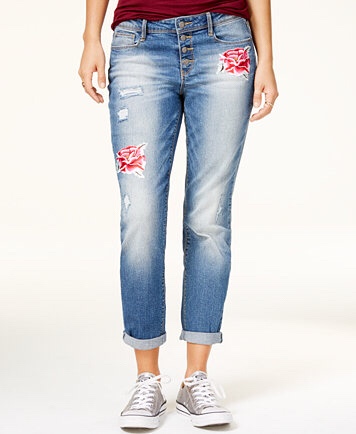 Rolling up the jeans at the ankle also add a reminder flare to the taken away from boys style. Paired with Converse, as shown above, these jeans can be worn to a quick meeting on campus or can be dressed up with a high heel for a night out.
Why Do We Love Them?
"I like that I don't feel suffocated in them!" 21-year-old Alexina Laliberte explains. "Skinny jeans are super cute and I love them, but girlfriend jeans are way more comfortable and just as cute! I can honestly wear them everywhere! I'll wear them out to a bar and dress them up with booties. I'll also wear them out to eat or to the mall and dress them down with some sneakers!"
These made our #MEFList for Spring 2018, so if you don't have a pair of these jeans then girlfriend, what are you doing? Shop Black Daisy Ripped Appliqué Relaxed Girlfriend jeans at Macy's now.
Show us your girlfriend jean style. Tag us in your photos on Instagram at @MEFeater. ?