Ashton Sanders shines in  Equalizer 2
Equalizer 2 sees Denzel Washington reprising his role as Robert McCall, a retired CIA black ops operator who is much of a loner. I mean, can you blame him after the last film? Being a trained killer seems lonely. However unbeknownst to him, he doesn't just have himself to worry about. He has a young, impressionable man who needs direction. Breakout star, Ashton Sanders takes on the role of Miles, a teenager growing up in a crime-ridden neighborhood, trying not to fall victim to the life himself. The streets are calling. However, Miles has a way out, his artistic talent, and his unexpected mentor, McCall.
Miles just doesn't know it yet.
MEFeater had the opportunity to speak with Ashton on his role, working with Denzel, and the importance of the portrayal of his character, Miles.
Growing up, Ashton always knew that he would pursue a career in the creative arts. When you are born great, you just know it.
Ashton recalled, "I was an artist; I knew that I was an artist from a young age, so I stood out. I didn't have a normal childhood but I had an artistic childhood. I was surrounded by a lot of art and like-minded individuals."
Even at a young age, Ashton always found acting fascinating. A creative, vibrant and demanding Ashton would often immerse himself into different characters to entertain family and friends.
"It's kind of like stepping outside of yourself and putting on another personality type. I used to run around the house and put on voices and characters for my family and friends and eventually I kept bugging my dad like hey I want to start acting classes and eventually he ended up listening to me," said Ashton.
Ashton's dad gave in and enrolled him in classes at the Amazing Grace Conservatory, a non-profit focused on performing arts for the youth. Ashton says it gave black youth a space to be free and creative, an environment needed for all black creatives across America.
Tapping Into Miles
Tapping into his character Miles was a personal experience for Ashton. Miles' life was close to the life Ashton knew growing up. This was more than just a role for him. This was, in a way, a path Ashton could have been victim to.
"Miles wasn't too far from what I have been raised around. We deal with that within our communities, what Miles is going through,  we see it all the time. I was able to take my experiences that I was raised with and put that on in the most authentic way," Ashton said.
When asked if Miles' character hit home for him, Ashton agreed.
"Yeah it did, I think it hit home for a lot of people because the character is so relatable. There are a lot of black, young men growing up without father figures who go down the wrong path and end up getting into gang activity, drugs, and violence. That's not an unusual story. We actually hear it all the times within our communities," he said.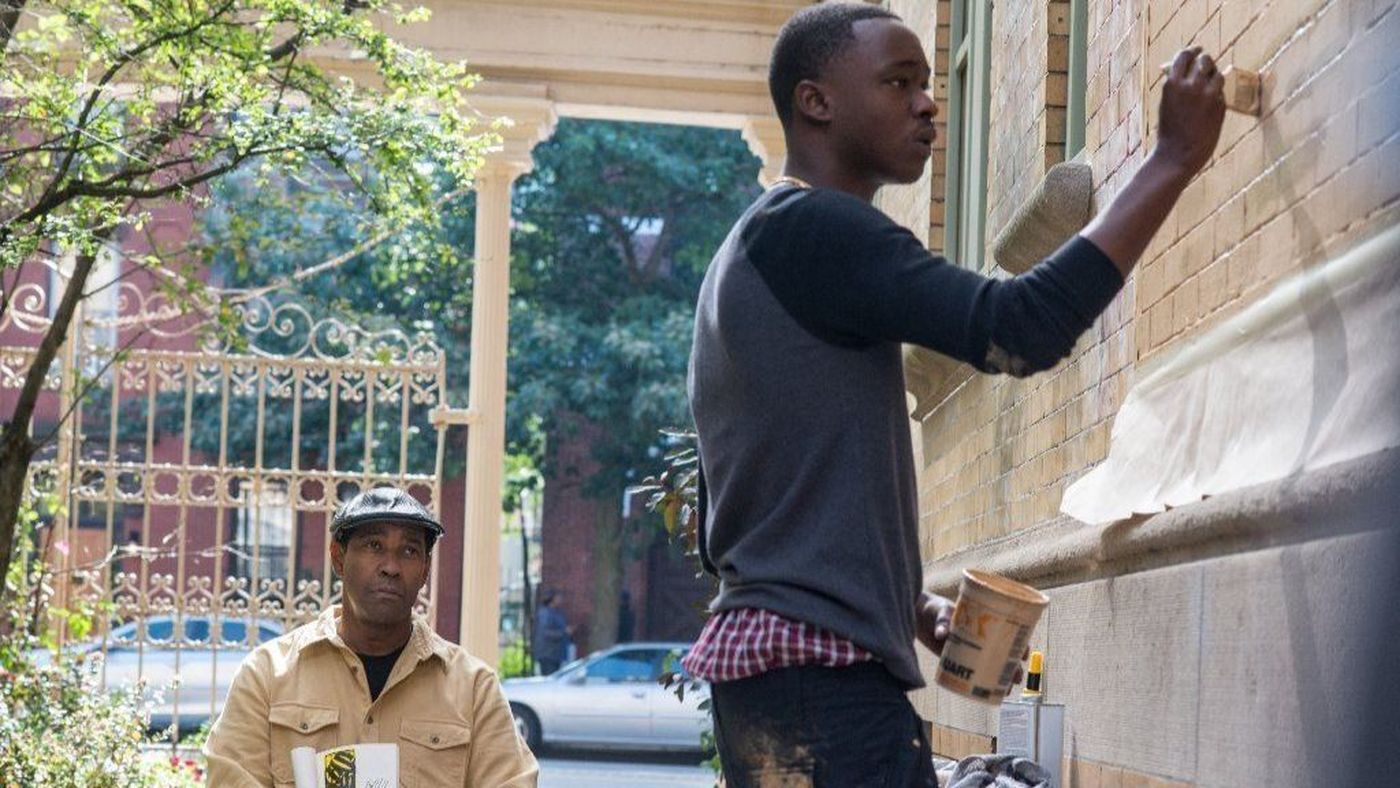 Miles (ASHTON SANDERS) finishes the wall as Robert McCall (DENZEL WASHINGTON) watches in Columbia Pictures' THE EQUALIZER 2.
"It was important to play this character. I thought it was really important to have McCall's and Miles relationship out there in the world for people to look at. I think Miles represents hope in the hood. Yeah, that's exactly what Miles is."
The representation of two powerful black actors on screen is an unforgettable moment. When it came to Ashton and Denzel's relationship off-screen, Ashton expressed it was very much like the one between their two characters, Miles, and McCall.
Miles and McCall's relationship was filled with guidance and the influence of the right path. One can only fathom the feeling of working with one of your favorite actors. It was a bucket list experienced fulfilled for Ashton early on in his career.
Ashton expressed, "Denzel is definitely a friend and mentor. What you see in the film is kind of an extension of how our relationship was built. We were building while we were filming. It was a pivotal moment in my life and in my career as well. It's a bucket list dream to be able to work with Denzel Washington. I  was taking notes but also working."
When asked about his most memorable moment on set, (of course we had to know), Ashton spoke of an emotional scene between Ashton and Denzel's characters, Miles and McCall.
"There's a scene in the film, I call it the 'elevator scene'. I feel like that's the most pivotal scene in terms of Miles and McCall's relationship, it's one of the climaxes of the movie. It was such an important moment. When I get material like that, I get excited. It's so much for me to dive into and I think Denzel felt the same," Ashton said.
You'll have to catch it in theatres to see!
To The Misfits
We couldn't let Ashton go without asking him what a misfit is to him. If you recall, Ashton Sanders and Jharrel Jerome won MTV awards best kiss-a pivotal moment for a lot of people, for their roles in Moonlight. A monumental moment. But what interested us the most is what Ashton felt like a misfit embodied. Ashton gifted the award to all 'misfits'.
"I think misfits are rebels almost. We don't really have boxes that we fit in, so we just are who we are. We're not trying to conform for the society; we just are who we are and embrace that. I think that's what a misfit is, an individual," said Ashton.
Equalizer 2 is Ashton's first lead role in a major movie, and Denzel Washington's first sequel ever in his 40-year history.
Watch Equalizer 2 in theaters now!