DaBaby has our attention but he is in a fight to keep it.
Jonathan Kirk aka DaBaby is no stranger to dropping music. The South Carolina native has three studio albums, thirteen mixtapes, and eighty singles including his newly released studio album BLAME IT ON BABY. This comes seven months after, his sophomore album, Kirk. Due to the virality of "Suge" and "BOP", DaBaby's foot is on the gas to prove that he is more than a moment. Although BLAME IT ON BABY does not slow down DaBaby's trajectory, it doesn't propel it either.
DaBaby dropping a studio album during the COVID-19 pandemic is supposed to be an instrumental part of his career. It was intended to work in DaBaby's favor that everyone is at home. BLAME IT ON BABY features can attest this, calling in heavy hitters Roddy Ricch, Future, Quavo, Megan Thee Stallion, YoungBoy Never Broke Again, A Boogie Wit Da Hoodie, and Ashanti. Yet, I believe that the timing was a bit off.
DaBaby is known for aggressive, in your face, pop-ish, club hits, and since everyone is on a state-wide stay at home order- it doesn't seem to reflect the time. I didn't carry the same sentiment going into this album as I would if it was summer and we were allowed outside. However, DaBaby's charisma and humor carried my interest, wanting to see what hip-hop new IT rapper has up his sleeve. Unfortunately, my interest soon wavered in the opening track once he raps: "You know I turn piss into lemonade, turn shit into sugar that's chocolate pudding." The nodding and smiling stopped. It never fully comes back as I progress through the album.
Disappointed.

Get Right To It: Overview & Rating
"NASTY" feat Ashanti & Megan Thee Stallion, "JUMP" feat YoungBoy Never Broke, "BLAME IT ON BABY", and "ROCKSTAR" feat Roddy Ricch are standout tracks on BLAME IT ON BABY. However, DaBaby's flow is redundant on 7 out of 13 songs but the flow redundancy is not to blame for why these tracks aren't as strong as they should be. DaBaby can rap but he relies on gimmicky tunes that make the redundancy disappointing. The other 6 tracks are more experimental in production and flow style. Yes- a different flow but it's nothing to call much attention to.
DaBaby doesn't need to change his flow style since it doesn't make this album special. A better selection of producers, writing, and cohesion with each track could've made this album more enjoyable and mature in sound. BLAME IT ON BABY get's a 6/10. Even though this was an average release I expect it to go number one in its first week as DaBaby is hip hop's new IT guy. In the first 30 minutes of the release, it garnered 25 million streams.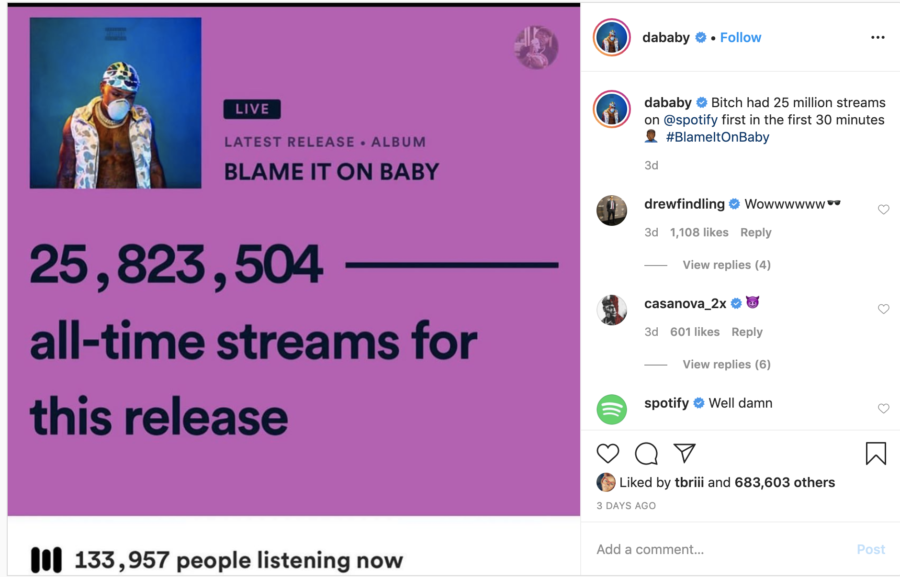 I anticipate DaBaby to rely on his charisma and humor through music videos and Tik Tok challenges to push and sustain this album in the charts.
Here's the Breakdown
"Bitch it ain't no stopping no ni**a like me" is catchy and energetic- "CAN'T STOP" is a great way to open a DaBaby album. "PICK UP," "LIGHTSKIN SHIT," and "TALK ABOUT IT" are all confident and familiar. DaBaby sticks to his code on these songs he's prideful, gallivanting about sex and money.
"SAD SH*T", "FIND MY WAY", " CHAMPION", and "DROP" DaBaby tries his hand at melodies. He is actually singing on these tracks. Clearly, this was DaBaby's attempt to step out of his comfort zone but it was just underwhelming and a bit chaotic. Without a doubt, these songs display a more experimental side of DaBaby but they just don't catch the ear. They are slow, lyrically mild, and boring. The ad-libs are distracting and unnecessary. I skipped these songs after listening for 15 seconds. For the sake of a review, a second listen was warranted but I still wasn't impressed.
"ROCKSTAR", "BLAME IT ON BABY", and "JUMP" is where you get to hear the best of DaBaby. The charisma is strong, he's aggressive, the superstar attitude is prevalent. These tracks remind you why 2019 was the year of DaBaby.
"NASTY" is thee hit! This is the biggest collaboration on the album. Megan thee Stallion makes an appearance as Tina Snow on this raunchy, 2000's inspired r&b track. If anyone can go bar for bar with DaBaby, it's Megan. Calling in Ashanti for the hook was a chef's kiss.
"Amazing Grace" bars are raw but not memorable. " A n***a barely read the scripture, but I'm spiritual". It's a relatable, self -reflecting closer to the album. The track's length coming in at 1:25 minutes is the most enjoyable part.
Overall, DaBaby's BLAME IT ON BABY was not an impressive album but it doesn't warrant the "the same flow" hate it has received.
Despite the common criticism, DaBaby's effort to step outside of the mold is evident. He switches up his flow- often- however, the lyrics are generic and the production is bland. DaBaby's BLAME IT ON BABY is an average release. DaBaby has the potential to be a rap giant but this album makes him still sound up and coming. Lyrical maturity and better instrumentals would help cement DaBaby as a front-runner in the hip-hop scene.
What do you think? Is DaBaby's BLAME IT ON BABY a play or a pass?
Follow MEFeater on Twitter, Instagram, Facebook, and Pinterest for more updates.