The 2023 Oscars are done and dusted. Like any other Academy Awards, there were multiple highs and lows from this year's event. One of the tearjerking moments was when Ke Huy Quan won Best Supporting Actor for Everything, Everywhere, All At Once. The Vietnamese-American actor struggled in Hollywood after being a child star in the 1980s. History, however, was made by Michelle Yeoh, who reminded everyone that it was never too late. Yeoh (60) won Best Lead Actress for her performance as Evelyn Wang in Everything, Everywhere, All At Once. She is only the second non-white woman and the first Asian woman in the Oscars' nearly 100-year history to win the Best Lead Actress Award. Halle Berry was the first in 2022 for her role in Monster's Ball.
background
Yeoh gained worldwide acclaim in the '90s and early 2000s for her roles in films such as Supercop, Crouching Tiger, Hidden Dragon, and Tomorrow Never Dies. The Malaysian actress has since become one of entertainment's most consistent powerhouses. Her recent and upcoming movies include the 2018 hit film Crazy Rich Asians, Paws Of Fury, and Avatar: The Way Of Water. This year, she was finally awarded the industry's most coveted honor.
Everything, Everywhere, All At Once
Everything, Everywhere, All At Once was nominated for a total of 11 Oscars. They won several of the most illustrious awards, including Best Lead Actress and Best Picture. In the 2022 sci-fi/adventure film, Michelle Yeoh plays the lead role of Evelyn Wang. A Chinese American mother and laundromat owner becomes a likely superhero when she is told to jump between absurd parallel universes in order to save the world. She plays alongside Jamie Lee Curtis, who was nominated for and won the award for Best Supporting Actress. This quickly became controversial as fans got upset that Curtis won the award instead of Angela Bassett. Bassett was also nominated for best supporting actress for her role as Queen Ramonda in Black Panther: Wakanda Forever.
This was Yeoh's first Oscar nomination, and she won. In her powerful speech, she also dedicated her award to her mother and the rest of her family.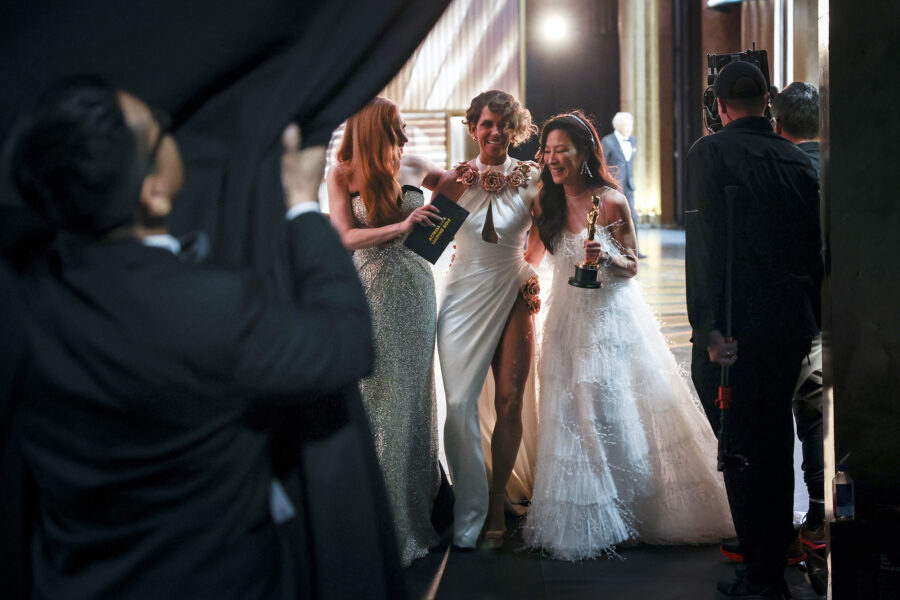 Apart from her name being called on stage, the significant moment was when Halle Berry presented her with the award. Why is it such a big deal? Well, Asian actresses, including Michelle Yeoh, have been historically shut out at the Academy Awards for years. "I have to thank the Academy for acknowledging, embracing diversity, and providing true representation," Yeoh told reporters after winning.
Follow MEFeater on Twitter, Instagram, Facebook, and Pinterest for more updates.