It's Black History Month so, we've been obsessing over everything Black including our favorite anime characters. While there are animes who certainly stereotype black characters, there are a few that created some dynamic and bad ass black characters. So, we've ranked some of our favorite black anime characters for you. Characters are ranked based on a combination of personality, power, and uniqueness.
If you don't see one of your favs let us know in the comments who we left out, where they rank, and why. Without further ado our list *minimal spoiler alerts ahead*:
11. Simon Brehzhnev
Anime: Durarara!!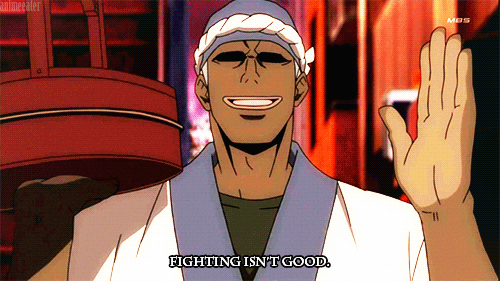 A gentle giant of sorts Simon is infamous for his strength. While he is known as one of the strongest men in the city the former Soviet soldier and Sushi restaurant employee uses his strength for good. He can often be found using his insane skills to stop fights he comes across and while I like a good villain it's certainly nice to see a strong character fight for the good of others.
10 . Atsuko Jackson
Anime: Michiko to Hatchin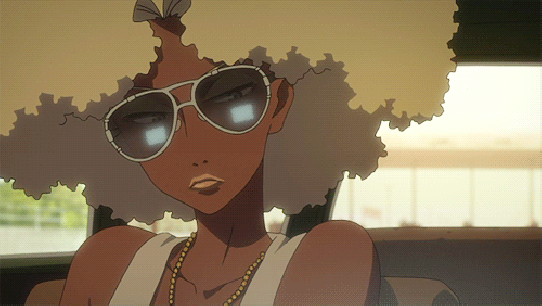 This badass blonde afro babe is just well…a bad ass. From her blonde fro to her makeup Atsuko made a wonderful antagonist to Michiko. She served us looks all while chasing down her rival Michiko.
9.James Ironside
Anime: Blood +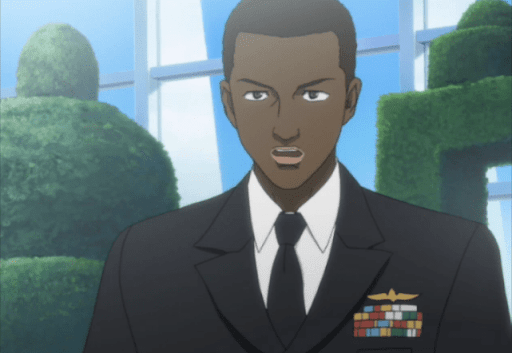 Black don't crack rings true for James who is over 70 but looks 20. James is one of our favorite characters for his undying loyalty (sometimes to a fault) and his strength/fighting ability when he transforms. I'm not looking to spoil the show if you haven't already watched it but, James is the blueprint for some pretty sick and strong soldier clones.
8. Usopp
Anime: One Piece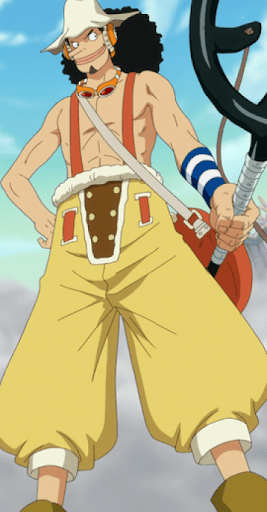 Despite his lack of courage Usopp has and continues to grow into a force to be reckoned with. His killer aim (he usually never misses a shot) makes up for a lot of his character's weaknesses. While his character is often used for comedic relief there's no doubt that he and his killer aim has been integral to several major arcs in One Piece.
7. Michiko Malandra
Anime: Michiko to Hatchin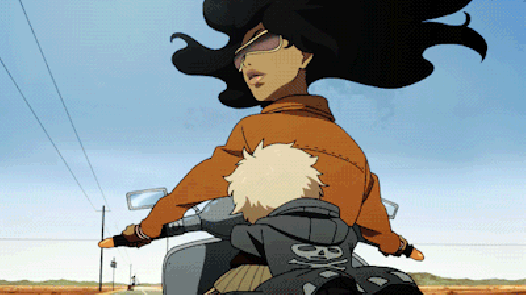 As if the fashion and motorcycle riding wasn't enough Michiko managed to escape one of Brazil's best guarded prisons FOUR times. When freed, she ultimately saves Hatchin, who becomes her partner in crime, from an abusive family. Michiko is a badass with a heart and honestly anyone who can escape a heavily guarded prison four times AND continuously evade the police while rocking large hoops and a popping lip deserves awards.
6. Franceska Mila Rose
Anime: Bleach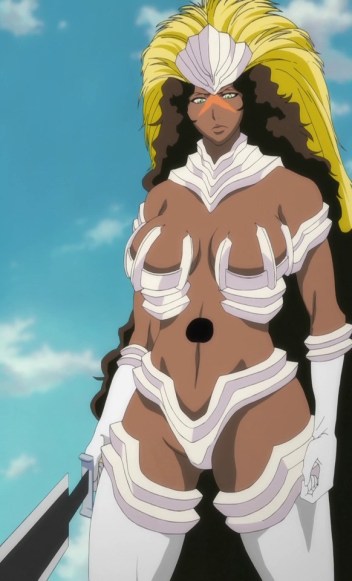 This brown skin green eyed boss is also an expert with a sword. She's one of the chosen in Aizen's (super villain) army of super fighters called the Arrancar. If her being part of one of the most elite groups ever wasn't enough, her released sword "Leona" packs quite a punch.
5. Aokiji
Anime: One Piece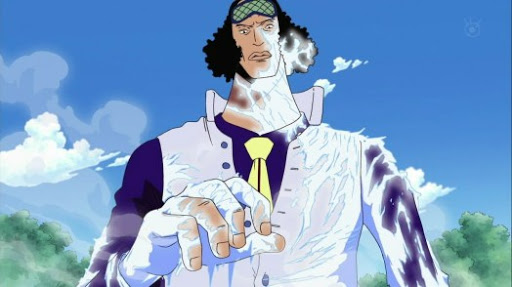 Former admiral in the army Aokiji is a master of ice. His ability to manipulate ice extends to transformations, manipulations, and controlling ice in several shapes. While Aokiji doesn't have the best personality ever the sheer scope of his power bumps him up the list.
4. Killer B
Anime: Naruto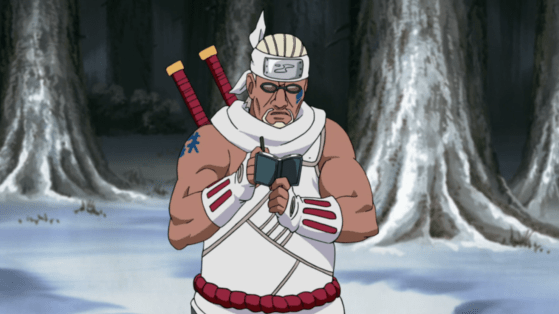 Killer B is one of the most lyrical characters yet. The home to the 8th tailed beast (one of the strongest tailed beasts in the Naruto series) Killer B often spits raps even in the middle of a battle. He is known for his exceptional physical strength, chakra, and control of his tailed beast. Besides his raps and tailed beast fueled strength Killer B also has amazing sword skills and can use water, lightening, and fire in some high level chakra manipulations.
3. Canary
Animer: Hunter X Hunter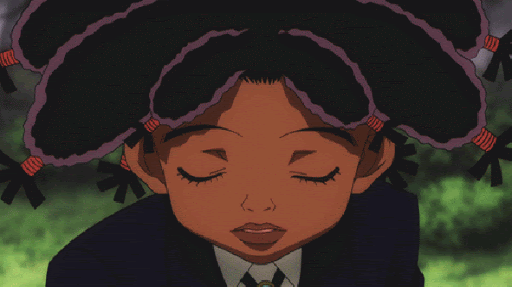 Canary is teenaged, natural haired, witty, apprentice butler to one of the most lethal families of assassins; the Zoldyck family. This little cutie pie is as tough as she is cute and although she may not be as ruthless as she appears she can certainly throwdown with the best of them.
2. Afro Samurai
Anime: Afro Samurai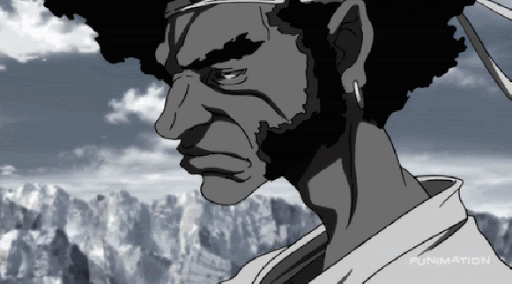 If you didn't know Afro Samurai is one of the coldest swordsmans to do it. If you watch it and it reminds you of scenes from the Boondocks you are not hallucinating. This futuristic anime features some wonderful swords play on a journey to be the best swordsman and to avenge his father. If that's not enough to draw you in the character is voiced by Samuel L. Jackson.
1. Yourichi Shihouin
Anime: Bleach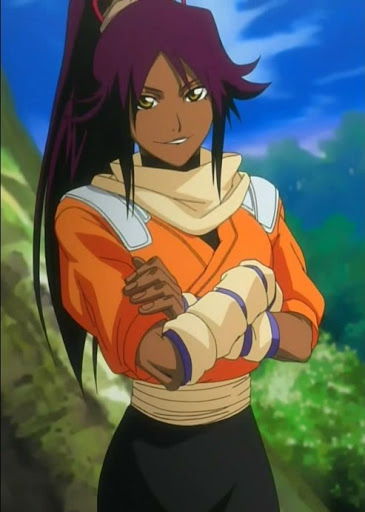 Yourichi has a resume sweety! While there is a debate on whether she's black Kubo, as far as we know, never stated that she was not. Yourichi is the master of the flash step and displays her speed in battle several times throughout the series. She is known for her incredible wit and fighting prowess. Yourichi was born a princess in one of the four noble clans and earned her spot as former Captain of one of the 12 powerful squads in Soul Society. She was also the Executive Commander for a black ops like militia. Her personality is robust as she is playful, funny, and murderous and continues to show incredible strength throughout the series.