The Moonlight  versus La La Land situation is a tale as old as time. Most expected Moonlight to lose, even though it had a much more groundbreaking story. It won against the odds, but not the same could be said for Beyoncé. The classic snub move by an awards show can be seen as recently as February 12th, just two weeks before the Oscars. Beyoncé lost four times to Adele this Grammy season. Although both were nominated for best pop solo performance, song of the year, record of the year, and the prestigious album of the year award, Adele won out every single time. We can all acknowledge the beautiful voice on 25, but did it really have the impact of Lemonade?  Beyoncé's loss was not surprising, but the blow had an extra sting to it. It has been 18 years since album of the year went to a black woman. One would think that in all that time, something would have changed.
History shows us that since 1999, only one black woman has won Album of the Year: Lauryn Hill. She took home the award for her album The Miseducation of Lauryn Hill first, and then for a second time in 2000 with Supernatural. It's been a #blackgirlmagic dry spell since then. Or at least it has been in the opinion of the Recording Academy. It seems a bit shady, considering that out of 59 Album of the Year awards, only 3 black women have ever won. It seems a bit shadier when you consider Beyonce, who is literally the most Grammy-nominated female ever, has only won 22 times out of 62 nominations.
Hm. Why is it that Beyoncé always has a legendary loss? There was Taylor Swift winning Best Female Video at the 2009 MTV Video Music Awards, which caused the Kanye Incident. Then there was Beck at the 2015 Grammys. He's a talented guy, and we get it, he worked hard, but most people saw his win and went "Who is that?" Considering Beyoncé's talent and track record, it makes us side eye the integrity of award ceremonies when these things happen. Why is everyone so afraid of letting Beyoncé win? She does it anyway by existing, so we might as well validate it.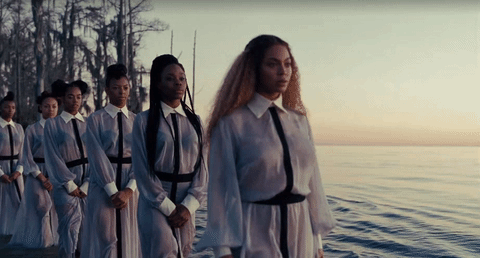 Although this season gave us the most black Oscar winners ever, it came in a year where 3 huge black movies were nominated. Strides are being made in the film industry, but flaws are still present. The same goes for the music industry. So much time has passed since Lauryn Hill's victory that she has had the time to become a grandmother. Hopefully, Beyoncé wins Album of the Year before Blue Ivy has kids herself.
What do you think about the Moonlight mix-up? When will Beyonce win Album of the Year?
Subscribe to our mailing list