Over the years, we've heard millions of hits from different artists and genres. New and old artists have come into the music scene and showcased their unmatched talents, most proving to reign supreme. From hip-hop to R&B, year after year there are those songs on everyone's lips and on every DJ's playlist – the songs that keep us singing along to every hook, bar, and harmony. In most instances, we enjoy remixes more than the original tracks, and those require two or more artists to collaborate. So here's a hotlist of some of the world's greatest music collaborations of all time!
MOBB DEEP FT LIL KIM – QUIET STORM (REMIX)
"Quiet Storm" is the first single from Mobb Deep's fourth album, Murda Muzik. The remix is classic and features the Queen Bee Lil' Kim, who made this version popular. It went on to be noted as one of her most memorable features ever! Contrary to the belief that Lil Kim was dissing her rival Foxy Brown, it was actually directed towards artists, Charlie Baltimore (who in addition to her music is known for her relationship with The Notorious B.I.G) and Black Star member Talib Kweli.
BEYONCE & NICKI MINAJ – FLAWLESS (REMIX)
The music giants have collaborated on 2 hit tracks in the past, "Flawless Remix" from Beyoncé's album Beyoncé, and Nicki Minaj's "Feeling myself Remix" from Nicki's The Pinkprint album. It's reported that Queen B asked Nicki to "be herself on the record" which obviously helped the hit song to become the major success it is.
METHOD MAN FT MARY J. BLIGE – ALL I NEED (REMIX)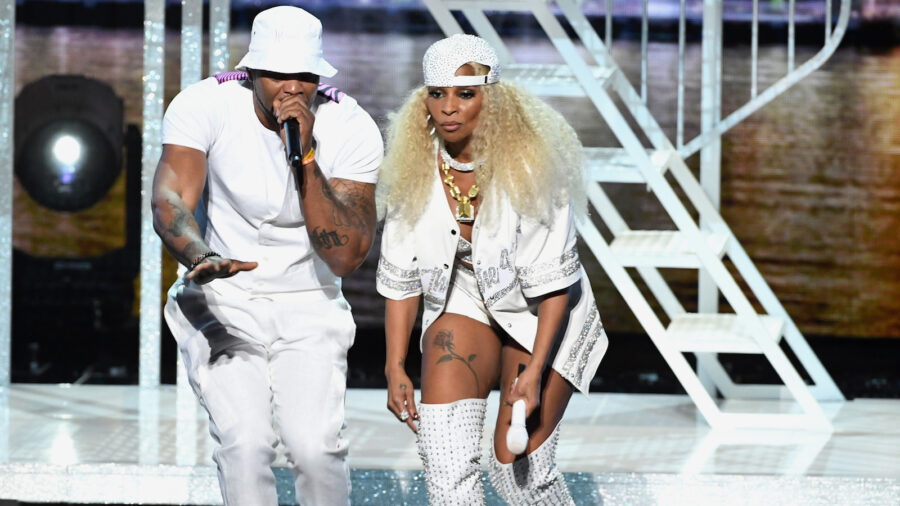 This one is a 1994 throwback! "I'll Be There for You/You're All I Need to Get By" is a duet song by the American recording artists, rapper Method Man and singer Mary J Blige. The song is a remix of Method Man's "All I Need" (which appears on his 1994 debut album, Tical). The song contains an sample of Marvin Gaye & Tammi Terrell's hit, "You're All I Need to Get By". It is his biggest hit single to date. Method Man and Mary J won Best Rap Performance by Duo or Group at the 1996 Grammys with this track.
NICKI MINAJ FT FIVIO FOREIGN – WE GO UP
Nicki Minaj is undoubtedly one of the best female rappers in hip-hop and she has proved this in all of her features. In this single "We Go Up", she features drill rapper Fivio Foreign, one of NYC's hottest rappers and she ATE! The single was released on March 25, 2022, alongside an instrumental and an extended version. "We Go Up" marks the first collaboration between Nicki and Fivio. Hopefully, the duo meets for another feature in the future!
BEYONCE FT SHAKIRA- BEAUTIFUL LIAR
"Beautiful Liar" is Beyonce's song taken from her second studio album, BDay. The song is influenced by a mix of Shakira's Latin and Middle Eastern sounds with Beyoncé's contemporary hip-hop and R&B sounds. This was one of the greatest collaborations in history in so many ways! The duo are both vocally talented with dance moves to match so, the collaboration just made sense. Lyrically, the song deals with two women who discover they have been cheated on by the same man, and instead of wasting their time on him, they agree that he is not worth fighting over. The music video is still fire to this day!
WIZKID FT TEMS – ESSENCE
"Essence" is a song by Nigerian superstar Wizkid featuring Tems taken from Wizkid's album, Made In Lagos which was released in 2020. It was a hit from its release and it soon became a global sensation and a song for the summer after snatching the Instagram Reels algorithm. "Essence" was the first Nigerian song in history to chart on the Billboard Hot 100 and the Billboard Global 200. The song received a nomination at the 64th Annual Grammy Awards for Best Global Music Performance. This was one of the songs on everyone's playlist globally; it even made its way onto Barack Obama's favorite music of 2020 playlist.
JAY Z FT YE – NIGGAS IN PARIS
"We're gonna skate to one song and one song only". "Niggas In Paris" is definitely still an anthem, a sing-along that gets you bopping every time! This is a song by rappers, Jay-Z and Kanye West from their 2011 collaborative album Watch the Throne. This song carries a rich history of African-Americans in Paris and the rest of France, dating back to the early nineteenth century. Paris has historically been a place where black artists could go to escape vicious racism and gain the appreciation denied them in their homeland. Hands down one of the best collaborations of our time!
MEGAN THEE STALLION FT BEYONCE – SAVAGE (REMIX)
For the first time Meg teamed up with fellow Houston native, Beyoncé, on Megan Thee Stallion's single "Savage". The song features the two trading bars with additional backing vocals by Beyoncé. "Savage Remix" was nominated for Record of the Year, Best Rap Performance, and Best Rap Song at the 2020 Grammy Awards. Both women won the Best Rap Performance award on March 14, 2021.
LAURYN HILL FT D'ANGELO – NOTHING EVEN MATTERS
"Nothing Even Matters" is a duet by Ms. Lauryn Hill and D'Angelo. It's the 12th track on Lauryn's classic 1998 album, The Miseducation of Lauryn Hill. You can find heavy-weight songs like "Ex-Factor" on this album, which was sampled by Drake on his popular hit "Nice for What". This song's fluidly brings back the theme of love and how it can make everything else seem irrelevant. "Nothing Even Matters" was inspired by Hill's relationship with Rohan Marley. She dedicated one of her earlier tracks to their first son, Zion.
DAMIAN MARLEY FT NAS – PATIENCE (SABALI)
"Patience (Sabali)" is track 11 on Distant Relatives. It is a collaborative studio album by Jamaican reggae vocalist Damian Marley and American rapper Nas. This song speaks about our global troubles and the fact that we have not truly opened our eyes to those problems. The notion of shared ancestry and the roots of human life originating in the cradle of humanity constantly runs through and informs this song and album. Distant Relatives was originally meant to be an EP based on Africa. However, the two enjoyed it so much that they decided to turn it into a full-length album. It's the hip-hop and reggae fusion that makes this song so special.
What are some of your favorite collaborations of all time? We look forward to hearing what you think of our pics.
Follow MEFeater on Twitter,Instagram, Facebook, TikTok, and Pinterest.