"Hit the Floor" season 4 was written as a love letter to all of the fans that have been such champions to the show. This season we return in a pretty epic fashion and we are bringing it for #DevilsNation! This season brings a twist that keeps you learning more about the characters and the actors that play them.
– James LaRosa
Earlier this week, I had the pleasure of speaking with James LaRosa, screenwriter, executive producer, and director of "Hit the Floor" a drama-filled series that explores the life and the world of professional basketball as a Los Angeles Devil. LaRosa was an open book sharing highlights of season 4, working with Teyana Taylor, and what it's like being a Jack of all trades. If you want the scoop on what's next for season 4, check out the interview below.
Q. Tell us what it's like taking on the roles of (Show-runner/Creator/ Executive Producer)?
A. It is incredible! The show gives me an opportunity to stay interested and awake. If you're doing the same thing over and over again, you minus well work at a factory. I have never run a show, directed, or acted before "Hit the Floor". There have been so many things I've been able to do as a result of the show.
Q. Are there any challenges you face in taking on these various roles?
A. Everything is a challenge unless you've done it before. The main question you have to ask yourself is, how can I do this and not screw up epically and not look like a fool in front of everyone? I've made plenty of mistakes but you have to allow for yourself to be imperfect. Otherwise, you're never going to learn. Taking a show from one network to another there's no way to reassemble a cast. Challenges are what makes things interesting and brings out other parts of life you don't get a chance to experience. The feeling of being in front of the screen has helped improve my skills as a writer. With the challenges, we have to run toward them.
Q. How did you come to have an all-female writers room?
A. It was a combination of happenstance and design. Our first season of "Hit the Floor" was directed completely by women and this season was written completely by women. When we reassembled the show we all enjoyed working with one another, and when it came to who was available it was those previous writers.
Holly Henderson co-executive producer was able to return, Sarah Fahey was able to return, and Kristen SaBerre. With women calling the shots in a lot of these ways gives us a different kind of show and a better show and I'm just grateful for all of the women that contribute behind the scenes because I couldn't do it without them.
Men are welcomed to apply to be directors and writers on the show, we aren't keeping them away but most of my writers were already my writers. Having experience with the show being so enriched with strong lady bosses behind and on the scenes made it such a success, that having that be continued was a no-brainer.
Q. What is the significance of moving from the series from VH1 new home on BET?
A. After the first three seasons and the summer special, we were kind of waiting to see what was going to happen. BET then reached out and asked if we would like to bring "Hit the Floor" over to BET, which made me happy for a few reasons. "Hit the Floor" was always a show I felt could have been on BET network so accepting the offer just felt right.
BET allowed us to move over to their network without having to make a single change to our show. I remember them assuring that we didn't have to come to BET with the idea that we had to come up with a BET version of the show. Instead, they understood that fans fought hard for the show and they were fans as well. So the fact that they wanted to bring us over and embrace us for who we are was an amazing opportunity.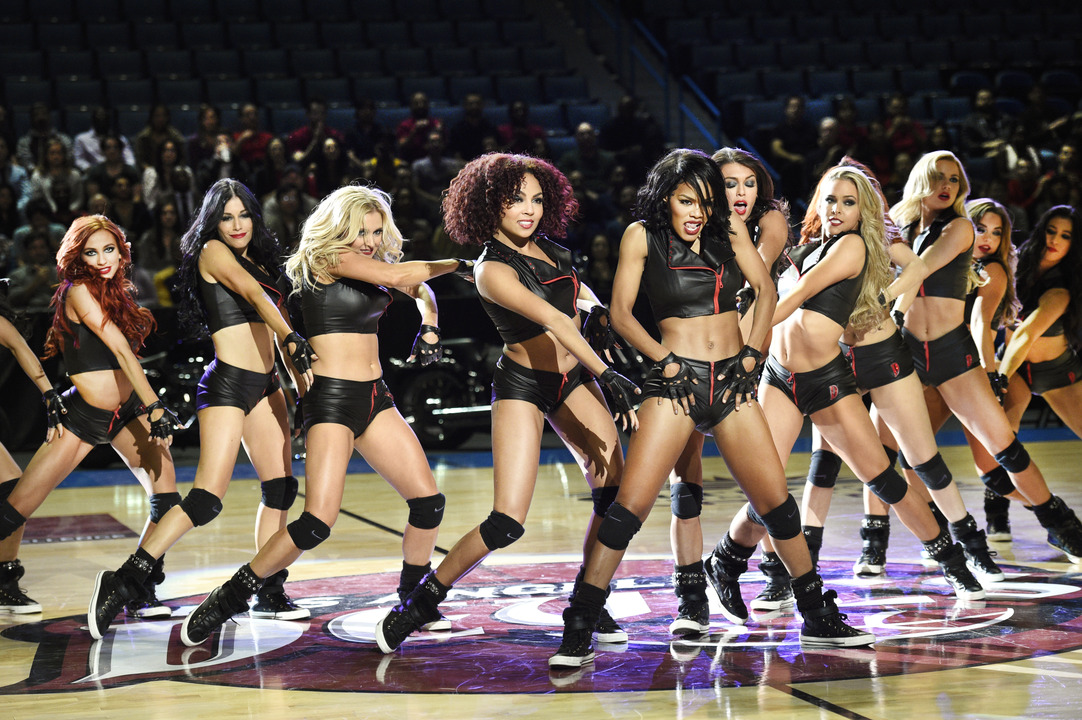 Q. We know some of the old cast will be returning as well as some new faces. Can you share with us some highlights of the upcoming season what should we expect?
A. There is a lot of talent returning for Season 4 of "Hit the Floor" McKinley Freeman as Derek, Logan Browning as Jelena, Brent Antonello playing Jude, Katherine Bailess is back playing Kyle, Dean Cain as Pete, and Jonathan McDaniel as German. The fact that we were able to bring back so many people made me incredibly grateful.
Not to mention Teyana Taylor playing London. Now Teyana is absolute fire! I mean who doesn't know the fade video? I remember seeing it thinking wouldn't it be incredible if she was in a devils girl uniform, now fast forward she's in a devils girl uniform and I just don't know how I got this to happen! It's a new energy amongst the Devil Girls, she is primal, raw, and you just feel it. Every time she dances it's a performance. The first solo she does during the premiere is grimy and you're just there for it!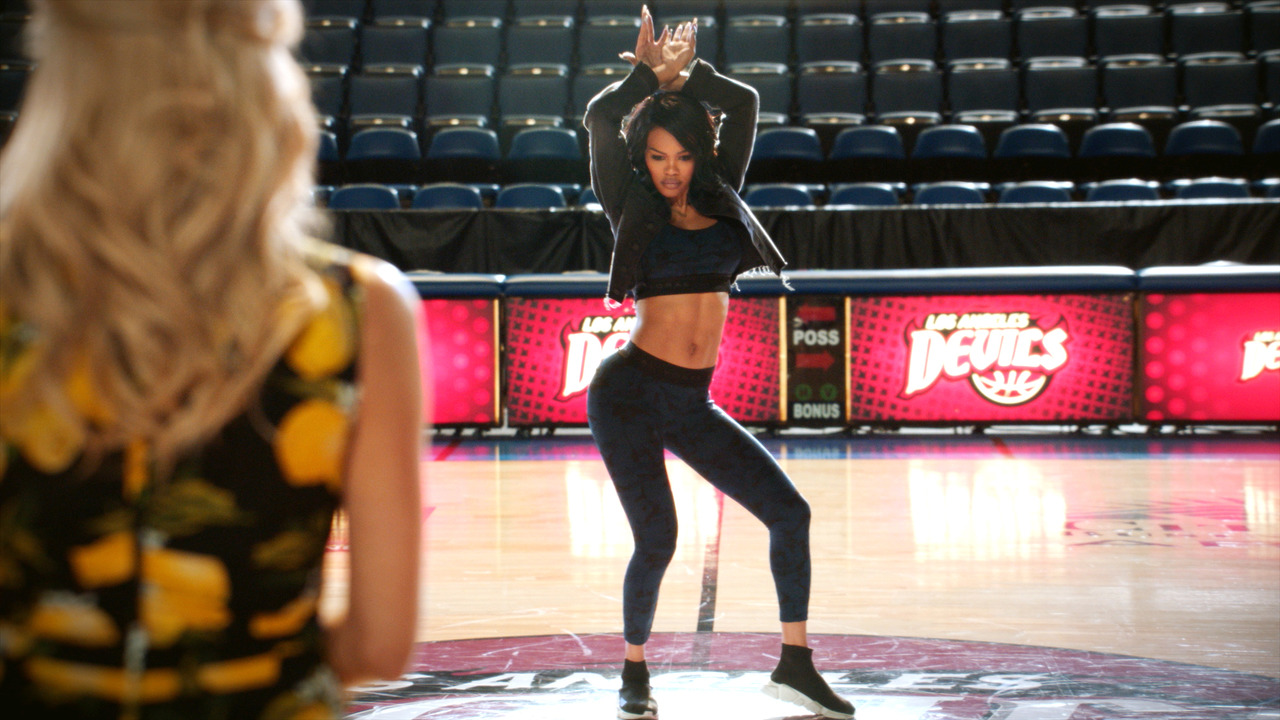 London, Teyana's character is a new energy for the show because she plays a star. Most times when dancers come to the devil's arena they're coming for a piece of the pie. We have Kyndall playing Jamie, she's coming for a piece of the pie. London is the most famous choreographer in the game and she has gone through a huge scandal. So she's in the mud.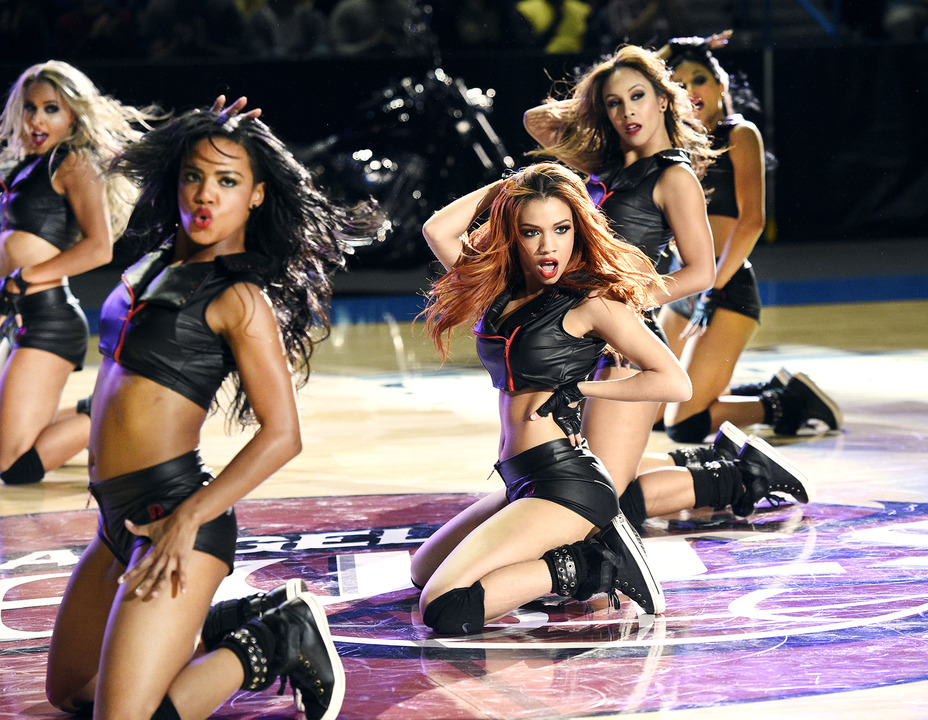 Teyana's storyline is about how London can rise up, get her power, and get back on her feet. The new cast doesn't know what it's like in the Devils Arena. Pat played by Court King, wants to be this version of Derrick Roman but he's a rookie. He wants this baller life that comes with a price tag it's not cheap.
Q. What advice would you give young screenwriters who are looking to get their show picked up by a television network?
A. Particularly, if we are referring to writers who are not white straight males. My advice would be to fight your way into the conversation, hustle and identify people that are hiring new voices. When you find those people support them because they are trying to bring other people up. Don't let them define you and tell you, you have to do this and you have to do that. Just believe in what you're doing and keep pushing, pushing, pushing.
Well, you heard it here first, the Devil Girls will be bringing straight fire to the Devil's Arena starting tonight, July 10th on BET. Mark your calendars you don't want to miss out on this season twists and turns. Check out a sneak peek below.
https://youtu.be/UJrU96tNx24
Not full yet? Follow us on Instagram, Twitter, Pinterest, & Facebook @MEFeater for another plate of Music, Entertainment & Fashion.