You watched her. You loved her. You cheered for her. But as soon as you got to know her, you had to see her leave. After discovering Rhiyan Carreker on the 24th season of America's Next Top Model, her elimination on the 4th episode cut her adventure short. But it's safe to say that the end of the show, was just the beginning of her journey.
 MEF met up with the 21-year-old California native, and now proud New Yorker. In an organic tell-all, Rhiyan updated us on the next chapter after ANTM.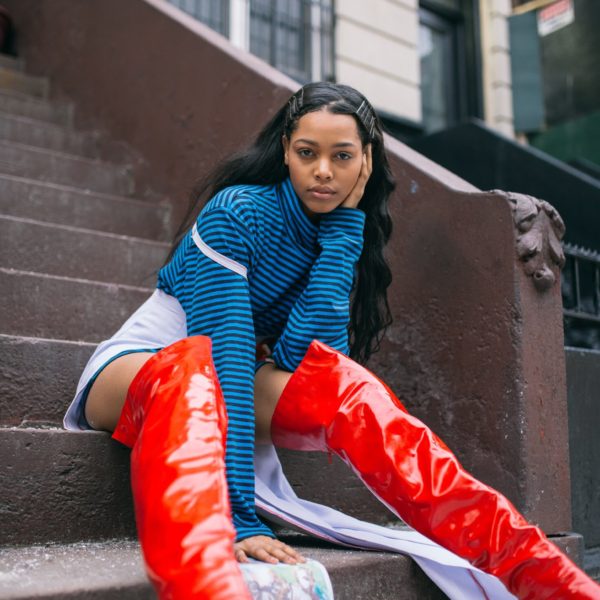 Reality television is just that: television.  The scenes are cut, chosen and crafted to fit a biased narrative of what we see, rather than what is. That couldn't be truer when it came to Rhiyan. Talking to Rhiyan felt like catching up with an old friend. The reserved, almost shy and quiet ANTM contestant was bubbly and full of energy as she opened up during our interview.
If there is one thing that wasn't displayed on the show and that viewers should know about Rhiyan, it's her personality.
"One thing that people don't know, is that often, our days started at 6 am and would last until 2 am. We film all day, for a whole week, and people only get to see 40 minutes out of it. With so many girls and so little camera time, it's hard to get everybody's personality to shine. As soon as I started to open up, I was eliminated. I am such a bubbly person. I am weird and funny and I love to talk. But people didn't get to see that."
Regardless, Rhiyan won the heart of fans with her sincerity. Her story made her stand out.
The intimate memories she shared, made the public fall in love with her strength and her determination.
"I wanted to be truthful and honest. Those moments are part of my story. They are part of who I am. My father was my best friend. When I lost him at 15, it was very hard. But it made me cherish what he taught me. My father is my strength. He is the reason behind my determination. He told me to never hold back and go for what I wanted. That's what I did. Everything I do, I do it for him and my mom. I wouldn't be who I am if it wasn't for her. She is my world. I am happy people understood where I was coming from because it wasn't a sob story. I am glad I did it – for that little girl in me."
While viewers only met that little girl at the end of Rhiyan's adventure, it was one of the most powerful moments of her ANTM journey.
The model shared her fear of needing to lose more weight and how insecurities as a kid, still haunted her.
" People don't expect that from models. There is this idea that models should be perfect- but we are not. In the show, most of us are still learning to be models. When I watched that episode, I understood that I didn't have to be perfect and that nothing was wrong with me. It was like an outer body experience. I was like "Rhiyan nothing is wrong with you! What are you doing?" But I needed that. I needed to put myself out there and take a step back."
That introspection allowed Rhiyan to look back and rationalize on those insecurities.
Answering on what she would have said to her younger self, Carreker shows how her moment of vulnerability, can inspire others.
"I was so hard on myself. I was just a kid too. At the time, it didn't feel like that, but now I realize it. I wished I allowed myself to open up more and enjoy my childhood. I blamed myself for something that didn't even matter. After the episode aired, so many people reached out to me. Now, I can use my experience to talk to others: listen, and help them. I want to promote self-love. Self-love is beauty. Once you learn to love yourself, nobody can take that from you."
As she expressed that regret for her younger self, the natural follow up was to ask what she would have done differently if she were given another chance at ANTM.
"I wish I shared my experience earlier on! It would have impacted a lot more people! When I think about the number of people that I have talked to, and who have been touched by my story…maybe I should have done it earlier on. If people got to know me from the first episode, it would have such a bigger impact. The message would have reached a greater audience. Maybe I would have done that. Then again, I came into this competition with one mindset:" I will only go as far as I am supposed to go" So I did. I went as far as I was supposed to go, and maybe that's for the best. This is how it should have happened"
After all, despite her elimination, Rhiyan succeeded in connecting with her public thanks to the show.
ANTM was a stepping stone for the contestant, but would she recommend it as a platform?
"As an aspiring model, don't do it for popularity. Don't do it because you want the fame. ANTM doesn't guarantee you become a signed model, or that you get booked. Do it for the experience and to become a better version of yourself. The social part is important! Meeting other girls, learning about the professional world, it's the most important. ANTM is so diverse. It's not just about the models. You have the photographers, the designers, the artists. If you do it for the right reasons, you will learn so much – about everything."
One thing that Rhiyan did learn on ANTM is that people listened and heard her.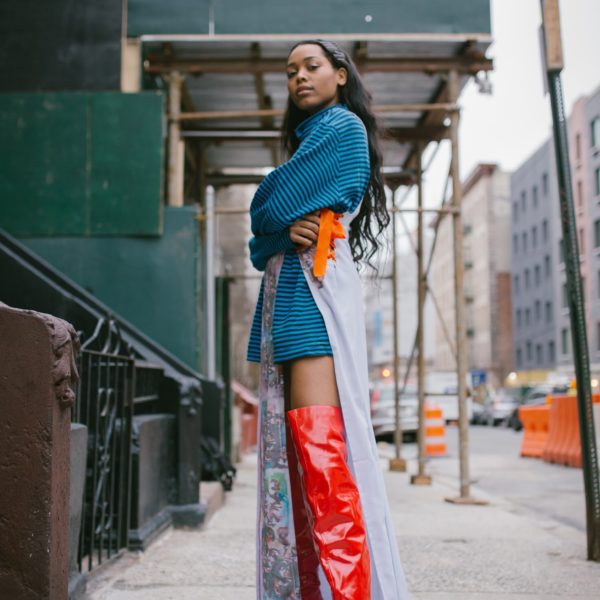 With her recent Youtube channel, people will see a lot more from her.
"I actually started Youtube when I was 14 years old. I used to do hauls and videos like" how to straighten black girls' hair" I guess I always liked it. Being on tv made me realize there was an audience for me so why not?  Now, it's more about looking for content. Youtube is a go-to now! It's just about finding my lane and having original content. How to be different from everyone else. I am working on it."
As if Youtube wasn't already a great initiative, Rhiyan also took a huge step towards her modeling career. For her first runaway after ANTM, she walked in the Adriana Sahar show for NY Fashion Week.
"I had a sense of familiarity since some of the ANTM girls walked the show as well but I was apprehensive at first. Honestly, as soon as I was backstage it all went away. With the makeup artists, the designers, the energy was something I was used to and that I loved! I knew that was me! This is something I wanted to do! I was meant to be there."
The fashion show was a thrilling experience given Rhiyan's background in fashion design. As a creative, being a model helped her become a better designer.
"It helped me understand clothes better. I am 5"11. Having to rock clothes is often hard because they don't always fit perfectly. So many girls come up to me and tell me how their crop-tops show too much skin or how their sleeves are too short! Because I have to walk as a model, I am always mindful of how wearable a piece is."
The Parsons School of Art and Design's student, soon to be graduate, always seeks to be a better creative, as she plans on starting her own clothing brand.
" I do want to create my own brand. It will have my touch but will be a brand for everybody. I don't want to put a tag on it because then I will design around that label. It will be versatile, diverse and personal- just like my style. My style is organic and spontaneous.  I can rock the princess look today or the edgy goth tomorrow. As of right now, my go-to fashion pieces range from: platform shoes, metallic pants, and puffer jackets. I have this personalized jacket I showed on my Instagram from designer Shawn Outen, it's my favorite at the moment. I just love original pieces, that you make yours. "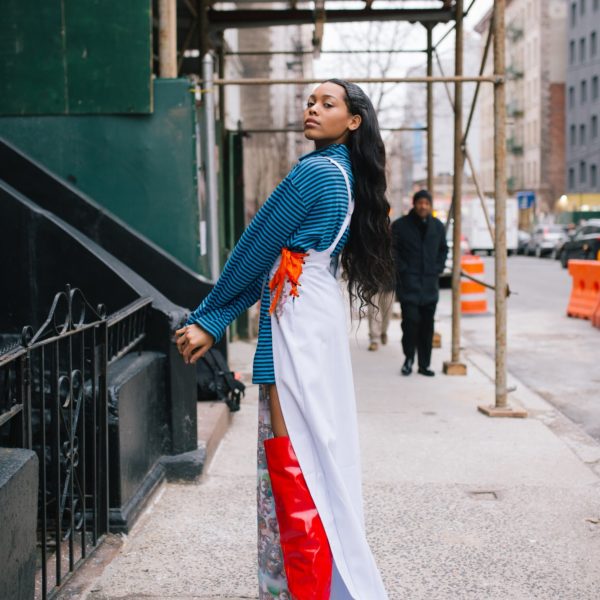 With all these projects, Rhiyan has a lot to offer. Yet, she doesn't ask for much in return.
"Just allow me to grow and grow with me. I want people to know that I am human and that I care. I love talking to people, I read comments, reply back and exchange with my fans! People DM me for advice or just to talk! I love it! If you see me somewhere, no matter what, just know that I am still Rhiyan. I want people to leave me room to be me and become a better version of myself. Just support my journey"
From her journey, there is so much to learn.
" Take risks! The time is now! Don't limit yourself and go for it!"
And as she says, Rhiyan is one to always "go for it". She started modeling just a year ago. Yet she has been on TV, walked during fashion week and created a platform for herself with youtube. With her plans to create her own brand, Rhiyan is one to pursue her dreams.
Rhiyan the model, Rhiyan the youtuber, and Rhiyan the designer. If you are wondering what more to expect from the young creative, don't guess too long.
"Anything! I don't want to limit myself. It could be a freestyle to a beat or a motivational speech! People shouldn't put me in a box. There are so many possibilities and I want to grab every opportunity I am offered. "
Let Rhiyan tell it, "anything" could be coming sooner than expected. The beautiful model teased a major project soon to be shared with the public!
" Let's just say that I have something coming up. Three months. Give it three months and you will see. That's all I can say."
Three months may seem long given how much Rhiyan has achieved in so little time, but it's worth the wait. Rhiyan Carreker is one of those people you don't meet often: her drive is obvious, her energy is contagious, and her talent is undeniable.
So, this goes to Rhiyan and everything she has coming up!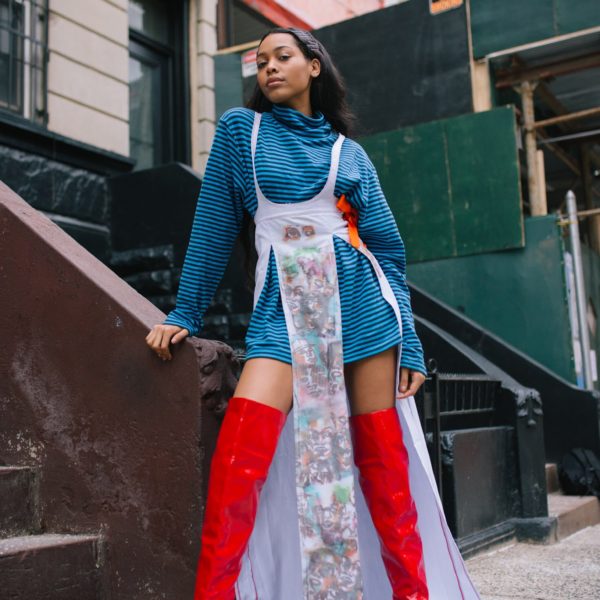 What do you think Rhiyan's big project is about? Share your guesses with us.