The captivating "Volez, Voguez, Voyagez—" Louis Vuitton exhibition has arrived in New York. The exhibit will display of the brand's most recognized and admired creations.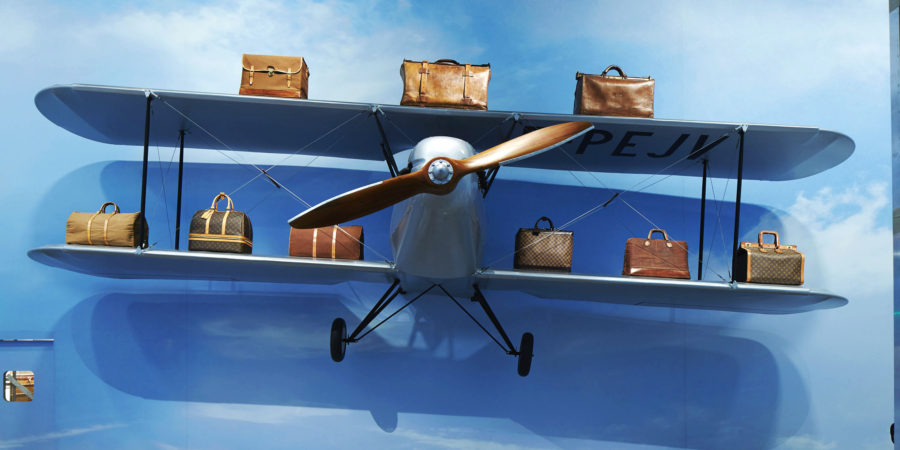 Louis Vuitton has a rich history and it's apt that this exhibition is one in which it centers around its roots; travel. The exhibit has already shown in Japan and South Korea after it originally showed in Paris in 2015. "Volez, Voguez, Voyagez — Louis Vuitton" will open from the 27th of October and will see a display of its founding products like the LV trunk right up to modern day collaborations such as Supreme x LV; not to mention all the fashion in between and historical personal items belonging to the Vuitton family. The brand, like many others, has had its fair share of Creative Directors. They too are not forgotten within the exhibit and so you immediately get the sense that its legacy has been perfectly executed within.
Showing at 86 Trinity Place, former New York Stock Exchange building, the people behind this marking of Louis Vuitton's 163rd anniversary wanted to embolden the brand's clientele to embrace all sides of LV. Olivier Saillard, the historian, worked on the entire exhibition with set designer Robert Carsen to curate what is an expansive history of the French brand. In turn, this is what the public will experience. The idea became substantial a number of years ago when the LVMH (the company which owns the Louis Vuitton brand) CEO, Bernard Arnault, had a conversation regarding how exactly they'd accurately mark the brand's anniversary. Who better to work with than Mr. Saillard?
"We are always talking about fashion, we are always hearing that there is a Fashion Week somewhere all around the world, and at the same time there is an impossibility for everyday people to see an haute couture dress, to see a very creative piece."
Even if you're not what one might call a 'fashionista,' "Volez, Voguez, Voyagez — Louis Vuitton" is for everyone. Steeped in culture and history, it will show until the 7th of January 2018. Admission is free but see here for opening hours and further details.
Are you planning to see the Louis Vuitton exhibition? Let the MEFeater team know in the comments,? we're always excited to hear what you guys think! We're on Facebook, Twitter, Instagram, and Pinterest too.