After the release of Quality Control: Control The Streets Vol. 1 , Quality Control is rumored to be releasing a project featuring just Lil Yachty and Takeoff.
We've been hearing rumors for a while now that Lil Yachty and Takeoff are set to release a project together, and after Lil Yachty's latest Instagram sneak peek, him and Takeoff are for sure working on something and it was one fan who got the rumors rolling.
I smell a takeoff yatchy tape coming @1YoungTakeoff @lilyachty https://t.co/5MK6OkDMG6

— 〽uulidge ? (@MuGoCrazy) December 24, 2017
You smart ? https://t.co/DVyR6nWGD1

— king of the youth (@lilyachty) December 24, 2017
In a recent Instagram Live session, Lil Yachty is seen ridding around in the car while a song appearing to feature Takeoff and himself, played in the background. Yachty says, "I been quiet, just finishing my shit up. That was me and Takeoff, by the way. Me and Takeoff's project coming real soon. Lil Boat 2 coming soon, all that."
Takeoff is the last of the rapping trio to release a joint compilation with another artist. 21 Savage and Offset released their compilation, Without Warning on Halloween. Quavo and Travis Scott released their highly anticipated Huncho Jack, Jack Huncho in December, and now finally Takeoff is pairing up with fellow Atlanta rapper, "Lil Yachty" to release his own joint project .
But do we really need it?
We want to see Lil Yachty make a comeback after expressing how he felt Teenage Emotions was forced because he was dabbling in other styles and doing "all this other shit". In an interview for Interview Magazine, Lil Yachty expressed how he felt Teenage Emotions wasn't his style.
"When I first released my Teenage Emotions album I thought that shit was fire, as you should! Then the sales came back and it did 44,000 first week and I was devastated and so confused, I worked so hard. But I disconnected with my fans because I tried to do this other stuff, you know? These records were good but they weren't what I started with," said Lil Yachty.
As for Takeoff, we are ready to hear his stand alone project. Takeoff has been the underdog of Migos for a while now, but that still hasn't shaken his fans expectations of the young rapper. Most rap fans argue that Takeoff is the star of Migos, he just needs a chance to shine.
Who do you think Migos will collab with next? Cardi B doesn't seem too unlikely…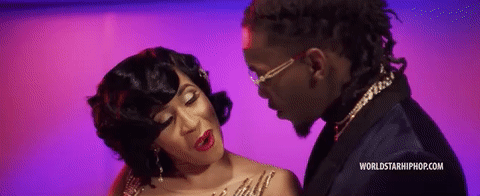 Leave a comment and let us know! And follow us on Facebook, Twitter, Pinterest and Instagram @MEFeater