Denetric Malope is a South African-born international model. He recently walked the runway in Venice, Italy, for the iconic Dolce & Gabbana 2021 Alta Moda show, which was attended by celebrities such as JLo, Ciara, Megan Thee Stallion, and more. He has also appeared in the Prada SS/22 Men's Show, which was filmed in Milan at the Fondazione Prada's Deposito and in Sardinia, Italy. He speaks to us about model life in Italy, hanging out with luxury designers, and his values!
Being from South Africa, how does it feel to see yourself on the international screens?
Honestly, it hasn't kicked in that "Oh my god this is so big" like how everybody sees it. With me, it's like, "Ok another goal reached," and ticking it off. It's so fulfilling doing something that I love, though, and seeing progress because, for me, it's not about being big; it's about being progressive.
You worked with the iconic designer Raf Simmons on the Prada SS22 Men's show. What was that experience like?
I met Raf Simmons, he fitted me, and we even had a smoke together. But the thing about me is I have two personalities, the work mode and the time to play, so it was really professional. It got super exciting on the last day when we were having dinner. That's when Raf came and hugged all of us and thanked us. That's when it kicked in!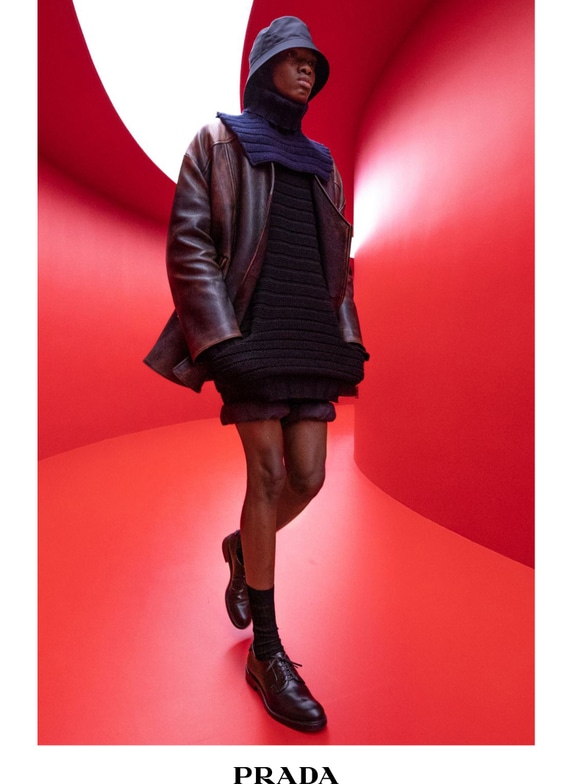 Describe your perfect day when you are not modeling?
Waking up and making noise, and waking my roomie Marvin (he hates me for that). So I make breakfast and chill, usually around 6 pm in the evening, I dress up and meet with my friend George, and we go to Navelli and chill by the water. Or we go to Porta Romana, meet other people and have fun there.
Has your perception of the fashion/modeling industry changed since you're now an international model?
I used to think it was a small industry, but it's massive. There are many departments and all sorts of things. I was in the fashion capital, so I got to experience it on a large scale.
Which Supermodels did you look up to when you started out?
Naomi, obviously, she's the mother! Alton Mason, Eman, who's kind of my friend, and George Pailman, who's also my friend, but I've looked up to him as well.
The Dolce & Gabbana show was so iconic because you walked the runway in the presence of so many Icons. Tell us about that moment + meeting Mr. Domenico Dolce himself?
Generally, before any show, even in SA, I usually got nervous. But with the D&G show, it felt like that was my moment. Either I proved myself, or I was going to suck. With Prada, we shot for 2 weeks straight, and I was always nervous. But with Dolce & Gabbana, it was my time to shine. When walking, I could see all those Icons in front rows, and it just felt so amazing, like I was at the right place at the right time.
Mr. Dolce was fixing us as we were about to walk out, telling us to kill it. He's definitely my best friend! (laughs).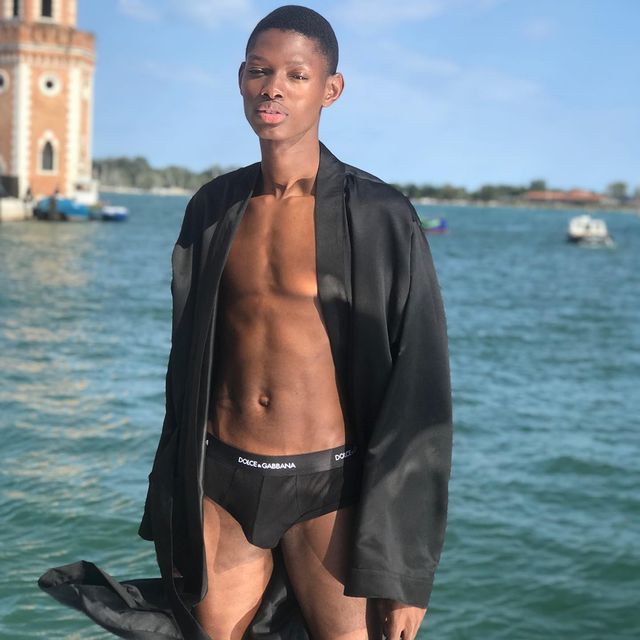 If you could go back to the past, is there anything you would change?
Nothing! I look at it as where I come from, and where I am now is a process. I had to go through my past to get to where I am now. I feel that experiences make us who we are.
I've been in many situations where nobody believed in me, so I always tell myself I am beautiful, I am talented, I'm smart, and I am going to do it. I always tell myself that money is going to follow me!
Can we expect more luxury brand work from you anytime soon?
There's definitely a lot coming from editorials, shows, etc., but I can't share yet. The future is super exciting!
What would you tell your supporters?
Always believe in yourself and your supremacy. Always see what people don't see in you. Don't be afraid to take a step. Love and protect yourself. You come first; just be a superstar! We don't know how long we'll live, so just do everything you want to do!
If you want to read more, follow MEFeater on Twitter, Instagram, Facebook, and Pinterest!