Goldlink, accompanied by live drums, saxophone player, and guitarists, shared new pieces with the crowd yesterday at a listening session at Twitter's NYC Headquarters. In a plain white tee, slacks, and some super comfy socks and slippers the DMV rapper flowed effortlessly bouncing from track to track. Topics ranged from killing each other over 'hoods, being killed by those who wear hoods (KKK), and love. The event, organized by Blackbirds, Twitter's black collective, was intimate and a reminder that Goldlink remains tied to his DMV roots.
The Universal Black Experience & New Music:
To say that we are going through somewhat of a black renaissance, in terms of film and music in particular, would be no stretch. The exponential growth of social media and the subsequent spread of all types of black culture has demonstrated that we have a lot more in common than expected. It's no surprise then that Goldlink tapped the commonality of blackness as his influence for his latest project.
When asked about what inspired the new album Goldlink didn't hesitate to touch on his travels and experiencing various black cultures across the world. He spoke extensively of his travels and how he was inspired by all of the variances in black culture. Most importantly he noted that there wasn't a bridge of sorts to connect these experiences. He expressed hope that the new album will serve as a bridge of sorts. He hopes it will highlight the variances but also pinpointing the similarities across black cultures.
"Being black is universal."

-Goldlink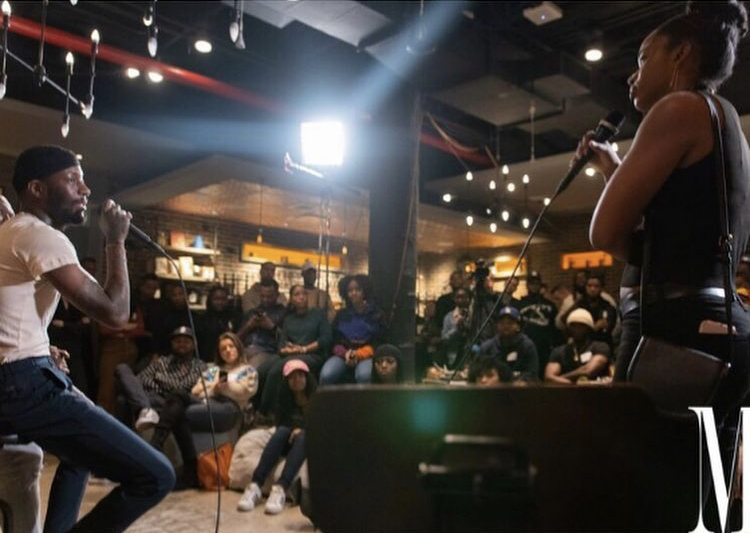 I asked Goldlink if he could pinpoint the exact moment when he realized that blackness was a shared experience. He reminisced about his time traveling the globe. Goldlink pinpointed sitting in London eating Nigerian food talking with his homies as that moment. He said that somewhere between trading tales of their shared experiences they began realizing that they and their families had similar practices right down to the plastic wrapped couch at Grandma's house. This moment was when it dawned on Goldlink that "being black is universal". He knew then that he'd have to make an album that reflected that truth.
While some of the tracks he shared didn't make the final album cut if it's any inkling of what's to come, the album will certainly be a reflection of the global state of blackness and the unifying thread that runs through it.
Staying True to Your Roots & Expecting The New Album:
While Goldlink often mentioned experiencing different cultures he did not forget his DMV roots. He highlighted DC as a constant inspiration. DC's food, it's gogo scene, it's rapid vibrations, and it's lingo for contributing to his sound. He also touched on other rappers he felt were noteworthy. He mentioned rappers like Smino, Lucky Daye, and Isaiah Rashad as artists that are killing the game. While he did not say what upcoming features are actually on the album he did say that he had some heat with Andre 3000. Unfortunately he said it might never see the light of day.
The project's date is still forthcoming. Goldlink stated, "the album could be dropping tomorrow, next year, whenever Rihanna is dropping." We hope that it arrives soon as the music we heard was funky, reflective, and much needed. We'll keep our ears peeled eagerly for the drop and maybe possibly an Andre 3000 and Goldlink spar.
Follow MEFeater on Twitter, Instagram, Facebook and Pinterest for more updates.