As August comes to a close, the cool autumn breeze at night hints at the change of a new season. Fall is one of my favorite seasons to shop for. The older I get, the more my fashion taste changes and evolves. Finding a new avenue of expression when it comes to your wardrobe is important to explore. It feels good to look good and know that you look good. Here are some fall fashion trends to help inspire you when creating your looks for this upcoming season!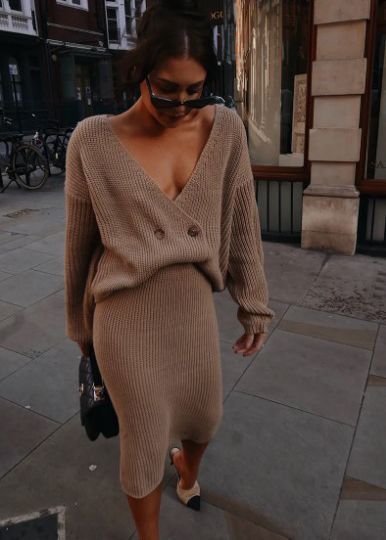 Knee High Boots
Knee-high boots are always a fall fashion must-have in your closet. They're extremely versatile and can be worn with many different bottoms. You could pair a cute mini skirt with form-fitting knee-high boots, giving your outfit that sexy, nighttime feel while also keeping your legs warm while you're outside. Check out my latest obsession, a shoe Instagram boutique called Simmi Shoes with some knee-high boots that are to die for.
A Touch of Knitwear
There is just something about knitwear clothing that gives you cozy vibes, from the appearance of the piece itself to how it feels on your body. A long knitwear cardigan with pockets can be the perfect finishing touch to a fall outfit. You can also incorporate knitwear into your fall wardrobe with knitted dress/cardigan two-piece sets, knee-length skirts, and wrap-style shirts.
Stacked Sweatpants
Stacked sweatpants are a streetwear fashion trend that has been very hot right now. The stacking effect at the bottom of the pants offers a more relaxed feel to your outfit. In my opinion, these pants look best with a pair of your favorite sneakers (they can be low or high).
Rings, Rings, and More Rings
The more rings, the merrier. While I have a hard time keeping track of small things (especially after a night out, *sigh*), you should definitely get into wearing rings. In addition, when picking out rings, go with what you like and are interested in. I tend to wear lots of gold jewelry, so I often buy gold rings. I'm into astrology, crystals, and nature, so that's often reflected in my ring choices! Rings also look amazing with a fresh set of new nails.
Leather Pants
Leather, pleather, whatever is in your budget, get you a pair for the fall! Leather pants always make your butt look good. It doesn't matter the size, the right pair will accentuate your curves and make you love your shape. Brown, black, and wine red are some of the key fall colors for leather pants.
If you want to read more, follow us on Instagram, Facebook, Twitter & Pinterest!