Nandi Madida, the multifaceted award-winning South African actress and singer, exudes charm and grace as she welcomes MEFeater into her elegant and modern Johannesburg home on a sunny winter afternoon. The anticipation of interviewing such a multidimensional African woman like Nandi is palpable, and one can't help but wish for a flawless encounter. As I come in, she's already sitting pretty, dressed fashionably in a white shirt, with minimal makeup and a stunning haircut. She exudes confidence. Having recently wrapped up her new Apple Music Radio show, her good spirits are evident as she engages in conversation. Nandi has truly become an international sensation, capturing hearts with her infectious and uplifting personality, unwavering professionalism, and undeniable beauty, both inside and out.
Nandi has joined the Apple Music team as the new host for the fourth season of Africa Now Radio on Apple Music 1, marking the platform's first global African music radio show. As a family-oriented female entrepreneur, Nandi places utmost importance on her family, with her two children and husband at the center of her busy life. Her family is her inspiration; she emphasizes how her father has always been a source of motivation for her. He has been the perfect example of how she could do and achieve everything she desired in her life. Currently engaged in a number of international projects, with film being her primary focus. She is also signed to the renowned M88 Agency. Perhaps it is her keen ability to select ventures that align with her brand or simply her vibrant personality and outlook that keep our conversations engaging. During our chat, we explore the highlights of her career, touching on her family, music, Black Is King, Africa Now on Apple Music, and more!
Nandi
You wear so many hats in the public world, can you please tell us who Nandi is?
I'm Nandi first (it's important to have self-love), then, of course, I'm a wife, and then I'm a mom. I'm a very blessed human being. I come from a great home in a coastal South African state called Durban. I grew up in the Zulu culture, and I had a beautiful background and loving parents.
You are one of the very few celebrities who has a very unique image; your look is quite distinguished. How have you managed to stay so authentic to your African style, especially in a world where there are so many trends?
My background was predominately made up of racist Caucasians. I'm an 80s kid, and during that time, there was a lot of racism, so I had to learn to love myself because I couldn't change the way my complexion, hair, or lips looked. What else can I do, you ask? I was limited to loving myself. Additionally, I must give my parents a hearty shout-out for that. They were very much at the forefront of my encounters. I'm glad I experienced challenges in my early years because they allowed me to stay true to who I am when I moved to a place like Johannesburg. The only challenge was getting turned down by production companies; they wanted us to be a certain way, And I've just always been different.
Apart from that, I knew I wouldn't change who I am because people would either like or reject me for who I am. I've, therefore, always had a strong sense of who I am. Now I'm teaching that to my children. I think it is important.
Ethics, Values & Morals
Relating to how young you were when you entered the industry, I've seen documentaries such as the HBO documentary "Showbiz Kids," where the then-child stars discuss the sexual assault and exploitation they encountered while working in the show business. What has your industry experience been like? What has helped your longevity? And also, what has your biggest lesson been in the industry?
This is generally something that people don't shed light on. I know a lot of females in my age group who were victims of assaults or felt like they wouldn't get a gig because they were willing to compromise themselves. Lucky for me, The production companies that I was with were quite amazing. I was very lucky that I had adults who were amazing and took care of me on set. However, I know it's not always the same for everyone. I also had very active parents who were very concerned and wanted to ensure that I was always in good hands. You just need active parents who understand that you're young and can be protective
I have always had strong ethics and morals, and because of that, people, such as executives, were intimidated by me. But because we are now the more seasoned people in the industry, It's important for us to shed light on that and call people out on it so we can protect the next group. So the Me Too movement was important, not only in America but in the whole world, because this was an issue across all industries
Apple Music – Africa Now
You recently joined the Apple Music family as the new radio host of Africa Now. How did that come about? And how has the experience been so far?
What makes this gig so special is that I had to do a demo for it. So I auditioned alongside other people. Auditioning for international guys from Apple UK was really intimidating because I was not in my comfort zone. But I was so proud of myself. I was really creative speaking about the continent because it's something I've always been very proud of, but also because, as a musician, I understand how musicians want to be interviewed, and I'm actually bringing my insights as a musician myself, rather than just the host. Take Zane Lowe, for example. He does some of the greatest interviews because he understands music, he's a DJ and a record producer, amongst other things, and he understands the whole process.
Music
Artists sometimes take three years to do a project and put their heart and soul into it, so as a host, you're not just going to say, "Tell me about the album". You're going to ask intellectual questions and do research about the album. Understand what the A&R did, why the cover looks the way it does, and what the inspiration was, and you'll also be sensitive to the work because artists are very sensitive about their craft. So all these elements really made my demo stand out. 
In terms of music, your earlier style was joyful house music, but you recently released the Amapiano track. Can you walk us through the evolution of your music?
I started creating music with DJ Franky, a house DJ, and that's how my song "Good Times" came about. But I had already created my own music, a house song. I subsequently went on to do hip-hop tracks with KO. My husband, Zakes, who was the head of A&R at the time, was the one who persuaded me to sing the song. So that is how I got into hip-hop.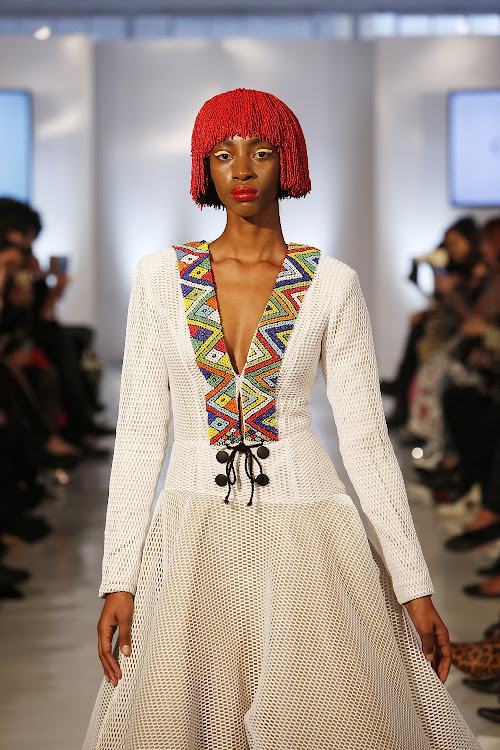 NYFW
Let's chat about your New York Fashion Week debut. Showcasing your collection in color is a once-in-a-lifetime opportunity for most South Africans. How did that happen to you? And will there be another showcase soon? What are your current thoughts on African fashion?
People don't talk about how difficult the fashion industry is. To begin with, we do not have adequate government assistance. So we have private clients, primarily in New York. If I could only provide one piece of advice to aspiring fashion designers, it would be to create bespoke pieces and cultivate a fan base. I also want to thank Dr. Motsepe. She also served as an excellent mentor to me, and she helped us grasp the business of fashion.
Black is King
You worked on Black is King with Beyonce. How was that experience? And would you say it opened more doors for you and solidified your career, both as a musician and actress?
Working alongside someone I had grown up watching was a full-circle moment for me. But it's funny because I feel like I manifested that moment. I told my husband when I was eight months pregnant, "I'm going to work with Beyonce." It happened a year later. She asked me to play the role of Nala, which I believe is amazing. What I admire about her is that she is the hardest-working person I know; she simply wants the job done. She is also very humble about her work and is always on top of her game.
The fact that she allowed us access to her team is admirable. I'm still quite close to several people at Parkwood. I'm not the only one; the likes of Rich Mnisi and Trevor Stuurman, who've worked with her, are also still very much close to Parkwood. That just goes to show her generosity. The opportunities I've received from the film are amazing. Through that role, I was signed to one of the biggest agencies, M88 (Macro Management), and for those who don't know the variety of individuals at Macro, it's people like Michael B. Jordan and Taraji P. Henson—and that's all thanks to Beyonce.
Family
You and your husband have built this musically oriented family with the two of you eig artists, do you hope that your kids will be musically gifted?
They'll be anywhere they want to be, and only God knows where that will lead them in terms of trajectory. My son received an award this week for being the kindest kid, and for me, that's the most important thing. So I minimize all the other career topics. My daughter's teachers are complimenting her on how sweet she is. That is more significant.
Let's get into your husband winning a Grammy Award this year for Best Global Music Performance; that was such a huge milestone. How is he feeling about it? And now, for you as an artist, how important is that representation, especially coming from your husband?
My husband and his colleagues put in a lot of effort, so this has been a long time coming. He began on a long-term basis, graduating in jazz and launching his own record label, signing a local South African artist at the age of 23. He eventually became an artist himself. He's been able to survive diversity because music has always been his base; he plays and creates his own songs. Many individuals are unaware that the Grammys are not the Billboard Awards. The Grammys are really music-oriented; it's not about gimmicks, and I believe that's why it's such a significant honor. He is continually looking for ways to hone his craft, and he respects it. Whether the song is a hit or not, it's all about the craft for him, and I don't think there's anyone more deserving.   
Mention five songs that are currently your favorites.
Charm By Rema, Uavailale By Davido and Musa Keys, Ya Yuppii Ya By Uncle Waffles, Tyler ICU, Adekunle Gold & Zinoleesky's "Party No Dey Stop.
Future Plans
What are some of the projects that you're currently working on?
So I'm going to be collaborating with Dikayl Rimmasch, who is one of the directors of Black is King. I'm also working on another project, but I can't talk about it because of NDAs. I'm also signed with a three-artist agency, a talent agency on Sunset Boulevard in Los Angeles. And, as I previously stated, a lot happened after Black is King, and I've been quite blessed to have possibilities. So, absolutely, the film is the next kind of realm. It's a very exciting one.
What sets Nandi apart as a global personality is her unwavering commitment to utilizing her influence for the greater good, particularly in advocating for women and female empowerment. As a Global Citizen advocate, she actively promotes gender equality and advocates for sexual and reproductive health rights. Nandi's dedication to these causes is evident through her active participation in ground-breaking international women's rights conferences, including the Nairobi Summit in Kenya. Her efforts serve as a powerful force in advancing the rights and well-being of women worldwide.

Nandi enjoys listening to music, playing the piano, meditating, and spending time with her family in her spare time. The star splits her time between Johannesburg, South Africa, and Los Angeles, CA, with her husband and kids.
For more stories on international creatives, follow MEFeater on Twitter, Instagram, Facebook, and Pinterest for more updates.