Can someone play Saucy Santana's "Walk" because the ladies of the WNBA just killed the scene! As the season began this weekend, we could not get enough of the players' grand entrance. The hashtag, #WNBATwitter, began trending Saturday night as players graced the infamous locker room "walk-in". When it comes to fashion in sports, we have seen some questionable fits in the NBA, NFL, and MLB! Teams like the NY Liberty and Dallas Wings took home the big win this weekend but, we also want to say the WNBA took home the "W" for fashion as well.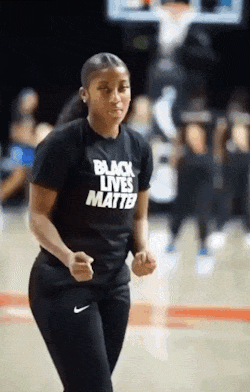 Aside from fashion, we look forward to seeing our favs dominate their season! Players like Betnijah Laney have set the tone early for the season by scoring 50 pts in the last two games! Let's show the WNBA some well-deserved love as we recap the hottest looks during Saturday's walk-in.
Deauzya Richards (New York Liberty)
Baylor University's former guard, Deauzya Richards, played in her very first game Saturday night! We love a debut walk!
Te'A Cooper (Los Angeles Sparks)
Hot on and off the court! Cooper wowed us with simplicity Saturday night as she dripped in Dior!
Amanda Zahui (Los Angeles Sparks)
A serve of CLASS. Amanda Zahui had a game winning attire for a winning evening.
Victoria Vivians (Indiana Fevers)
Victoria Vivians was game day ready as she was geared in MambaCITA, in honor of GiGi Bryant!
Aerial Powers (Minnesota Lynx)
A drip from head to toe! Aerial Powers bought the heat with comfortable but fire Jordan gears.
Brittany Sykes (Los Angeles Sparks)
Sykes came through with a Cali drip!!
Natalie Achonwa (Minnesota Lynx)
Another classy drip from the beautiful Natalie Achonwa.
To our lovely MEFeaters, be sure to let us know your favorite "walk-in" look from your favorite WNBA player. Be sure to like and comment below!
Want more fashion looks? Follow us on Instagram, Facebook, Twitter & Pinterest!