Growing up, Ariana Gobaud wasn't the most athletic person. The youngest of five, Gobaud lacked the natural ability to kick or hit a ball with great accuracy. It wasn't until college that Gobaud started running and opened up a whole new world to herself. Running was perfect for her because she didn't have to acquire special skills to participate. It was something she felt she could do. This non-athlete went from not playing in any sports, to running in one of the most intense races in the world, the New York City Marathon. She has stuck with running all these years instilling newfound confidence within herself, and pushing her body to new heights that she didn't know she could reach.
A first-generation Iranian-American, Gobaud grew up in Los Angeles, CA. Like most kids, she played various sports with friends, but never possessed the ability to pursue them professionally. Her parents never pushed her, they were more focused on the educational aspect of childhood than the physical. It wasn't until a friend in college invited Gobaud to join in on 3-mile runs, and she found herself really enjoying it. This led to Gobaud running in the Nike Women's Half Marathon in Northern California.
"She and I started running and she threw out the idea of running a half marathon together. Given someone who wasn't big into sports, to begin with, I was like how am I going to run 13.1 miles. We did it together, we trained together, and that was my first big race I ever did." Gobaud says.
She completed the race with her friend and two other sorority sisters. Ever since then, running became a big part of her life. Gobaud went on to compete in two other half marathons, then moved to New York to start her PhD program. She would soon start gearing up for the biggest race of her life.
"I moved to New York City in 2019 to start my Ph.D. program and one of my friends in the program, Domonique, suggested signing up for the New York City Marathon together which was a crazy idea. I never thought I would be doing that or signing up for that. We both ended up training together and running it together and it was kind of like a mental and physical challenge that I'm proud to say I accomplished, not something I would say I would do again. I was really proud of myself. It was something I never imagined myself being able to do."
The New York City Marathon was created 51 years ago and is the largest marathon in the world. The race spans 26.219 miles and courses through the five boroughs of New York City.
Running the New York City Marathon is something that can be intimidating and unobtainable especially for first-timers, but Gobaud urges beginners to find a club or a person to go through the process with. Find someone who will hold you accountable and vice versa.
"I think one of the biggest things that got me through it was signing up and running the race with Domonique. We signed up through a charity. That charity was a great group of runners who were all training for the marathon. I think it was nice to know someone else was going through it with me."
Gobaud stated that although she started the marathon not knowing anything, she came out of it being completely confident and prepared. She had all the tools she needed to succeed.
The runner knows that she will never be an Olympian. But she reminds herself and others that "our bodies can do incredible things." "We just have to believe in them and that it's all for our greater health."
For Gobaud, running is not only a physical benefit for her, but has also helped her mental health. While she runs from Washington Heights down to the Hudson River along the water, she gets this pleasant and refreshing feeling. Long runs allow her to relax and have internal conversations with herself.
"Running is my place I go when I have a problem, when I'm struggling with something, or I'm in a bad mental space. I think for me, it's just a stress reliever, so I can go on a run and lose myself in my breathing and the music I'm listening to, or the podcast I'm listening to, and kind of release what's been stressing me out. Nine out of ten times after the run, I will have forgotten or gotten over what was stressing me out before I started the run."
Other than running, Gobaud is very passionate about getting her Ph.D. in the epidemiology department of the Columbia Mailman School of Public Health. Her focus is on injury prevention specifically gun violence. She feels that gun violence is still one of the leading problems in this country.
"I think gun violence is one of our current epidemics in this country. There's a lot that still needs to be figured out. It's how do we not necessarily prevent people from owning guns but make sure people are owning guns safely."
For beginners, she advises new runners to take it slow and run at their own pace. Patience is key.
"Running is a progression you have to go through. One day you'll surprise yourself and run 3 miles when you never thought you would be able to."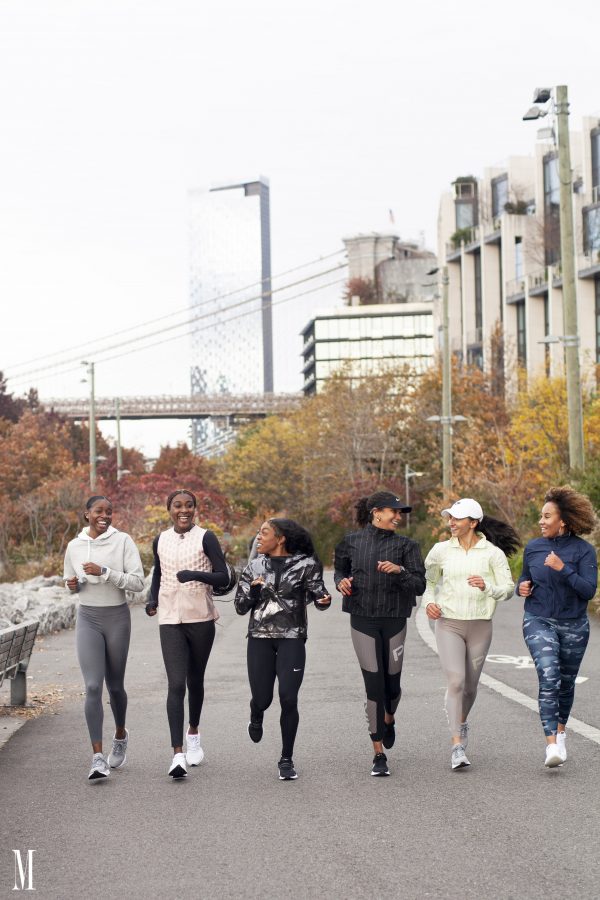 Gobaud is a runner a lot of people can relate to. A person who is not quite an athlete rises up and commits to challenging herself by competing in various marathons. Including the biggest one, all while pursuing her Ph.D. Her story can inspire someone to push themselves and get up and go run.
Follow MEFeater on Twitter, Instagram, Facebook, and Pinterest for more updates!