Aminé is an American rapper. Most were not familiar with him or his music, until after his commercial debut single, Caroline, which peaked at 11 on the US Billboard Hot 100 Chart. With that release, he forced audiences to know his name.
Born in Portland, Oregon to Ethiopian immigrant parents, he grew up wanting to play basketball. However, he felt discouraged when he was cut from his school's basketball team both in his freshman and sophomore year. His rap career didn't start until he decided on diss tracks against his high school's rivals.
He signed to Republic Records in August of 2016. On June 13, 2017 he was named on the roster for XXL's 2017 Freshman Class.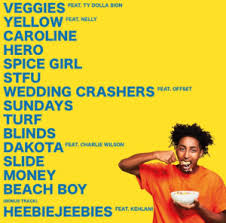 His debut album Good For You was released July 28th. The album features collaborations with Ty Dolla Sign, Offset, Kehlani, and Charlie Wilson; all different vibes coming together to add a profound feeling to the album. His choice of beats is genius. They make you come alive!
On the 9th of 15 tracks, Turf, he says "I look around and I see nothing in my neighborhood; not satisfied, don't think I'll ever wanna stay for good. Packed all my bags, told mom and dad I've gotta go…" It doesn't get any more positive than that. If your environment does not and cannot influence you to be a better person, you should contemplate migrating. In a society where mainstream rappers constantly praise drug usage and violence, pushing the message to their directionless audience, Aminé stands out by doing the opposite. Also, the 6th song titled STFU is specifically made to address haters and attention seekers. "You're always exaggerating," he said.
Amine was clearly flawless in Good For You. He deserves an "A" letter grade. His lyrical content and creativity, choice of beats, and the energy he brought to his music, all added up to make him an artist worth listening to.