It's not every day that you come across a triple threat. Usually, entertainers like Beyonce and JLo get bestowed with that title. Although the term is usually associated with celebrities who can act, sing, and dance, Mefeater interviewed to a different kind. Rising star MAAD is bringing her own version of multi-talented skills to the table. The singer-model-DJ is the next big thing you haven't heard of yet. Her debut EP "LÉ FUNK" is out now, and we talked to her about how she got here.
"Well, my mom used to call me mademoiselle, and as time went on it stuck. I started to develop an obsession with Parisian culture." she said.
"I became a DJ to play my music, but it's always been singing first." she said. Her journey to solo artist has been long coming. She began as an artist, and got into the DJ scene to support her music. "My high school producer Kwame made me realize that it's ok to be quirky, and it's been a hustle ever since." But music didn't appear as an option suddenly for her. Music has been instilled in her from a young age. She attended Harlem School of Arts as a kid — and now her artistic talent is being fulfilled. MAAD even writes her own music, and claims influence from old industry favorites. She cites Diana Ross an an ultimate source of inspiration. "My mother enjoyed 70s music, and still does. Diana is amazing. So is Donna Summer. Along with 70s, I'm into classic R&B."
You can hear the guidance of that sound on "LÉ FUNK." Produced by The Vamp, the album feels modern, yet timeless. In addition, it was only released this past spring. However, critics have given it much praise. It definitely gets the Mefeater stamp of approval. "It was a two to three year process. I was working on how to portray the sound I wanted. It's hard when you have a vision." she said.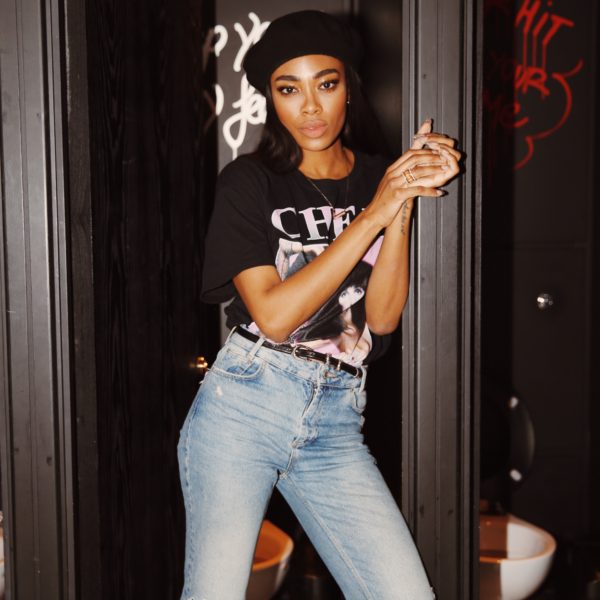 And her vision is clear from start to finish. The album ends with "Touch Me," a track filled with a sexual guitar croon that MAAD described as "the sound of the project." But this wasn't the only song she felt strongly about. "I have no favorite track." she stated. "Although maybe it would be 'Black Ice,' because of my dance background. Other dancers seem to gravitate towards it."
Furthermore, when she's getting down on stage, you can still catch MAAD taking inspiration from Diana Ross. "She always looks so good. Streetwise though, I'm inspired by Cher and Bianca Jagger — they have such cool, effortless styles! I'm kind of obsessed with Studio 54." she said. This should not come as a surpise. MAAD looks like the kind of girl who would easily waltz past the velvet ropes of the most famous 70s nightclub. You can always catch her in something leather, even in the summertime. She wears cool boyfriend denim, and black berets often. Whether she rocks big sunglasses or big earrings, she always comes through with a look.
Although she has modeled for brands like Anastasia Beverly Hills, and magazines like NYLON, MAAD is far from just a pretty face. "I started modeling out of high school. My mom entered me in a contest, and I made it to the top 8. It opened a lot of doors with clients, and allowed me to stay involved in my music. Like DJing does. It's how I've funded my career. It taught me how to run my own business." she told us.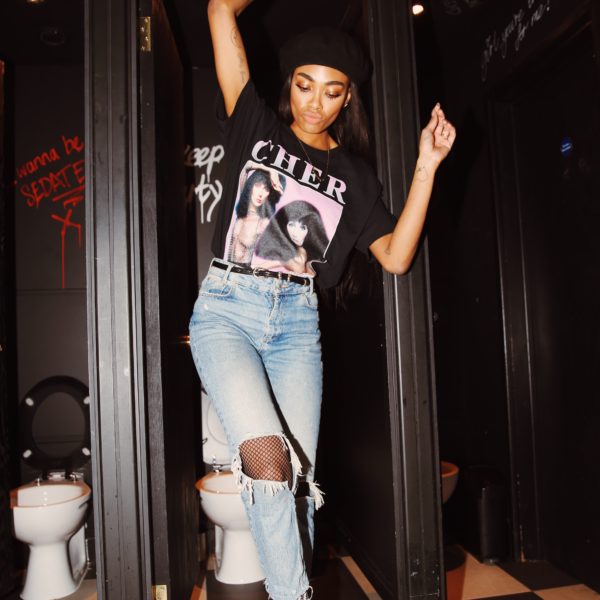 Her sunny party girl spirit is intriguing, and her sensual sound on "LÉ FUNK" is infectious. But what does MAAD want you to take away from her music? The answer is simple.
"It's a good time, and there's no other way to explain it." the singer said. "I think what you write happens, so be positive. That's what I wanted." And she accomplished her task in full. The album is short and sweet — only 7 tracks long, but all dazzling. In the future, we can expect many more bangers. "My follow up EP will be out next year. Expect more visuals. I've been working non stop, so definitely more music." And over here at Mefeater, we'll definitely be on the look out.
MAAD is destined for greatness. Get hooked on her, before all your friends are.
Listen to "LÉ FUNK" HERE.
You can follow MAAD on:
Instagram –  https://www.youtube.com/shesmaad
Twitter – @shesmaad
Youtube – MaadMoiselleTV
Interview by: Melinda Fakuade
Photos: Yvonne Tnt
Makeup: Min Sandhu using Nars Cosmetics
Styling: Christine Nicholson