Dianna is more than just what you see on TV. There are layers of me like the layers of an onion. You peel them all back and you find a core on the inside that is very gentle, loving, caring, and loyal, amongst so many other things. My primary goal is is to motivate, uplift, inspire, enlighten and enrich the youth of our communities.

Dianna Williams
Living Life As Dianna
Self-made entrepreneur, Author, and Dance Coach, Dianna Williams sat with me to spill all the tea. Dianna shared insights about life struggles, the upcoming season of 'Bring It', and her brand-new series 'Standing in the Shade'. Check out the interview below.
Q: Leading up to this very moment, have you always envisioned being a dance instructor, author, and CEO of your own brand?
"I feel like we are born into this world with a gift and a talent. God helps shows us in the right direction to nurture the talents and gifts we are given. I had no clue that we would be on TV, I had no clue I would have a dance team, I had no clue that my dance team would become as popular as it is today".
"As a young girl, I went through a lot and I didn't have a lot. I wanted to make sure whenever I created the program I could be that one person that would always try to give the girls the right advice. Being Dianna is difficult, I've lost a lot and gained a lot. Going through all the trails and tribulations I've gone through has helped created my story for me and help me grow as a person allowing me to share my life experiences with other people".
Standing In The Shade – 3 Part Series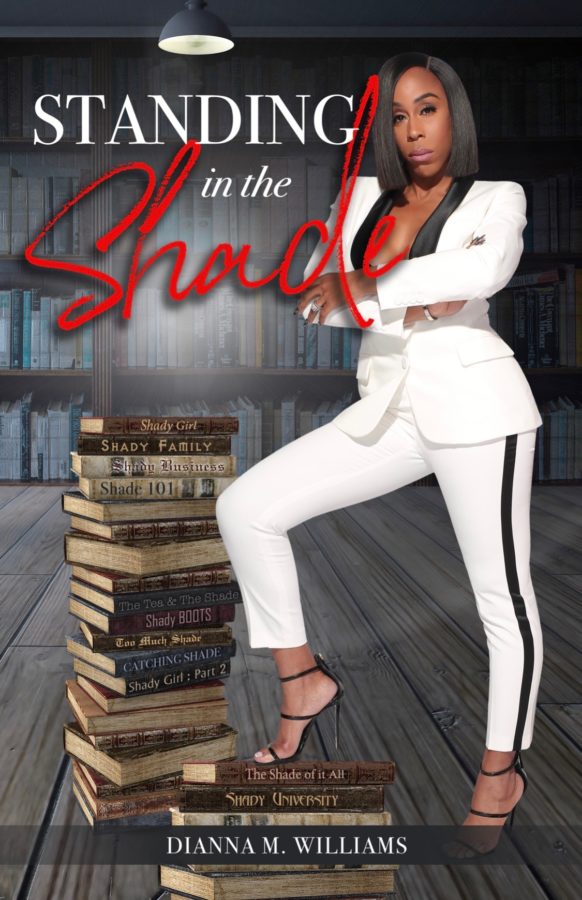 Q: Becoming a first-time author is a huge accomplishment. How does it feel to be a published author?
"Honestly, being a published author is surreal! I never thought that anyone would even care about what I went through, or care about what I've done, but so many people are intrigued by my life. So many people can relate.
"Being an author has been one of the most fulfilling experiences because it gives me the opportunity to share my truths. So many people have tried to be the author of my story when they've never had a conversation with me. The book gives me the freedom to speak my mind, and be honest on every level without holding back".
Q:What inspired you to write "Standing in the Shade" ?
"I would say the fans! The fans from our TV show 'Bring It" has given me the courage to say it out loud. I have to thank the fans because they motivate me and push me. I listen to them when they communicate with me about how inspired they are by my story. They remind me that what I'm doing is bigger than myself".
Q: Did you discover any difficulties with being raw and honest about your past struggles while writing the book?
"Writing the book was only difficult because there were so many things about my childhood that I had never said out loud. Things I've never shared with my mom, things that happened to me. Even with my adult film past, she never knew why and I never told her why. Having to say everything out loud, I had to stand in the shade that was being thrown at me for years. The book is like an outlet for me".
Q: When can we expect the release of the next book within series?
"Both books are expected to come out in late March. The next two series will be titled 'Shade at the UniversiTEA' and 'Shade of Success'. The shade of success will explain the true start of 'Bring It'. It will explore the personal struggles of the dancing dolls. The good, the bad, and the ugly".
Doll Face Academy Foundation
Doll Face is a non-profit organization dedicated to serving the youth.

Dianna Williams
Q: So far the Doll Face Academy clothing drive was a success. Are there any other initiatives you have planned for the Doll Face Academy in the future?

"Next up we have 'Keeping the Crown' and 'Crown the Runway'. Keeping The Crown is all about keeping the crown that you were born with, enriched with knowledge, determination, motivation, and education. With our company, we internalize keeping the crown on your head filled with what God has given you. The crowns we wear at the dollhouse empowers our youth to channel their inner beauty".
"Crowning The Runway" is an entrepreneur workshop that will teach girls how to become entrepreneurs and help with hair and make-up application. We will offer a free runway and modeling class, and help enhance their interview skills. We also have a back to school drive, and a toy drive in the works".
'Bring It' New Season – Premiering January 17, 2019
Dancing Dolls to showcase the strength of a woman. To these girls, Dianna is more than a dance instructor she's an influencer and mentor.
Q: What can we expect in the upcoming season of "Bring It"?
"The upcoming season of 'Bring It' showcases a lot. A lot happens this season, ALOT! We face adversity the whole season. There's something happening every episode, some of it's happy, some of it's heartbreaking, and some of it's life-changing. This is probably going to be one of the hardest seasons for me to watch only because I was apart of it and I know what happened."

Q: There are major changes happening during this season. Boys will be joining the dancing dolls. What was it like incorporating boys into the dancing dolls team?
"Just for clarification, the boys are not a part of dancing dolls team. Dancing dolls are targeted to showcase the strength of a woman. The boys were added to the show but they were never added to the team. They only compete with the dolls".
Q: Where there any challenges you faced during the season working with both genders?
"The boys are the epitome of masculine. They play football and run track. There were many times when the boys would get in the way of what I had to do by distracting the dolls and I had to remind them they'll get put out. Same with the girls, you know their hormones are up a wall".
"When we first discussed bringing boys in I knew my dearest friends Coach Marquil would be the perfect person to help me. He is originally from Sacramento, CA and was over at that D. Williams Dance Company at the time. His team ranked 3rd and 7th place in the world, the only all-girl black hip-hop team from the country! Being the amazing dance coach he is I knew he would be the perfect person to help because he KNOWS hip-hop".
Q: What advice would you give young dancers who are aspiring to become apart of the Dancing Dolls Team?
"We have a lot of inner-city kids that come to the dollhouse with big dreams and big goals, and it is our job to make sure that inside the dollhouse, you can dream as big as you want. Our job is to help them accomplish their goals".
"Anyone who wants to become a Dancing Doll needs to walk into auditions with an open mind. Don't come in thinking you are going to move like them or dance like them because it is impossible. When you walk through that door, just know we are looking for potential in every dancer. Size and ethnic background don't matter to us. We want to see your determination and perseverance".
You can follow Dianna Williams on Instagram @mrs_d2u. To purchase her book or buy dollhouse merch visit https://dollhousedancefactory.com
Be sure to follow us on Facebook, Twitter, Instagram, and Pinterest @MEFEATER.