Trayvon Martin's death in 2012 polarized the country and mobilized thousands into activism both on and offline. Rest In Power: The Trayvon Martin Story is a 6-episode docu-series that attempt to tell the story that Trayvon did not live to tell.
The first episode aired on 7/30/2018 and the next episodes will air Mondays on Paramount Network. The series produced by Jay Z and the Weinstein Company (no longer affiliated with joint founder Harvey Weinstein) recruits Trayvon's parents to help produce the series. The series explores how racism affected every part of Trayvon's tragic tale and the aftermath of his trial on American Society.
In an America that has claimed to be post-racial after Obama's election, this docu-series is critical in highlighting that this is far from the truth. By collaborating with Trayvon's parents, the docuseries effectively paints a picture of the story behind the tragic death of Trayvon Martin and the failed attempt to convict his murderer, George Zimmerman.
While it is not always ideal to re-experience the trauma, the docu-series is critical as it tells the story mainly through the eyes of the Trayvon's parents. This is important because many traumatic and tragic events/assault of Black bodies are often controlled by the media. The media generally presents these stories in a way that usually villainizes the Black body. The docuseries humanizes Trayvon and his family, a tactic that is critical for future reference.
Contrasting the Victim & Perpetrator
Through contrast and storytelling, the docu-series immediately redirects the story into one that both highlights the racial tension in a supposedly post-racial America. It does so while humanizing Trayvon and his family. Less than a minute into episode 1, viewers are hit with footage of Sybrina Fulton (Trayvon's mother) and Tracy Martin (his father) barely holding it together while discussing the injustice done to their son. The footage is quickly followed by a compilation of footage from protests, the court case, and news coverage. The quick compilation does a great job of showing both the distinct reactions to the event while impressing the feeling of hurt and chaos on the viewer.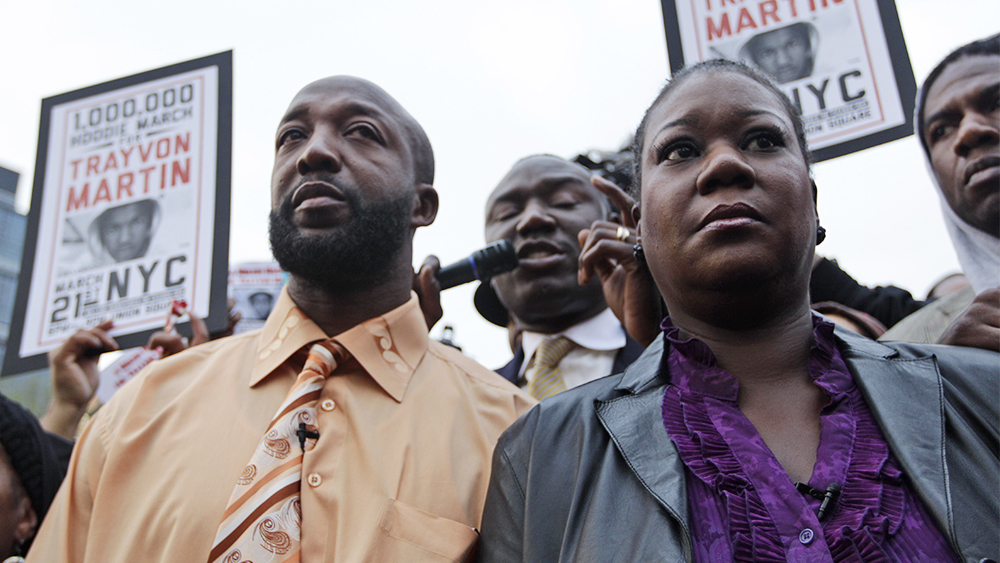 This feeling is carried through another quick compilation of photos of the many other Black lives, like Mike Brown, who have been lost over the last several years due to unjust violence (often fueled by racism). This quick compilation is extremely jarring as it is infused with both victims and perpetrators back to back. One of the closing clips of this early compilation features Dylan Roof (who murdered 9 black bodies in a church) shooting a weapon. It is contrasted with Donald Trump speaking at a rally where he says that "The American Dream is dead". This scene is followed by a shot of Colin Kaepernick kneeling. A clear contrast as it is a protest against the violence against Black bodies by the police.
Humanizing Trayvon & Exposing Systematic Racism
The beginning of the series can seem overwhelming. Especially, if you are not ready to re-live the emotional trauma/violence that has been in the media over the last several years. This is why what follows, the humanization of Trayvon, is important. His parents spend some time discussing Trayvon as a child. They discuss his nicknames, share stories, old photos, and his dreams and ambitions such as his passion for flight and travel.
"Our son was not committing any crime and our son is your son." -Sybrina Fulton
Murdered at 17 years old Trayvon was so very close to becoming a man. The media attempted to age him by focusing on the trouble that he got into at school. The tactic is as old as time but is still a wrong one. No matter how much trouble Trayvon got into at school he was still just a child! The attempt to make him into some aggressive man exposes prejudice and racism in the media.
Trayvon's humanization is followed swiftly by the systematic racism that littered his experience. Zimmerman's assumptions of him being a thief/threat based on his race and attire is an obvious prejudice and racism that many of us have dealt with, walking or driving in unfamiliar neighborhoods as a prime example. Other issues like the success of Zimmerman being able to use the stand your ground law as a defense while simultaneously exploiting his ties in government to avoid arrest are also exposed.
The second episode begins to explore the power of social media in pushing Martin's tale to the forefront of social consciousness. Exploring the aftermath will be critical for future viewers in understanding the complexities of being Black in America. It's likely that these topics will be examined more in upcoming episodes.
While some may argue that this docu-series or any documentary that retells stories of violence against Black bodies isn't important, this is exactly why they are. Perhaps to us, living in the moment this is a gross misuse or exploitation. Somewhere sometime in the future however; these documentaries may show generations who cannot fathom this as a reality the version of the truth that history books are so quick to erase. It will be a reminder that the system systematically failed hold murderers of black boys and bodies accountable.
You can tune in to Paramount Network on Mondays at 10/9c to watch upcoming episodes or catch them on ParamountNetwork.com for free.
Subscribe to our mailing list

//pagead2.googlesyndication.com/pagead/js/adsbygoogle.js

(adsbygoogle = window.adsbygoogle || []).push({});