Reputation is everything across industries. In the music business, it has been known to follow an artist wherever they go. Mariah Carey for example, has a highly publicised track record in regards to her diva stunts, candid critiques and playful outlook. Whereas Chris Brown is known for more rebellious attributes outside of music.
Sevyn Streeter (real name Amber Streeter), who ironically has provided the backing vocals on some of Brown's biggest hits such as Fortune across the span of her career to date, has amassed a reputation for her quality songwriting, consistency and laid-back personality. As I get ready to interview the dynamic act, I think about her voice and how reminiscent of the R&B from older generations it can be at times. In the past she has cited the likes of Brandy Norwood as an inspiration, so this comes as no surprise. Streeter even sampled The Gap Band on her latest single "Yearnin", which serves as a striking choice still for the singer.
"It's exciting to hear one of my favourite records on my favourtie TV show."
"I have to give credit to my producer [Kevin "KP" Pridgen Jr], he had the idea." Sevyn Streeter's Floridian accent instantly chimes through the phone as her excitement and tone pick up on her current singles mention. "I also absolutely adore Charlie Wilson. Any time that I can fuse the new and old school elements of R&B it makes it more enjoyable for me, to bring that history to the new generation you know."

The transition from the older generation of R&B  — conventionally driven by record spins on radio — to its contemporary counterpart mean that both iterations of the genre are vastly different in the way in which they are promoted. Now, an artist can gain traction across streaming, single placements on television and other multifaceted avenues. For Amber Streeter, this has seen "Yearnin" placed on the likes of Insecure, which secured solid press at the time. "I lost my mind when I got to hear it ["Yearnin"] on the show. We hosted a party to watch." she gushes down the line as she talks about the unique opportunity. "It's exciting to hear one of my favourite records on my favourtie TV show."
Performing in London at the time of speaking (December 2018) marked Streeter's tour debut in the region. For years, the singer has toured across North America, but interacting with her fans beyond home regions is something important in her eyes. "My fans curse me out over here for never coming over." she exclaims down the line in a sarcastic tone of voice now. We exchange a few laughs before she continues reminiscing on the tweets she's received over the years. "It's beautiful connecting with fans, the London crowd are magical." It's clear at this point, that Sevyn Streeter is a performer at heart and looks to provide experiences beyond the studio.

"I thank God and my family and friends for where I'm at right now. I'm much better."
Inspiration for music often comes from real life experiences; both positive and negative. In the case of Demi Lovato and the late Mac Miller for example, a lot of the passion behind their lyrics can be traced to their battles with drug addiction. For Sevyn Streeter, depression permeated her debut album Girl Disrputed;so much so that the albums introduction features the singer openly admitting to battling with the mental health condition.

"Writing was therapeutic for me. It got me through the worst of times." Streeter confidently owns her experiences down the line and goes into depth when explaining where she is at with her mental health in real time. "I thank God and my family and friends for where I'm at right now. I'm much better." The songwriter now turns to the likes of books, having conversations and writing songs for escapism and a sense of calm.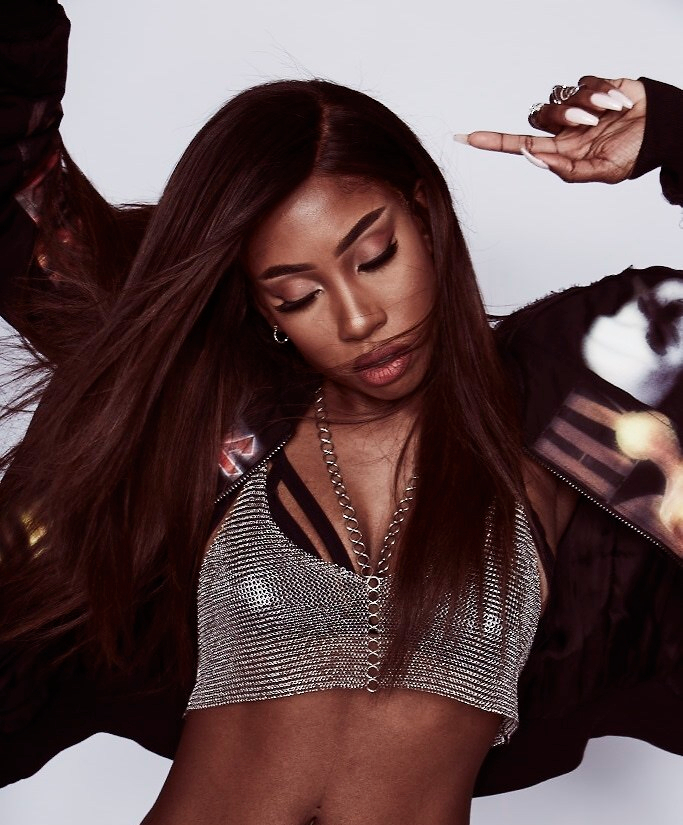 Over the last few months, it's become apparent that Streeter is working on new material. Because of her ability to write for both herself and others, I decide to explore her current work stream. "I have something on Jason Derulo's new project, but I'm very much focused on myself." A clear sense of authority manifests in the Atlantic signees tone, but it's not intimidating, more passionate. " I'm in the studio all night long because I'm really excited about this one." Pressing for more details, she finally caves after a minute of secrecy. "I can tell you that it's called 'Drunken Words, Sober Thoughts.' "

As a writer, Sevyn Streeter has crafted songs for the likes of Ariana Grande, Tamar Braxton and Alicia Keys. The talent has even managed to win a Grammy for her contributions to six tracks on Chris Brown's F.A.M.E LP. "For me, the most important thing about a song is the melody." After a few seconds more to think about the construction of records the soloist continues. "It's also important for a record to be honest. If it's honest, the more people will be able to relate to it."
Amber Streeter predominately sits in the realm of Rhythm and Blues (R&B). The genre as a whole is in a period of revival. Although slow, the likes of H.E.R., SZA and more recently the UK's Ella Mai have been able to pierce through the peripheries of music to all thrive in their own way. Being dark-skinned in this territory can and has historically been difficult. The likes of Justine Skye, and K-Michelle have vocalised this over the last few years. "We're in a place of celebration. I've never seen my skin celebrated as it is today." However, for Streeter, colourism is still a pertinent issue, but she's overwhelmingly optimistic about the future for women like herself. We discuss her memories of being sixteen and not being able to see the appreciation in wider media, but ironically receiving love in her hometown of Haines City, Florida.
"Music is finally catching up. It's separate from politics, but we're finally being acknowledged elsewhere."
Follow Mefeater on Instagram, Facebook, and Twitter.