The new generation of black creatives and performers are making their entrance onto the scene. Inspired by our faves such as Issa Rae and Childish Gambino, the new class is using the internet as their platform of choice to show the world what they have to offer in hopes of telling their stories on both the big and the small scene.
Ke'Mari Moore is a young actor and filmmaker based out of California and he'll be on your screen sooner than you think. Ke'Mari's starring in 13 Reasons Why, a miniseries based on the 2006 young adult novel "Thirteen Reasons Why" by Jay Asher. The series is also executive produced by Selena Gomez!
We spoke with Ke'Mari on his film, the standards he's been held to as a young black man, "13 Reasons Why" and his next move.
---
Dahm: So 'Su Amor', "A 90's Summer love turn to heartbreak and confusion."
Ke'Mari: Yes.
D: What made you want to display a black male going through heartbreak? That's not something we see often. Black people are held to that standard that we have to be so strong and resilient. And with women when we're ready to end it it's unacceptable for the man to chase. It was refreshing to see the tables turned because it's a real life situation. So matter what the standards, it's real. Girls break up with guys every single day and they hurt from it.
K: It's definitely real and I feel like everybody wants to hide [their emotions] and that's not real, it doesn't happen. Yeah it does! I want to make and see more films like that where it's not just you know the black man is so hard. You know? Calm down. You can show your emotions.
D: So since you said that, have you seen moonlight?
K: Yes I have. It was a good movie. I really liked it. It was shot beautifully, I love it.
D: That film also showcased black men being more vulnerable. You said you wanted to see more of that.
K: Yeah I definitely love that. I saw it when it first came out, it's one of my favorite films of the year. I love it. It's a movie I could relate to. I love seeing black films I can relate to it and get inspired.
D: Any parts in particular that you related to that really hit home?
K: Growing up in a not so good neighborhood, trying to like find myself and where do I fit. Do I want to take this route? Don't want to take this route. You know, just finding myself and being just being comfortable with being me. I guess I kind of related to that getting into adulthood.
D: What were your personal struggles as far as identity?
K: I was just okay with being myself. I never like pretended to be tough.I'm just me and I like having fun. I like to tell jokes and laugh and just be comfortable with everybody. I don't want to like come off as not… like I've always been a person that showed my emotions since I was young. My mom told me that, she was like "You know you always spoke your mind." So yeah I just wanted to be myself – show emotions.
D: So were you are an actor or director first?
K: I actually started modeling [first]; I'm just now crossing into acting. I did runway shows and stuff like that but it goes hand in hand.
D: I modeled first too, I've done pageants and I'm actually going to my first acting audition tomorrow so they definitely do go hand in hand. I did film and video in high school but I was editing. I was everything behind the scenes editor, director, writer, that was my thing.
K: That was the best way to start. I feel like you know what's going on, you have a better sense, you know what to look for. I feel like that's definitely a good role.
D: Who is your biggest influence as far as everything that you want to do?
K: My biggest influence… I like what Michael B. Jordan is doing. I can say he's helping the black man in the film industry breaking the barriers because that's increasing. I'm seeing more of black films, black television. He's definitely a great inspiration.
D: You're also starring in "13 Reasons Why", produced by Selena Gomez. When is that premiering?
K: March thirty-first.
D: Have you read the novel that it is adapted from?
K: I have read some of it.
D: Who are you playing?
K: I'm playing a jock. [He's] in the midst of everything that's going on. There are thirteen episodes and thirteen reasons why she took her life.
D: The main character commits suicide. She goes behind cassette tapes with the thirteen details on why she committed suicide so I mean what did you think about that going into the project?
K: It was definitely something that's going on in the society. It was different but it was interesting during filming to see every character unravel because you see the scripts, you don't get to know ahead of time the thirteen reasons why she took her life. It was a dope experience.
D: So 2017 is going really great for you so far?
K: I'm just working, I'm trying to do as much as possible. The more I audition and keep working, the more you know my name.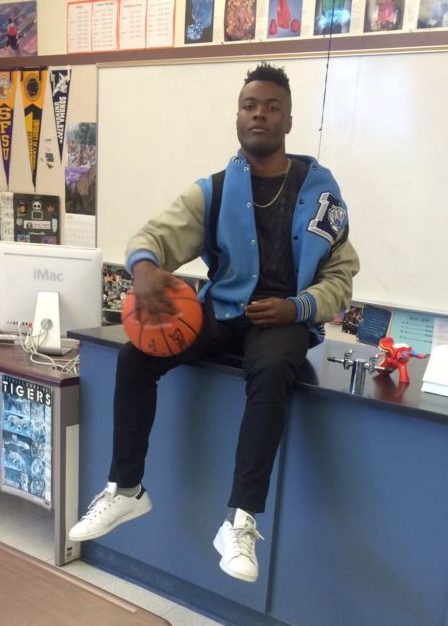 D: So what's next for you?
K: I want to make more films. I love Michael [Knight], I love what he's doing in the fashion industry but I feel like as far as diversity I've learned there are just as many difficulties behind the scenes. But I knew that going into film. I want to make more projects of my own. I want to standout and show what real talent is, become the best at what I do. I'm not setting for less and I'm just trying to take over, be the best.
D: Do you want to act in your own projects?
K: Yes that will be something that I would want to do but I want to keep acting in Hollywood productions so I could build up that platform and set it up so other people around my area, across the world know me. You've got to start small. You can't just come out and start directing movies and stuff. I want to do it the right way and keep learning about the business and directing.
D: After working on a Netflix-based show yourself would you consider going on that route?
K: Definitely. It was fun. I made a lot of connections. I did a lot of short films that went to film festivals. I'm actually taking that route too, this is a fun process. Netflix is the new tv. I feel like everybody is watching Netflix so if you want to like build your name definitely, definitely go to Netflix and audition for projects they have like The Get down. They have a lot of projects coming out this year too.
D: Lay out your dream scenario right now. What would it be like if you had everything you wanted?
K: I definitely want to like go to the Oscars and compete, just make great films, work with different people like different actors; different directors, bounce up my ideas and just create the best work. I want to create dope films. I want to travel around the world, work with different people in India, Asia. I want to help out different races. I feel like those are the best people, the underdog, people that are not seen. Change it, I want to change it. I don't want to just get in this industry and just be like "Okay well I act and I make movies." I want to like change it, push the envelope, see what I can do, take risks; especially for black men.
D: Where can we follow you?
K: I have an Instagram, @KemariM and then I have a Twitter @KemariMoore.
Subscribe to our mailing list