Photographed by Kathryn Prescott
LOVE, SIMON is not your average coming of age movie. It's also not your average high school movie. Let's just say LOVE, SIMON isn't average at all.
Based on the book Simon vs. the Homo Sapiens Agenda by Becky Albertalli, and directed by Greg Berlanti — LOVE, SIMON is the most refreshing and diverse take on a love story we've seen in a long time.
"I'm just like you," Simon says in his introductory voiceover. "I have a totally, perfectly normal life. Except I have one huge-ass secret. Nobody knows I'm gay." Simon being gay isn't the issue, but coming out to his family, friends, and peers shakes him to his core. Only minutes into the story, Simon is already the person many of the LGBTQ community see in themselves, yet still seem to hide under crippling facades.
Friends and allies of the LGBTQ community in 2018 still reign far and few, despite the overwhelming amount of support garnered in recent years. Abby, played by beautiful Alexandra Shipp, is one of Simons close friends and the first person he feels comfortable enough to come out to. There's no doubt that you've heard of Alexandra Shipp before. The 26-year-old actress has already faced roles in movies like Straight Outta Compton, Drumline: A New Beat, and even playing Storm from X-men: Apocalypse. She takes on this new role as Abby, the firey high school student who wins everyone over with her self-effacing attitude. We spoke to Alexandria about her role as Abby, and how her character brings comfort to the daunting task of coming out.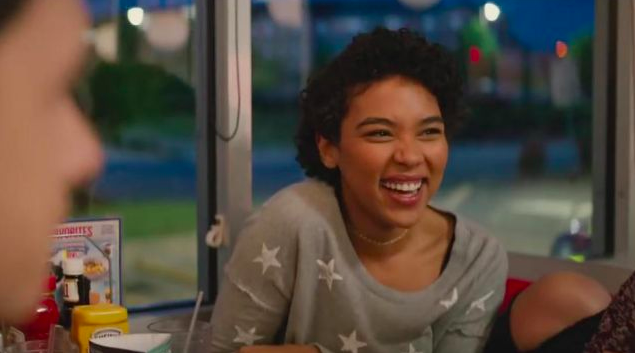 Who is Abby?
Abby is one of Simon's best friends — she's the new girl in school. What's cool about Abby is that she's a bit of a hot chick in the sense that whatever she does, she is so grounded in who she is that you can't help but be attracted to it. And that's something that attracted me to Abby. Everyone wants to know if she's single, is she seeing anyone, a lot of people think she's dating Simon which is ultimately funny because he's the closeted gay kid in school! 
Abby is a really down to earth character and super relatable. Do you feel like there's a parallel between Abby and Alexandra, or any differences?
Abby is super confident, and I think as for me being a 26-year-old woman I was able to bring that level of confidence to her as an individual because she's so beyond her years. It's something that it took me a while to get a hang of— like don't conform to other people's ideas about who I should be or how I should act. That's something that I brought to her character. That's not something I had at her age, so I want young girls to see that and build that for themselves.
Do you feel like it was nostalgic to play a high schooler?
It felt really nostalgic. I definitely wasn't that hot in high school though! But going to baseball games, and being part of a school play really felt like a kid back in school. It was fun to do a movie that was about high school not surrounded by Prom. This was a really great insight into actual high school life. There's a whole lot of stuff that goes on around it, Prom is just one dance. There's an entire year to get to that point.
What kind of person do you think is going to be affected by the personality Abby displays?
I hope that young girls see this movie and realize that you don't have to be some overly sexualized person. They can be 100% authentic as they are and they will be considered appealing or attainable.
Your previous roles included compelling and strong black women, but Abby is different. She's much softer.
Totally. If anything, she's a hugely vital part of the storyline. It was refreshing to be a part of a story I get to stretch my legs in and be funny. She's a lot like me because she likes to crack jokes and have fun in everything that she does. It's a quality I really admire about her.
Abby is a really good friend of Simon's and she's super supportive of him coming out to her. Do you think it was hard to personally translate your support?
There's a scene where I'm mad at Simon and he's getting picked on for coming out. I remember filming it on the day and going to the director and saying "I gotta stand up for him. I gotta do something my character would do something." And he's like "the thing is, you want the audience to feel the way you're feeling but you can't feel that way. Your reaction is what we want from our audience and tell them that they're fools and idiots and that's not how you treat a human being.
As an individual, that made me feel outside of my character. To not stand up. I was that kid in school that would be like, "who pushed you down on the ground? You don't have to do anything else just show me where they're at."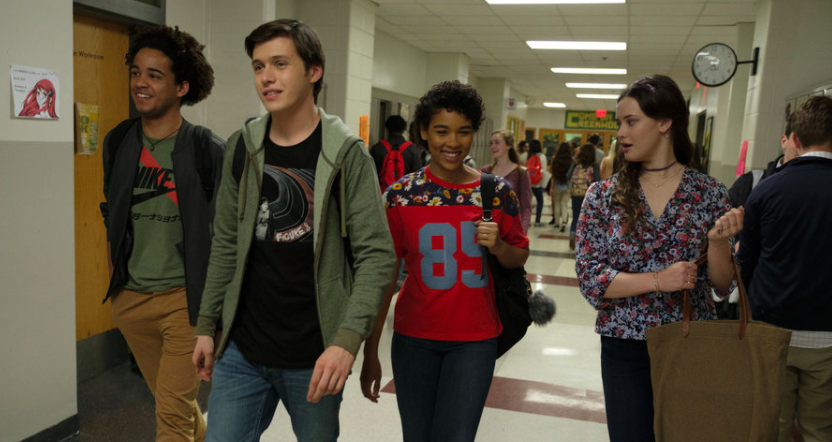 The audience of this movie is very young. What advice would you give to those who are trying to support their friends who are within the LGBTQ community?
My advice is just to listen. Don't take it personally — the majority of the time these people just want to be heard. What we want as human beings are to be heard. When it comes to being an ally of the LGBTQ community, all you can do is listen. You might not understand what they're going through or where they're headed but as long as you're there and support them that's what matters the most.
What do you think is going to surprise people about this move?
The main thing that's surprising is how relatable it is. This story is really a love story so no matter who you are, color, gender, age, it affects you in a way deeper level. Everyone knows the feeling like, "ok I have to tell the first person I've fallen in love with that I love them. What do I do now?" It's that moment you find yourself on the edge of your seat because you've been in that situation. Even if you are gay, trans, bi, whatever, that you can still age a relatable storyline.
What surprised me the most was that Simon actually got his love story in the ending. I almost felt sad when I thought he wasn't going to get it. I feel a lot of movies that portray a person coming out, make it seem that coming out is their triumph and that is the end game. So I didn't expect that.
Or that they fall in love and it's unrequited. The director was telling us this story how one of his friends in the industry told. He said "I remember going to the theatre and when the gay couple kissed, the crowd would laugh. And now we're at a point where you've got these two young men kissing and the crowd is just clapping and cheering and sobbing. That a real change. It's a huge difference and that's something they get to witness in their lifetime."
It's a celebration now.
Yes! It's a celebration. They're not saying "oh god, that's gay we don't want that" they're saying "omg that's beautiful that these boys were able to find each other. They couldn't relate to other people but hey found each other. That's What's so exciting about this movie. That's why they're going to love it.
Watch LOVE, SIMON in theatres starting March 16th.
Follow us out on Facebook, Twitter, Pinterest, and Instagram!