After a couple of seasons of The Bachelor South Africa, there's been a shift in the culture and an introduction of a new boss lady in town, Qiniso Van Damme. As we all know – to be a bachelorette, you must have previously competed in the previous season of The Bachelor. The Bachelorette series revolves around a single woman on a quest to find love.
Get to know her
Qiniso Van Damme is a fun and charming 28-year-old actress, model, and social anthropology Masters' student. She is of mixed race, born to a Belgian father and half Swati, half Zulu mother. Miss Van Damme was one of the 22 women competing for the love of bachelor Marc Buckner. She has now re-introduced herself as the first female lead of the South African version – The Bachelorette, hosted by the witty Jason Gree. Qiniso took a leap of faith and embarked on her romantic journey in February.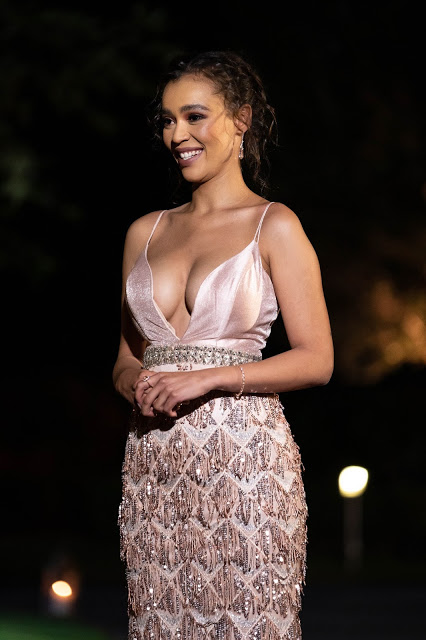 The Suitors
The season began with 15 hunks arriving and making love gestures in hopes of winning the Bachelorettes' heart. From receiving necklaces to kicking a soccer ball on the red carpet, Qiniso swooned over the hunk's gestures. Later, 4 more gentlemen joined the mansion making 19 total hot and single men betting for Q's heart. "John Snow", a.k.a Ruan, received the first impression rose for "being himself". This left most of the gentleman feeling quite jealous.
…And then there were 3!
Fast forward to May, Justin, Swazi, and Gareth remained. Qiniso went on the 3 iconic "family dates". The first date with Justin's family hit a bit of a bump as Justin's mom called such reality shows "plastic". Justin stood up for Qiniso and the date ended with Qiniso having a great private chat with Justin's dad. She then met with Gareth's family. The conversation and chemistry were organically flowing, more so to such an extent that Gareth's sister shed a tear, wishing for it not to end. Lastly, our goddess met with Swazi's family and it's here where she felt like she belonged. Q and Swazi shared inside jokes and the cherry on top is, Swazi's dad has been a fan of Qiniso since The Bachelor. We love that!
Swazi vs Gareth
Unfortunately, Justin lost to Swazi and Gareth this week, 2 of Qiniso's best love interests. The guess of who might win the goddess's heart is uncertain but all will be revealed on May 27th. The show has opened us up to the unconventional way of falling in love. Here's to Qiniso taking the lead, following her heart, and walking away with her dream man.
Follow MEFeater on Twitter, Instagram, Facebook, and Pinterest for more updates.