Every beauty junkie knows that the Anastasia Beverly Hills Instagram page is the perfect place for mindless scrolling. Whether you go there to covet a product release, or to find inspiration for a new look, it always delivers. A few years back, the account was a known game changer for up and coming artists — a reputation that the brand account still holds today. One repost from ABH noting a perfect pair of brows, and followers are sure to flood. That's how Yarisbeth Donaldson got her start. "They started reposting me a bunch, and the rest kind of just happened." she told me.
In 2015, Donaldson made her Instagram account, just as beauty had gotten really big there. She used the social media platform to share photos of her flawless face easily. Since then, users have fallen in love with her natural, yet perfected makeup looks. Now, Donaldson's 219k followers have propelled her to celebrity status. The Brooklyn based artist has even done the makeup of stars like Erica Mena of Love & Hip Hop. More recently, Donaldson has ventured into business territory. Her limited edition design collaboration with Lotus Lashes is doing extremely well, allowing her fans to get her signature look. The mink lashes feature a 3D curl, which is one of the latest trends to captivate the beauty world.
Mefeater shot the beauty guru in her usual state: rocking bold brows, sculpted skin, and simple glowy eyes adorned with her 'Yariszbeth' style lashes. This compensated for her minimal eye look — a trick the artist uses often to open up her eyes. She isn't big on eyeshadow most days. In fact, Donaldson doesn't even indulge in a large array of products, a truth that may surprise some. "I don't actually have that many favorite products," she said. "But they are generally from Make Up For Ever, Black Opal, The Balm, MAC, and of course Anastasia." Donaldson is striking, even though her "less is more" philosophy is hard to come by in most Instagram artists. In her everyday routine, she often goes bare faced. "I don't wear makeup everyday, but I definitely use my Nivea lotion on the daily." she said.
On shoot day, Yarisbeth wore her hair back in cornrows. When she's not in plaits, the celebrity makeup artist can be found in a wig, or her natural baby haired puff. Donaldson has excelled in this category so much so that she spoke about not only makeup and social media, but her hairstyles at the International Hair and Beauty Show on May 20th.
As for her skincare routine, she is a fan of the Garnier SkinActive Miceller Cleansing Water, a favorite in the beauty community. In addition, Donaldson swears by L'Oreal's Pure Clay Mask, and their Clearly Brighter Argan Nut Gentle Exfoliating Cleanser. A mouthful of a name, but her favorite nonetheless. Her recommendation of these products had her Snapchat fans filling their Target carts immediately. As a result, many sent her thankful photos of their new purchases. A faithful following like this just goes to show how amazing Yarisbeth really is. "My favorite part of what I do is knowing that I have an impact on people." she said.
Donaldson channels simplicity in her look from head to toe. She often wears baseball caps or beanies, but her style is far from boyish. Yarisbeth can go from a pair of fresh sneakers, to platform heels and fishnets easily. On any given day, one can expect to see her in something classic, but edgy without trying too hard. Black leather jackets and taupe duster coats all decorate her wardrobe. Neutral colors are Donaldson's forte. Her effortless style has gotten her attention, too. Just this past April, she was a recipient of the Fashion 500 Award of Excellence. "I didn't even know getting an award for being you was a thing… but this just validated it all…" she captioned a May 1st Instagram photo of the award, thanking her fans.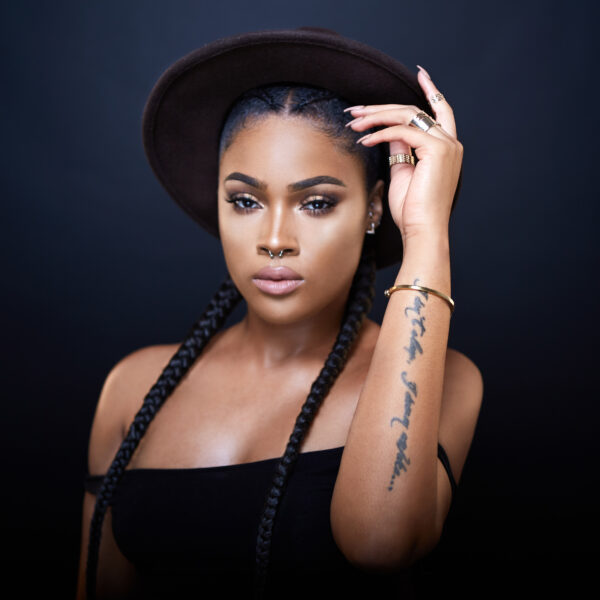 Yarisbeth is the cool girl at the club who doesn't even have to try. The sky's the limit for the artist, who will only turn 22 this June. When she isn't focusing on her makeup game, the young artist often enjoys playing race style video games. "I'm really into Need For Speed," she said. "I also really like anime. Parasyte is my favorite one." Although she remains on the private side, maybe the magic is in the mystery here. Many artists tend to overshare on social media. Yarisbeth is Brooklyn's finest for a reason. Her casual, quiet slay is something we should all strive to achieve.
You can follow Yarisbeth Donaldson on:
Instagram – @yariszbeth
Snapchat – @yarisitzel
Twitter – @yariszbeth
Youtube – Yarisbeth Donaldson
——————————————————
Interview by: Melinda Fakuade
Photographed by: Infanint James
Makeup by: Yarisbeth Donaldson