Logic released the video for 1-800-273-8255  on August 18, and it has already garnered over 9 million views. With the help from Alessia Cara and Khalid, Logic's new music video for 1-800-273-8255 is a real tear-jerker.
The video follows the life of a young gay boy, played by Coy Stewart, as he grows up, becomes a high school athlete, and navigating his homophobic world.The boy realizes he's gay and returns home to an unaccepting father, played by Don Cheadle.
After experiencing bullying at school and a homophobic family the boy decides to take his own life. The video reaches its emotional height when he finds a gun in his home and is visibly close to suicide.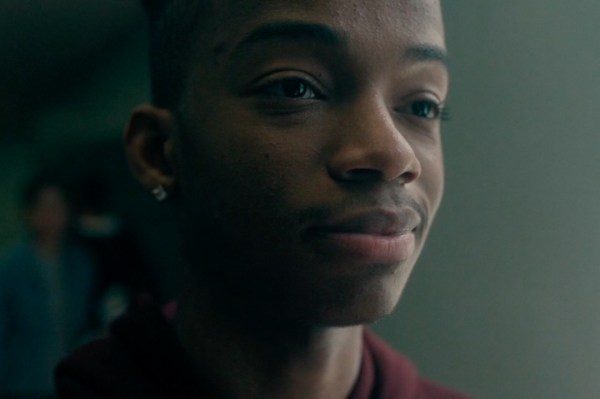 The video forwards to him deciding to call someone (we could assume it's the suicide help-line) for help. Which is the main purpose of the music visual.
Then the video further fast-forwards to the boy, now a man, marrying another man and then raising a child of his own.
This video has so many complex aspects including the fact that the main characters of this video are people of color. Seeing a black father and son relationship is usually not portrayed in media because of the stereotype that black fathers are not involved in their children's lives. This video challenges that perception.
Then a Hispanic coach, actor Luis Guzman, was seeing the change in the boy and immediately reached out to him to help. Then reaching out to his father to tell him what's been going on. This means that people should notice changes and reach out to people going through hardships. A PoC supporting another PoC is the kind of image we need to see more.
In the short 7 minute video, Logic portrays race, sexuality, and acceptance. The overarching message is there is always someone there when you are going through hardships and everything will work out. We are getting major Moonlight vibes by watching the chronology of a gay black boy's life, then eventually seeing him as an adult.
Reports say that the Suicide Prevention Hotline has gotten an influx of calls since the release of the song. There was a reported total of 4,573 calls on the day of the song's release, which was recorded as a 27% increase than the average amount received per day.
What did you think about this video? How long did you cry for? Let us know in the comments!