East Flatbush, NY – Animosity brews in the streets of East Flatbush, Brooklyn after the release of a disturbing brawl between nail salon workers and African-American customers. Residents of the neighborhood have gathered to protest & boycott the nail salon, sparking controversy on all social platforms about capitalism and the treatment of African-American customers.
What You Need To Know
On Friday, August 3rd, 21-year-old Christina Thomas visited New Red Apple Nails with her granddaughter for a manicure, pedicure and eyebrow wax, News 12 Brooklyn reported. After what Thomas considered a botched eyebrow job, the grandmother refused to pay. It was from the refuse of payment then that an argument broke out and escalated.
After Thomas refused to pay, the salon manager, Michael Lin, intervened but it only seemed to make things worse.
"She said she didn't like it and doesn't want to pay for nothing," Lin told News 4. " I said 'sit down, let me call the police. If the police say you can go, you pay nothing. (If the) police say you pay for the pedicure, then you pay for the pedicure. No eyebrow, no problem."
Salon staff blocked the door, which lead to the altercation becoming physical. CBS News reports that Thomas hit employee Huiyue Zheng, resulting in Zheng striking Thomas with a broom. From there it turned into an all-out brawl, with Thomas being grabbed by her backpack and being swatted with brooms. Both Thomas and Zheng were arrested and charged with misdemeanors.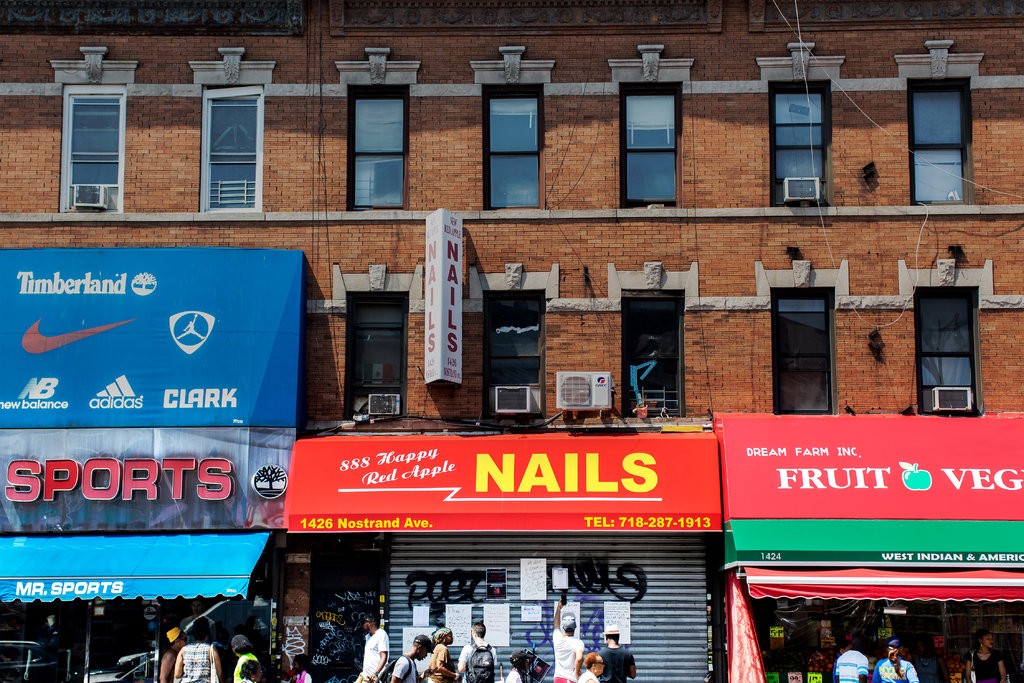 Was Race Involved?
According to The Washington Post, a bystander in the salon identified as Mercy Maduka, posted the video on Facebook, which gained more than 700,000 views and sparked outrage among the Black community.
According to Pix 11, following the incident dozens of protesters gathered around the store on Monday to protest, chanting 'Black Dollars Matter' and holding signs stating 'Black $$$ Matters'.
"So because she did not want to pay the $5 for her messed-up eyebrows, they attacked this grandmother and her two granddaughters with sticks, threw acetone on them and then called the police on them" activist Jasmine Johnson alleged. "We don't need to protest, we need to financially castrate this business. They cannot survive and we cannot feed them."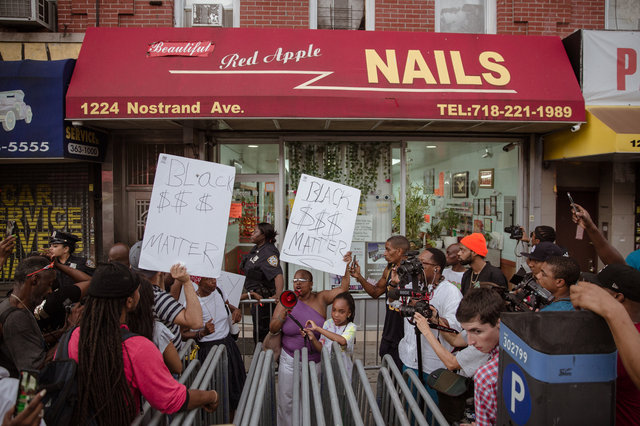 New Red Apple Nail is nestled in the heart of East Flatbush, which is According to The Atlantic, black consumers had an unprecedented impact economically in 2015, and have been surpassing numbers ever since.
New Red Apple Nails has since remained closed and had terrible reviews on Yelp.
"There is no respect for people in this neighborhood," said Gavin Gibbs, a 49-year-old resident of East Flatbush. "Anytime a store doesn't respect us, we're going to shut it down. We will come, we will picket it, and we'll do whatever we have to close your store down."
Featured Photo: New York Daily News