"Street — but sweet" is how Aaliyah described her music, a description that transcended beyond the velvet voice that laced her records but just as easily described her demeanor and style. Aside from a rumored controversial marriage and untimely death, the young singer redefined a genre, pioneered athleisure fashion, and left an indelible impression on her peers and the generation beyond. And every year on her birthday, we collectively reminisce like she's here and never left.
Don't elude the facts, just face it: Aaliyah was a well-rounded icon.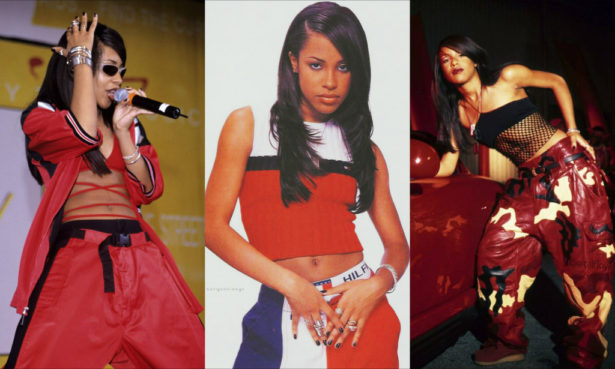 Ahead of a trend, no one embodied this streetwear athleisure style than Aaliyah herself. Her signature ensembles were always coined as a tomboy but were undeniably unique. Baggy pants, oversized jackets, bandanas, and midriff-baring tops were staples pieces she credited to her style. Her boyish wardrobe didn't elude her angelic face and seasoned voice, but coupled together gave her edge. With R&B diva style setting the precedent with glam and glitz, Aaliyah emerged during the time of Mary J. Blige, En Vogue, and Xscape where hip hip really took its grasp in the medium of clothing.
Her voice wasn't incredible. She didn't reach bellowing tones like Mariah or Whitney, nor was it as earthy and soulful as, let's say, Lauryn Hill. Only one of her songs were to dominate the top spot on the Billboard Charts, but that doesn't downplay the candied air of her voice. She sounded like Aaliyah. From as early as her debut album, "Age Ain't Nothin' But A Number", the Detroit damsel showed that vocal acrobatics weren't really up her alley, and ultimately just wasn't needed. She left not an inch of room for complaints, listening to just one of her singles proves it. Her career took off without any gags or hiccups and was solidified a few years later with her "One in a Million" album with the single of the same name. Aaliyah was only 17 when she epitomized the talents of musical geniuses Timbaland & Missy Elliot's rendition of the new Hip-Hop & R&B. The industry was shook.
We can't deny the fact that death of a young talent at the peak of their career can solidify their legacy as an icon (we can name a few late greats). Years after her death, to fathom the unwavering grip her legacy has had on pop culture today could be almost inconceivable. Almost every artist we face these days are clamoring to owe their talents to the young songstress. We were intrigued when we heard The Weeknd sample Rock The Boat on "What You Need" of his debut mixtape House of Balloons. We fancied the cover The XX revisioned for "Hot Like Fire" in all of its indie electronic glory. Then, we were flat out shocked when Champagnepapi himself memorialized her in tattoo ink across his back — that's when we knew it was real. Pun intended.

We can say Aaliyah is mesmerizing due to fact that she's humble as much as she is beautiful. She gave us all of her, without ever being too much. She grabbed our attention effortlessly and undemanding, to the point that we could never turn away. The inevitable question always follows: Would we still be in love with babygirl if she were here today? Maybe, maybe not. We'll never really know. But to take it for what it is, we're grateful for the footprint she's left on a generation. Aaliyah was a small piece of everything we loved about hip-hop culture in the 90's, and nostalgia has its way of spiraling into obsession and imitation. We know it's been a long time, but she hasn't left us without a dope song to step to.