If you've ever roamed the internet, you know Megan Thee Stallion is rising to fame while living her best life. As we watch her grow, there is so much about her that continues to draw us to her. She is magnetic, with electric energy…but there are more structured elements to her. Here are some reasons why you may be so drawn to her energy and physique.
Student By Day, Rapper By Night.
Megan has somehow found a way to balance a rising rap star career while completing her undergraduate degree at Texas Southern University. It is one of the most admirable things about her. That is not solely for the fact that she seems to be the only one to have done it, but for how easily she makes herself relatable. From tweets about handing in her essays hours before deadline to celebrating by hitting a strip club, she is relatable. All the hotties admire that. This keeps you drawn because you simply can't wait to see her on either stage; graduation stage or on a live TV performance.
She is ALL about Inclusivity!
Young Tina Snow knows how to brag, but she makes sure to never leave you out! If you've ever come across the #BigOleFreakChallenge you know she encourages anyone and everyone to do it! Megan very clearly has an agenda of advocating for all body shapes and sizes in the most genuine way, it makes her strikingly unique. So often, we witness the opposite, making her perspective very refreshing. She insists that her, hotties, are never one way- we don't know a message better.
She keeps it…well, REALER than Real!
In all her glory, Megan always keeps it real. It is part of her appeal. Her ability to connect with fans is as real as any of her public friendships. She lets no one tell her who she is and she is forever going to defend what she believes in. It is something that should be deemed admirable; from her lyrics to her tweets.
The H-Town Hottie Exudes Sex Appeal.
Sex appeal is not something that everyone can accomplish. You can be sexy, and can have sex appeal, effortlessly so; Hot Girl Meg exudes both of those energies at ALL times. That's whether she's driving the boat or she's in gym attire. Those energies are something that exude from within, and she's got the full package with the act down-packed.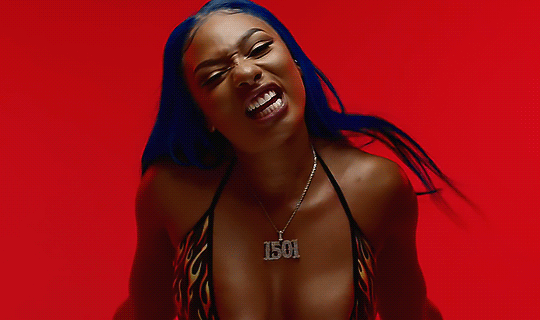 Although these are more than enough reasons, there is still a magical element to her very appealing aura. Megan Thee Stallion has stardom power and there is nothing getting in the way of that. Whatever it may be, we will continue to be drawn to Young Tina Snow.
What draws you in the most about Megan Thee Stallion?