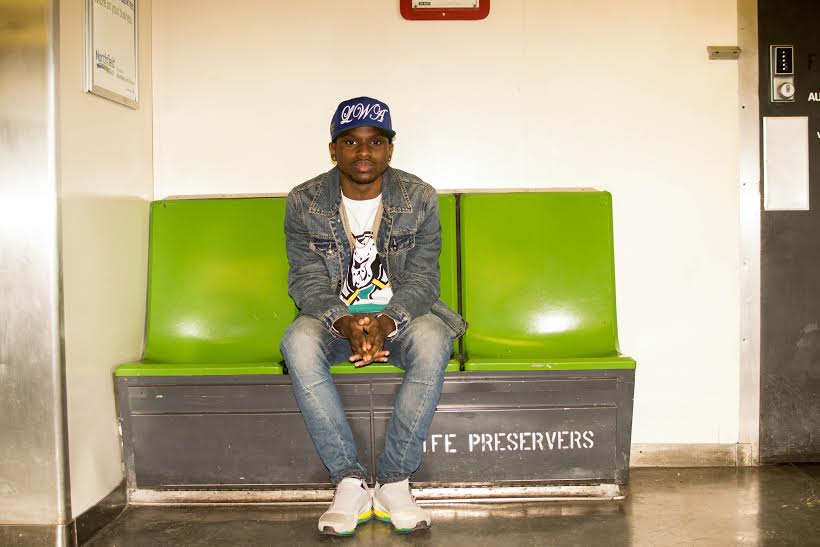 23 Year old rapper, YF knows a thing or two about hard work. The night before the interview, he slept in his car near the Williamsburg Cafe we decided to meet, so he wouldn't be late. With the release of his latest mix-tape I Am YF  and the success of his biggest song to date Flex Hard, YF unknowingly explains why he is New York City's Forgotten Borough's Hip Hop prince.
Gabrielle Amani:  My biggest question is who is YF?
YF: YF is a young African-American kid from Staten Island who's coming up out of New York City. Displaying you that commercial underground.
Gabrielle Amani: What is commercial underground?
YF: I feel like everybody wants to be underground because that's what's in right now. I like the business behind underground, but I want my music to be commercial.  I want to not only be known where I'm from, but everywhere. I don't wan to marginalize anything.
Gabrielle Amani: I heard you're from Staten Island.  Does being from Staten Island influence your work?
YF: Well, first of all I feel like Staten Island is the underground borough, like it's forgotten somehow and it influenced me a lot because everybody thinks I'm from Brooklyn, Queens, or Harlem.  When I tell them I'm from Staten Island they always say,"Uhhh, Staten Island people dress like that?" It's not just Italians that live here. It's a hood just like everywhere else and I've been through the same things a person from Brooklyn or Queens has been through. Staten Island has had a big influence on the way I came up and how my music sounds. I want to put Staten Island back on the map.
Gabrielle Amani: Why did you name yourself YF and what does it stand for?
YF: It stands for Young Franchise. But the reason why I stuck with it is because my religion teacher named me that. I had a scholarship to a Catholic high school. I was playing ball. I was actually really good. That was actually my first dream by the way.
Gabrielle Amani: You wanted to be a basketball player?!
YF: Yeah, I could have sworn I was going to the NBA, but I didn't go……..laughing 
I was rapping and playing ball throughout high school. Just playing around with the rapping. And I used to get in trouble sometimes cause I used to rap in class. My religion teacher just named me, saying… "You're like a Young Franchise."
Gabrielle Amani: Is Franchise in the Bible?
YF: Oh, no…I don't know if you're familiar with basketball. Steve Francis is on the Knicks that time. My religion teacher used to compare me to him since I was short and could jump. He'd be like, "Steve Franchise. You're like a Franchise." Never pronouncing his last name right.
Gabrielle Amani: If you were playing around with rap in high school, when did you decide to take it serious?
YF: After I finished interning. I already knew I was good. I knew I could rap and I knew I wasn't gonna go to the NBA. After seeing other people doing it, I was like, "Yo, I could do this." After I put out records and videos, people were like "Woah." They got wowed by my performances, so that was just motivation to keep on pushing.
Gabrielle Amani: Earlier, you told me you interned for a pastor. Is religion big in your life?
YF: Yeah, my mom goes to church every Sunday. I grew up in an Episcopalian and Baptist household. Church is what helped me get that internship and that internship introduced me to my mentor, Bishop Jordan. He basically taught me how to believe and that life is built off faith and believing in yourself. Once, I interned for him and built my connections and my contacts I just been executing and doing what I have to do; taking it one day at a time to succeed.
Gabrielle Amani: It's nice hearing young people talk about church and religion. Do you consider yourself religious?
YF: I just believe that there is a God. Like everybody has different beliefs, but I just know that there is a higher power out there that's what I honestly feel. And I pray to that higher power all the time. There's also meditation. Mediation is the only thing that keeps everybody sane and on the right path.
Gabrielle Amani: Speaking of performance, what's your favorite venue or performance that you've done before?
YF: Webster Hall was very fun. I have a very good track record there. I usually steal fans when I go there.
Gabrielle Amani: You steal fans when you go there?
YF: And I meet new people. My performances and videos are usually the highlight of "YF." Certain people could get behind the mic and rap, but when they get on that stage, it's a whole different story. They have no stage presence. For me it's like, you would think that I had a billion dollars behind me.
Gabrielle Amani: How does your team help you with your process?
YF:  The collective that I'm a part of is  LWA  or Leaders With Ambition. Basically, it consists of me and a collective of talented people. They influence me a lot because we all are from different places.  I'm from Staten Island, one of the artists is from PA and three of the artists in the collective are from Brooklyn. The thing is that we all hold each other down. We all send our contacts and stuff like that to make each other better. Even being with my manager utilizing his resources, we combine each other's resources just making us compatible and work together so well. My teammates definitely influence me a 100%.
Gabrielle Amani: Being from New York, there's a lot of people trying to rap and some actually do well for themselves. Who do you look to and say, "Wow, that's what's up. They're doing good?"
YF: I'm very into the indie movement, even though I don't put myself as an Indie artist or wanna be one of those type of guys. I look up to The Underachievers and Flatbush Zombies. They're really making a name for themselves, Indie-wise and getting commercially good, but still have that Indie feel. And they're regular guys that walk down the street everyday and it's very influential. Those two groups definitely influence me, but business mentality wise I like Jay-Z a lot. The team watches his every move. We're very big on unity and working together and it's like always keep a team of positive people,who doesn't mind helping the next person. I mean don't get egotistical as far as different things and stuff like that…We know our work. We know our talent and we combine it together to make it bigger.
Gabrielle Amani:  Who in the game has influenced your style.
YF: What influences my style? It's hard to say. I thought I influence my own style. I don't really listen to anyone like that. My favorite rappers are Jay-Z, Biggie, 50 Cent and Tupac. All of them are legends to me, but my favorite new guys now in the generation that I grew up in are Young Jeezy and Wiz. Nobody would ever think that I listen to those types of music. But those are my favorite artists
Gabrielle Amani: Even though they both make good music, they are very different sound wise and style wise. How do they each influence you, even though they are musically so different?
YF: They influence me cause Wiz…you can listen to his music and say, "Alright. Bet. That's him." He is not a fraud. And you can listen to and see Jeezy's not a fraud. I very big on honesty. I went through everything I talk about in my music and it's still more that I haven't displayed to the world. I feel like my mix-tape introduces the collective that I'm a part of and is 40% me. Those two artists influenced me as far as keeping it real and having fun at the same time because I'm very  big on authenticity and being real with myself and letting people know some of my stories for now.
Follow YF: @CadeemFrancis
Follow us on Twitter and Instagram @MEFeater
Subscribe to our mailing list