Grand Slam tennis champion Serena Williams has hinted on social media that a collaboration with sports brand Nike is on its way.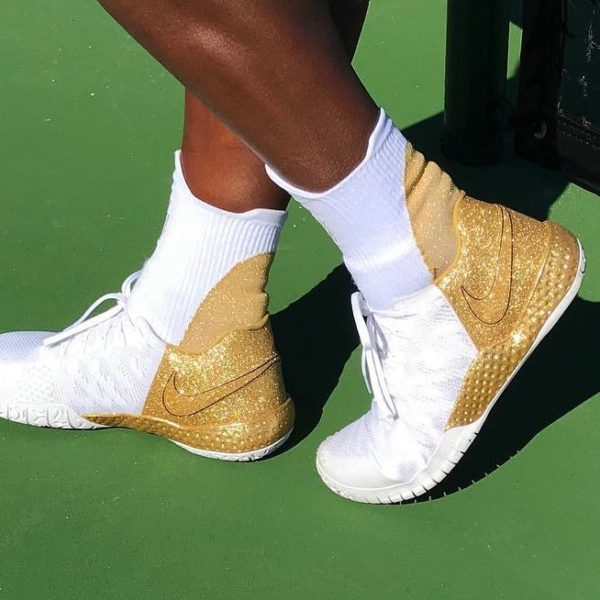 Serena Williams, the greatest tennis player ever (arguably…or not), teased us earlier in the week with news of a Nike collaboration. Sharing the news on Instagram, Serena captioned the picture: "Be excited, be very excited…."  Girl, we were before you even told us! ??
The featured photograph showed the star on court sporting a bedazzled pair of knit-style trainers. The main part appears to be plain white with a gold heel, back, and logo. Others are also spectating over the perfectly coordinated socks which accompany Williams' sneakers. Will they be a part of whatever the collab presents? TELL US ALREADY, SERENA!
Of course, we already know Serena adores her Nike trainers. If you were an eagle-eyed viewer of her and Alexis Ohanian's wedding (see it here), you'll have noticed the bride had her own custom made, diamond-encrusted Cortez trainers. The hot momma wore them walking up the aisle and later that evening when she was ready for more dancing. Michelle Meneses, the woman who designed bedazzled the footwear, also added essential diamonds to Serena's other choice of footwear that day; Versace heels.
As for further news on the official Nike collaboration, we're just going to have to wait and see. But keep an eye on MEFeater for further updates. Inevitably, it'll be a sellout project for Ms. Williams and we can't wait to see more!
---
Will you be first in line for a Serena Willaims x Nike collaboration? Got some custom trainers in your closet? Let us know!
Leave us a comment below or tag your pictures on our social media. We're on Facebook, Pinterest, Twitter & Instagram!