As Alicia Keys said, New York is "…where dreams are made of / There's nothing you can't do."
This couldn't be more true now, as the state just became the first to provide free tuition! If you attend a four-year public New York state institution, you might be a part of almost 80% of students qualified for a life changing scholarship. Here's everything you need to know.
The Excelsior Scholarship is the new, large award meant to help out middle class New Yorkers pursuing higher education. Governor Cuomo introduced the legislation for this award this past January. It just became approved. As a result, the effects will take place quickly — they are slated to go into motion this fall.
In fall 2017, families who earn less than $100,000 a year will become eligible. In 2018, the income requirement will be lifted to less than $110,000, and in 2019, it will become $125,000. This is as high as the number seems to go. The only catch is that all who receive the Excelsior Scholarship must live and work in New York after graduation. However, they are only required to for the same number of years they received the scholarship. If you want to leave New York, the scholarship will become a loan you owe back.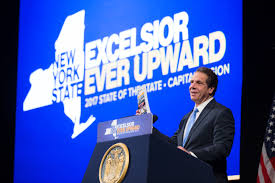 This legislation allows this to benefit not only US citizens or permanent New York residents, but even refugees. Unfortunately, undocumented students are not eligible.
SUNYs and CUNYs are going to see many more students in the near future. Also, people will graduate with less debt, and more time to work on their careers. Furthermore, this will reflect favorably on the economy in the years to come. As long as grades are kept up, and students remain full-time, they can reap the benefits of this unique program.
Governor Cuomo said that "Today, college is what high school was—it should always be an option even if you can't afford it." And he's right. New York is taking a big step towards equal opportunity in education. Hopefully, other states will follow suit.
With this new plan, New York families will be able to afford a few extra bacon-egg-and cheeses. What do you think about the Excelsior Scholarship? Will you be affected?